Thinking of switching insurance providers for your house? Canstar has just released the results of our 2017 Home & Contents Insurance Star Ratings and Awards, with four providers named as national winners.
How does Canstar rate home & contents insurance providers?
Every year, Canstar researches and rates the home and contents insurance providers that offer outstanding value to Australians looking to protect themselves in the event that something happens to their home or their belongings inside. In order to be eligible for this award:
The institution must underwrite its own insurance, or be a wholly-owned subsidiary of a general insurer (i.e. white labelled products are not considered for a National Award)
The insurer must provide consumers with both comprehensive and general cover products for the high and low sum insured amounts Canstar considers for comparison purposes
The policy must be available directly to consumers, not limited solely to those in a particular age group
For comparison purposes, a quote must be available:

Online or via phone;
For all postcodes considered within each profile; and
For all profiles within each state/region considered
Eligible home and contents insurance products are then awarded points based on their comparative pricing and for the array of positive features attached to their product.
Shopping around for a home insurance policy?
Whether you're looking for home, contents or combined cover, you can easily compare from 100+ policies with Canstar.
Outstanding Value Home & Contents Insurance Award Winners
After extensive research using the above methodology, Canstar has identified the following four insurance providers as national award winners:
| | |
| --- | --- |
| National Award | Winner 2017 |
| Home Insurance | ANZ |
| Home Insurance | CommInsure |
| Home Insurance | Suncorp Insurance |
| Contents Insurance | Budget Direct |
| Contents Insurance | Suncorp Insurance |
| Home and Contents Insurance | Budget Direct |
| Home and Contents Insurance | CommInsure |
| Home and Contents Insurance | Suncorp Insurance |
You can see in the table above that our four winners are:
ANZ
Budget Direct
Comminsure
Suncorp Insurance
The remainder of this article will provide an explanation as to why each of these providers won.
ANZ – Home Insurance Australia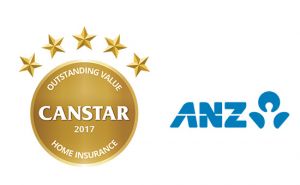 ANZ has a long history, founded in 1835 in London and Sydney as the Bank of Australasia and moving into Melbourne in 1838. As one of the Big Four Banks in Australia, ANZ is the largest banking group in the Pacific and New Zealand region and is ranked among the top 50 banks in the world.
ANZ has a history of success with this award; they won the Outstanding Value Home Insurance Award from 2009 to 2014 and in 2016, and remained a high performer in 2015. This year they remain on top for home insurance, taking out the Outstanding Value Home Insurance Award due to competitively priced premiums and flexible policy benefits, such as cover for:
If your home is completely destroyed in an insured event
Fire and flood as a standard policy inclusions
Accidental breakage, theft and vandalism as a standard inclusion
Motor burnout or fusion on electric motors up to 15yrs old, , as a standard inclusion
Alternative accommodation costs for up to 12 months if your house is uninhabitable as a result of an insured event, for both you and your pets
Cover for demolition and the removal of debris from an event ANZ has agreed to cover
Architect, surveyor and legal costs if you need to rebuild your house after damage by an insured event
Related Article: The Cost of Home & Contents Insurance in 2017
Budget Direct – Contents Insurance, Home and Contents Insurance Australia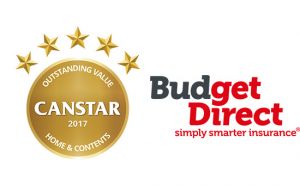 Budget Direct has been offering various forms of insurance to Australians since 2000 and has gone on to serve more than 1.5 million Australians. They are a part of the International Budget Insurance Group, and a home and contents insurance policy with Budget Direct includes access to the Budget Direct Hail Hero App, which warns you of oncoming hailstorms.
In this year's ratings, Budget Direct has taken out both the Contents Insurance Award and the Home and Contents Insurance Award, due in part to their price leadership across New South Wales, Queensland and Victoria.
Budget Direct also has a robust feature offering. A Budget Direct home & contents insurance policy can offer the following:
Temporary accommodation for you and your pets for up to a year if your home is unlivable due to an insured event
The repairing or replacing of your damaged or destroyed home up to the sum insured level
The replacement of stolen or damaged belongings
Legal liability cover of up to $20 million for someone else's injury, death or damage to their property due to an accident at your home
24/7 claims over the phone or online, 365 days of the year
Optional extras – instead of charging you for things you may not need, Budget Direct provides the option of extra cover for things like floods and portable items you take with you away from your home, giving you control over the level of cover that you need, and how much you want to pay
Suncorp Insurance – Contents Insurance, Home Insurance, Home and Contents Insurance Australia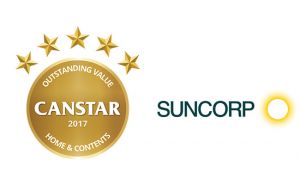 Suncorp Insurance has protected Australian families for nearly a century. Suncorp was founded all the way back in 1919 as the State Government Insurance Office, and now employs nearly 14,000 people across Australia and New Zealand. Suncorp also owns many trusted brands, such as AAMI, Shannons, APIA and Terri Scheer.
Suncorp won the 2016 Outstanding Value Home & Contents Insurance Award and has done so again this year for their Classic Home & Contents, in addition to taking out the Contents Insurance and Home Insurance Awards for their Classic Extras Home & Contents – giving them a clean sweep of the three awards in this year's ratings.
Their winning policies offer a strong range of features as well as premiums which are below the market average. Suncorp's Classic Home & Contents policy offers:
Cover for loss or damage to your home and its contents from events such as floods, storms, fires and theft
The option of a safety net, or buffer, of up to 25% of the home sum insured if the cost of repairing or replacing your home is more than the amount you insured it for (which is a standard inclusion for their Classic Extras and Classic Advantages policies)
The option to cover motor burnout and accidental damage at the home (both of which are covered as a standard inclusion within their Classic Extras and Classic Advantages policies)
Cover for artwork up to $10,000 per item (with a higher cap of $20,000 for Classic Extras, and $200,000 for Classic Advantages)
The option to cover personal valuables and injury to pet dogs and cats
CommInsure – Home Insurance, Home and Contents Insurance Australia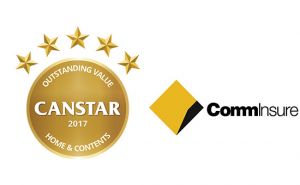 CommInsure is a brand owned by the Commonwealth Bank of Australia (CommBank). Founded back in 1911 as the government bank for our young nation, CommBank remains Australia's largest provider of financial services today.
CommInsure continues to offer outstanding value home & contents insurance. In addition to being awarded for their outstanding Home Insurance this year, this is the tenth year in a row that CommInsure has won the Home and Contents Insurance Award. To celebrate this success, Canstar has prepared an article discussing this victory with members of CommInsure, picking their brains on their product offerings and the market as a whole. You can read this article here.
CommInsure's Home Building and Contents Insurance policy has a wide range of cover available and includes cover for things like jewellery, accidental breakage and motor burnout as standard. They also offer the option to cover items which leave the house like your phone. Other useful features include:
A 24/7 online claims process
If under-insured, Comminsure will pay up to 25% on top of the sum insured amount
Cover for claims resulting from fire, flood, lightning and animal damage
Additional benefits include alternative accommodation, demolition and debris removal costs and emergency works and repairs.
Cover up to the sum insured level for accidental breakage and the option of covering accidental damage and portable items
A standard policy inclusion for fusion (electrical motor burnout)
The option to choose to rebuild your home at its current location or at a different site
In addition to these features, CommInsure is currently running a 15% discount if you apply online. Note that this discount only applies to combined building and contents cover, otherwise the discount will be 10%.
If you've decided to switch insurance policies or want to pick your first one, then these providers might be a good place to start. But they aren't the only ones out there. Canstar researched and rated dozens of providers this year in order to find the winners, and there are plenty of options that could be right for you.
To help identify which policy suits your needs, you can compare home & contents insurance with Canstar: