Originally published by TJ Ryan, September 23, 2016
Private health insurance
statistics show that more Australians have extras cover than hospital cover, but that coverage rates remain reasonably healthy for both.
According to APRA, as at December 2017, 45.6% of Australians have private health insurance cover in terms of a policy covering hospital treatment. This is down just slightly on September 2017's near 46% of Australians (because of an increasing population, it equates to around 12,000 fewer people covered).
In addition, 54.6% of the population are covered for general treatment (extras) with an additional 3,000 people covered between September and December alone.
Shopping around for a health insurance policy?
Find a policy that meets your needs from 15+ funds in just a few clicks.
More than 87.5% of Australians with health insurance have lifetime health cover (LHC). This means they aren't paying more than they need to for their premiums – good onya, Aussies!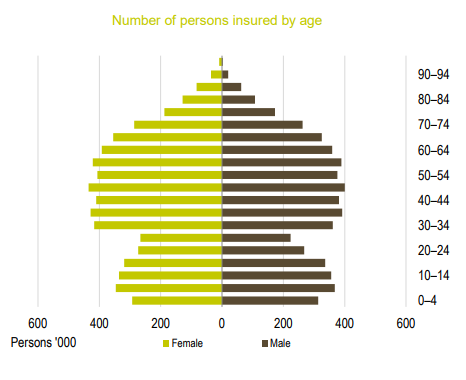 Source: APRA, Quarterly Private Health Insurance Statistics (February 2018)
If you don't already have health insurance and you sign up when you are older than 30, your premium is made more expensive by a government penalty (2% loading for every year of your age over 30). You can use the Government's Lifetime Health Cover calculators to find out if the loading would be or is being applied to you.
The following table displays a snapshot of health insurance policies on Canstar's database sorted by Star Rating (highest to lowest). The Star Ratings and products listed below are based on couples under 35 in NSW.
Health Insurance State by State
When it comes to geography, Canberrans and Western Australians are the most likely to have both hospital and general cover, while residents of the Northern Territory are the least likely to have cover, as follows:
Region
Proportion of population with cover
Hospital
Extras
Australia
45.6%
54.6%
New South Wales
46.9%
56.8%
Victoria
42.1%
48.9%
Queensland
42.8%
48.9%
South Australia
45.3%
59.3%
Western Australia
55.2%
69.4%
Tasmania
44.0%
51.1%
ACT
55.7%
66.8%
Northern Territory
40.5%
44.4%
Source: Private Health Insurance Administration Council, Membership Coverage December 2017
What age has health insurance?
When it comes to having health insurance in place, the proportions of those that do approximately reflect Australian demographics.
Health insurance by age – December 2017

Age Group
Dec
2017
Female
Male
Total
0–4
292,884
313,229
606,113
5–9
346,314
367,685
713,999
10–14
336,157
355,627
691,784
15–19
318,651
336,647
655,298
20–24
273,264
267,872
541,136
25–29
266,003
223,667
489,670
30–34
416,479
361,071
777,550
35–39
428,519
391,991
820,510
40–44
409,990
381,535
791,525
45–49
435,133
400,028
835,161
50–54
406,661
376,372
783,033
55–59
421,350
388,932
810,282
60–64
391,758
358,999
750,757
65–69
354,977
325,464
680,441
70–74
286,616
262,466
549,082
75–79
187,982
172,412
360,394
80–84
128,348
107,553
235,901
85–89
82,881
62,479
145,360
90–94
35,671
20,329
56,000
95+
9,463
2,835
12,298
Total
5,829,101
5,477,193
11,306,294
Do we claim on our health insurance?
The short answer is yes, we certainly do.
Hospital use
According to the APRA statistics, December 2017 quarter alone, insurers paid benefits for more than three million days in hospital, arising from 1.18 million hospital episodes of care.
Hospital utilisation is distributed over four categories of hospital—public, private, day only facilities and hospital-substitute. During the December 2017 quarter, hospital episodes were distributed as follows:
Public hospitals 200,624 episodes
Private hospitals 769,534 episodes
Day hospital facilities 158,389 episodes
Hospital substitute 47,704 episodes.
The average out-of-pocket (gap) payment for a hospital episode was $291.5 in the December quarter. This included out-of-pocket payments for medical services, in addition to any excess or co-payment amounts relating to hospital accommodation. The out-of-pocket payments for hospital episodes increased by 6.1% compared to the same quarter for the previous year.
General treatment
We also love using our general treatment (or extras) policies and during the December 2017 quarter, insurers paid $1,287 million in general treatment (ancillary) benefits. The main ancillary benefits during this time included the major categories of:
Dental: $676 million
Optical: $255 million
Physiotherapy: $95 million
Chiropractic: $63 million.
How to find health insurance
Canstar's Health Insurance Star Ratings is the largest of our suite of ratings and awards. That is based on the sheer size of the rating. We have 497 consumer profiles which cover various demographics across the states and territories in Australia. The number of profiles is boggling not to mention the 23,000+ premium quotes or the millions of extras claims scenarios that we calculate.
This whole process has provided us an appreciation for the process that we all go through when trying to choose the right health insurance policy for our individual needs. It is not only about finding a policy that will meet our budget, but also finding one that will provide the cover we need. With the large range of options available from multiple health fund providers, this process can be difficult. We've tried to make it as easy for you as possible!