If you enjoyed Movember, why not keep it growing and raise funds for bowel cancer research in
Decembeard
? 1 in 12 Aussies suffer from bowel cancer (one of the highest rates of cancer in the world), and it is our nation's second biggest cancer killer.
Now in its third year Down Under, Decembeard is a hair-raising fundraiser held throughout the month of December to raise funds and awareness of bowel cancer in men.
Decembeard started in 2012 when UK charity Beating Bowel Cancer began drawing attention to the UK and Australia's second-biggest cancer killer – bowel cancer.
It's so easy to get tested for bowel cancer with a faecal sample test or blood test, and the disease is very treatable if detected early but degenerates quickly if not found and treated. As someone who saw a classmate pass away before reaching 20, I wish I could tell more people not to put off checking – just in case.
How you can get involved
The creators of Decembeard in Australia, Bowel Cancer Australia, is 100% community-funded and receives no government assistance. For this reason, we're passionate about getting Aussie blokes involved in fundraising during Decembeard.
There are also many more ways you can help fight bowel cancer in Australia throughout the year:
The facts about bowel cancer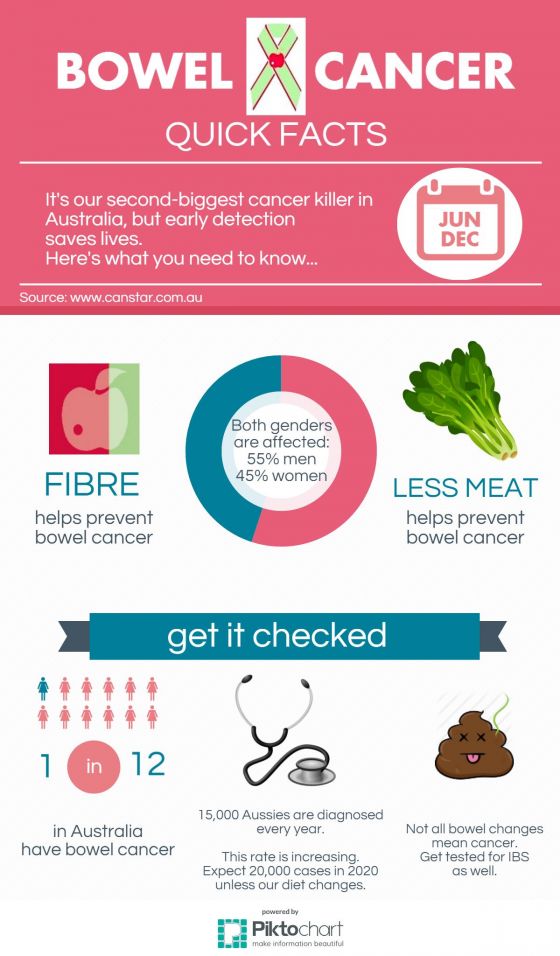 Why you should get yourself tested
Bowel cancer affects men and women of all ages, although it is more common in people aged 50 and over. What's more, 80% of patients don't have any family history of bowel cancer to warn them of the need to get tested. So absolutely everyone should get themselves tested!
Sadly, bowel cancer gives patients a much lower chance of survival over 5 years, at a 66% chance. (Compared to breast cancer, melanoma, and prostate cancer, which all offer a 90% chance of survival.) 3,900 Australians die from bowel cancer every year.
A bowel cancer test is free under the National Bowel Cancer Screening Program for all Australians when they turn 50, 55, 60 and 65 years of age. For the rest of us, it's still cheap – and the peace of mind it gives is priceless.
Private health insurance for bowel cancer patients
Studies in 2014 showed that bowel cancer patients live 8 months longer if they are treated as private patients rather than going through the public system. Julien Wiggins, CEO of Bowel Cancer Australia, said the study confirms national data that 1 in 10 bowel cancer patients wait longer than 30 days to receive life-saving surgery in public hospitals.
So what are your options when choosing to get treated as a private patient? Medicare will cover 75% of your schedule fee cost to be treated as a private patient – but the doctor and hospital can choose to charge more than the schedule fee, leaving a gap for you to pay. You could save up and hope you have enough to cover private hospital bills and out-of-hospital services, or you could sign up for Hospital cover private health insurance.
If you don't already have private health insurance and you already show symptoms of cancer when you sign up, there can be a waiting period of up to 12 months before you can claim benefits. Once the waiting period is over, a Basic or Standard Hospital policy will usually cover you for:
Colonoscopy
Hernia repair
Surgery
Cancer treatment including chemotherapy
Physiotherapy
Palliative care
Extras cover will allow you to claim additional services out of hospital:
Physiotherapy
Psychology (counselling)
Pharmaceutical costs for non-PBS medications
Health aids and appliances such as colostomy bags
Not every policy is the same, and you should always check your PDS to see what you're covered for. Compare health insurance policies on Canstar's website today and make sure you're getting great value benefits for your situation.