Regular exercise is an important part of keeping healthy. However, the cold weather makes exercise in winter even more challenging.
It's good for weight maintenance, for fitness levels, for boosting your mood and energy levels, and it can simply be fun. Keeping up an exercise plan in winter can be challenging, though – so here are 7 easy ways to keep your heart rate up!
Compare Health Insurance Policies with CANSTAR
1. Take advantage of the weather
In the height of summer going for a run can be a seriously unpleasant prospect. The extreme heat combined with the humidity in some states makes for a sweaty and overall unpleasant time.
So why not use the winter climate to your advantage? Most outdoor exercises will be much more pleasant in the cold, if you wear slightly warmer clothes to avoid freezing during your exercise.
On top of that, if you live somewhere cold enough that it snows in winter, try going for a run in the snow! It's similarly difficult to running in sand, so if you really put your back into it, you'll have put in a whole lot of effort in a relatively small time-frame (compared to your standard run).
2. Go straight from place to place
If you usually go home in between work and the gym, there's a pretty solid chance the winter temperatures will convince you to stay home and rug up. So see if you can go straight from work to the gym in the evening, or from uni to the gym. It's all about not giving yourself a chance to quit.
Check whether your health insurance fund offers any rebates or benefits towards gym membership.
If you are in the market for a health insurance policy, or are considering switching, view our comparison table below which provides a snapshot of the low premium policies available currently. Please note that this table has been formulated based on a single male seeking hospital & extras cover in NSW.

Compare Health Insurance Policies with CANSTAR
Alternatively, make getting around an exercise in itself! You'll have a hard time getting cold going from place to place if you're jogging, running, or even cycling to get around, and you'll be burning more calories to boot. It's a win-win!
3. Think ahead to summer
There might not be a whole lot of reasons to get super fit for winter considering the amount of clothes we pack on, and the reduced amount of physical activity we do. But once spring and summer come around it'll be too late to get your summer body in order, so you might as well start now!
If you can chart a course from where you are now to where you want to be at the start of summer, that'll help keep you on track, especially if you do the following as well…
4. Keep a photo diary
If you can document your progress through diary entries and photos, it'll help you stay motivated. You could start a physical scrapbook, or simply keep the photos and entries in your phone. The important thing is to keep the entries regular.
There aren't many fitness-related things more satisfying than watching your body transformation happen before your eyes. A stream of regularly taken and spaced photos can make for a great little slideshow or video.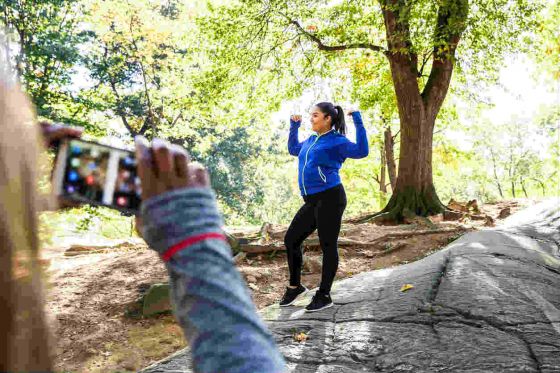 5. Find a fitness buddy
Getting or staying fit becomes so much easier when you're working out with a friend. You can exercise together, eat healthier food together, and simply keep each other motivated. A little bit of healthy competition never hurt, either!
6. Treat yourself to some new gear
If you're the materialistic type, or have just worn through your old exercise gear, why not revitalise your interest in exercise by splashing out on some new equipment? Maybe you need new runners, new exercise clothing, or even a new set of weights.
A small, initial cash investment, plus the excitement from fancy new gear, can give you the boost you need to stay motivated through the next few seasons.
7. Get app smart
There are plenty of apps out there that exist to make your exercise routine more focused and easy to follow, and if you're struggling to pin down a consistent routine, this may be the solution. Apps like the 7-Minute Workout app provide you with a routine that is both quick and effective.
Then there are countless apps out there that contain databases of exercises and allow you to create structured routines out of those exercises. A few of the free workout apps include:
Type of workout
Apps
Timed and customised workouts for different exercise goals and varying intensity

Johnson & Johnson 7-Minute Workout
Sworkit! (Simply Work It)
FitStar
Skimble Workout Trainer
Nike+ Training Club
JEFIT

Track your run or cycle

Map My Run
Couch to 5K Trainer FREE
Strava Running and Cycling
Cyclemeter

For the yoga and pilates lovers

Blogilates
Daily Yoga FREE Version
Qinetic

For something out of the box

Charity Miles (sponsors donate money to charity the more calories burnt you log in the app)
Zombies, Run! (augmented reality style, track your run while zombies chase you)
CARROT Fit AI (one for the nerdy type, the 7-minute workouts include Cthulhu (push-ups) and Spear Throwing Lunges rather than the boring stuff)

Month fitness challenges
30-Day Fitness Challenge
Strength training specific

Fitted Lifts
Strong Lifts 5×5

Weight loss specific
Lose It!
Source: Various apps as researched by the Canstar Editorial Team.
The options are limitless!
When all else fails, and you feel like you'd rather be doing literally anything other than exercising, it might be time to bust out that killer workout playlist you made when you first started exercising. That's where your good old music app comes in.
The right music can help you really get into your exercise, and help keep you motivated so you don't burn out and abandon your fitness plan!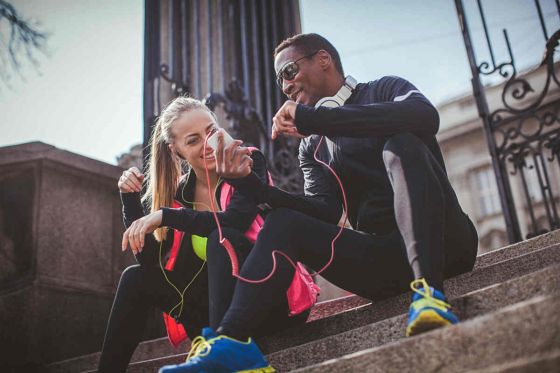 Don't have a music playlist designed for your ideal workout? Let the free Motion Traxx app do all that hard work for you. This app combines workout tutorials with music designed for particular intensity levels. Another option is the or Spotify Running app, a run-tracker with music overlaid by Spotify.
Sticking to an exercise routine isn't easy when you'd rather be cozy under the covers, but if you go easy on the winter comfort foods and use these tips to stay motivated, you should have no problem staying fit through the colder months!

Compare Health Insurance Policies with CANSTAR