A new report from Zenith has found that ETF fees are falling rapidly due to consumer demand and competition in the sector, having fallen 14.3% on an asset-weighted basis over the past year.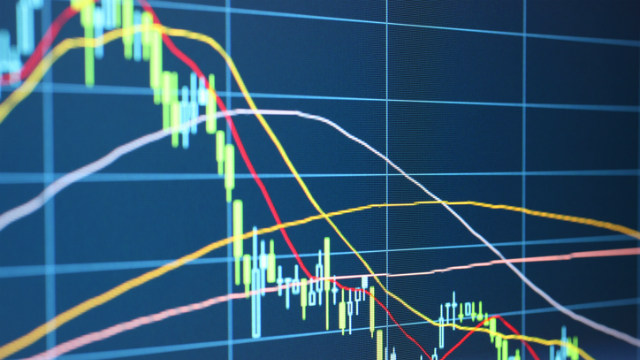 According to Zenith's latest Exchange Traded Funds Sector Review, Australia's ETF industry grew significantly last year and is currently worth $30 billion following a large number of new entrants and product improvement.
The last year has seen 20 new ASX-listed ETFs come on the scene, lifting the total number from 145 to 165.
The report notes that the industry "remains dominated by comparatively few products", with the top 25 ETFs constituting 70% of the entire industry in terms of market capitalisation.
According to Zenith's report, these heavyweight ETFs are leading the race to the bottom on fees, as managers cut fees to maintain competitiveness.
Interestingly, Zenith also reported that the 'simple average' ETF management fee rose 22% between August 2011 and August 2017 – from 0.39% to 0.47%.
But on an asset-weighted basis, fees had actually decreased by 14.3%, dropping from 0.32% to 0.28% p.a., a drop which the report attributes to "the combination of increasing competition and increased investor demand for lower cost products."
Zenith explained that the rise in the 'simple average' is a result of new 'active strategies' ETFs that are "costlier to implement".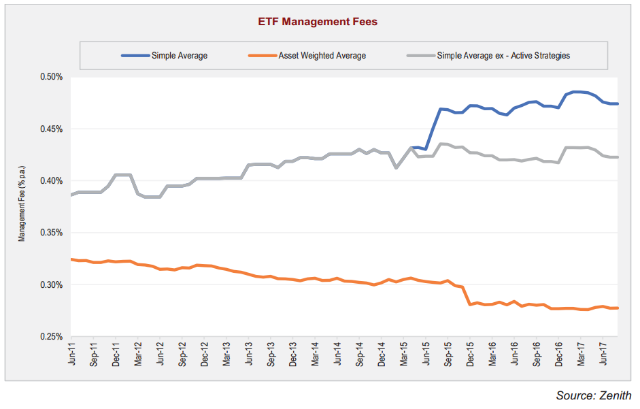 Source: Zenith Investment Partners
Canstar's General Manager for Wealth, Josh Callaghan, echoed these sentiments: "We've seen an increased number of sector, thematic and synthetic ETFs launch in recent times which are all products that tend to cost more to run than an index fund such as the ASX200," he said.
"Some of these newer ETFs, while more expensive than say an ASX200 fund, are still a cost-effective way for an investor to gain exposure to a particular theme or sector and much less effort than constructing their own portfolio."
Fees aren't everything
Zenith's report makes the point that low fees shouldn't be the sole reason for investing in one ETF over another; saying that while "choosing the ETF with the lowest cost is logical," other factors need to be looked at.
"Zenith believes factors such as index selection and methodology, scale, sector and regional weights, tracking error, tracking difference, trading spreads and dividend structures all need to be considered."
"This is especially true if fee differentials are a matter of a few basis points."
Zenith Investment Partners Senior Investment Analyst and author of the ETF review Dugald Higgins said that product progression and sophistication has created an industry which places emphasis on more than just low fees.
"The market has matured to such an extent that the line between passive and active increasingly blurs, and choosing the right ETF is no longer just a fee-driven proposition," he said.