Westpac's subsidiary, St. George Bank, has released the new Rainbow Vertigo Classic and Platinum credit cards to "support equality".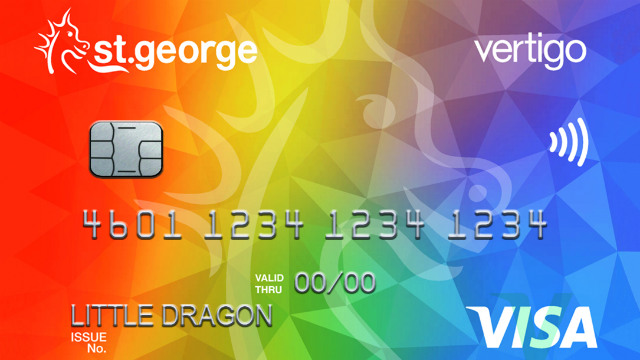 St. George Bank's General Manager Ross Miller told Canstar the new cards will be available from 19 February 2018 and offer the same features as the current St. George Vertigo Classic and Vertigo Platinum cards.
"As a family bank that's committed to the diverse needs of all Australians, we're really proud to celebrate what's important to our customers and support equality in all its forms with the release of our new rainbow vertigo card," said Mr Miller.
"The card is one of the many ways we're supporting inclusiveness and is available for all customers in St.George branches around the country, just in time for Sydney Mardi Gras."
The launch of these new cards comes following the release of St. George's LGBTQI Financial Wellbeing Report in November last year, which found LGBTQI+ Australians believe financial products are designed for only traditional relationships.
"Nearly nine in 10 LGBTQI Australians believe financial products are designed for couples in traditional heterosexual relationships, and seven in 10 hetero Australians agree," said Mr Miller following the release of Australia's same-sex marriage vote last year.
"That's notable given that things like mortgages, credit cards and savings accounts are designed so they can be used by everyone in a way that suits them."
St. George has informed Canstar it will also offer extra bonus interest on an Incentive Saver account available for six months from 19 February and a discounted rate on its Unsecured Personal Loan for a limited time to help all couples who need a hand with the costs of their upcoming wedding.
Canstar warns to read the fine print on new cards
Canstar's Group Manager of Research and Ratings Mitch Watson said it's worth considering if St. George's new cards are the right option before signing up.
"St. George's Vertigo and Vertigo Platinum Rainbow Cards both have interest rates that are below the market average and could be worth considering if you find yourself unable to repay your balance in full each month," he said.
"For consumers who have existing debt, perhaps from indulging in upcoming Mardi Gras celebrations, both cards currently offer long 0% balance transfer terms of 18 months for the Vertigo Rainbow Card and 24 months for the Platinum Vertigo Rainbow Card, with a 1% upfront balance transfer fee which is quite competitive.
"However, it is important that you pay down this debt within the prescribed period as the revert rate is 21.49%.
"If you are able to pay off the debt within the time frame, these balance transfer offers could be a way to reduce the cost of your debt, while showing support for equality."
Rates and Fees on St. George Bank Rainbow Vertigo Card
Rates
Fees
13.24% p.a. variable interest rate on purchases
$55 Annual card fee
21.49% p.a. variable cash advance interest rate
$15 Fee applied for each late or missed payment
2% of each cash advance amount
$9 For each dishonour of a payment under the automatic payment plan
3% of the Australian dollar value for transactions with merchants based overseas
$15 Card replacement fee within Australia ($52.50 outside Australia; $45 emergency replacement fee)
Source: St. George Bank, 19 February 2018.
St. George 'wedding offer' on savings account and personal loans
St. George customers with an Incentive Saver account or Unsecured Personal Loan product may also benefit from new special offers.
Extra bonus interest on a St. George Incentive Saver account
According to St. George, customers with an Incentive Saver account will be able to receive an additional fixed 0.20% bonus interest for six months, on top of the 1.20% variable bonus rate that already applies each month you qualify.
The offer is only valid once customers rename their Incentive Saver account to 'Wedding' via the bank's internet banking.
The new bonus interest rate, on top of the current variable bonus rate, will become available within 45 days of customers renaming their account.
Discounted rate on a St. George Unsecured Personal Loan
St. George has advised that until 1 April 2018, new joint application Unsecured Personal Loans can get a 2% discount off the current advertised rate of 12.99%.
This would bring the advertised interest rate to 10.99% at the time of application for fixed or variable loans, and the comparison rate would be 12.07%, according to St. George Bank.