Qantas has released a new credit card for high-income earners who can earn enough points to fly business class from Sydney to London if they're willing to spend $5,000 in three months.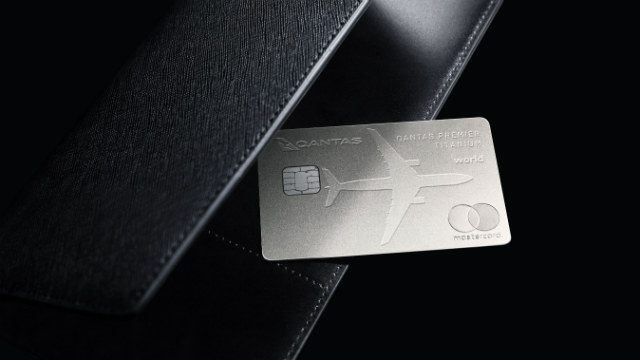 Qantas has launched its Premier Titanium Mastercard aimed at big spenders who earn a minimum of $200,000 per year.
The exclusive card comes with a $1,200 annual fee, an interest rate of 19.99% per annum for purchases and 21.99% per annum for withdrawing cash or other cash advances.
Canstar Senior Research Analyst Josh Sale said Qantas was clearly going up against American Express for a slice of the "ultra-premium" card market.
"Amex's Platinum Card does come with a higher price tag at $1,450 per year, but provides greater flexibility in terms of redemption, with points being transferable to a range of airlines and hotels so you won't be restricted to Qantas," Mr Sale said.
He said the American Express Platinum had other perks, such as status upgrades for popular hotel chains, $450 travel credit each year and a digital AFR subscription valued at $628.
However, Qantas' new credit card offers the highest number of sign-up bonus points of any Mastercard or Visa credit card currently in the Australian market.
Cardholders who sign up by 30 April, 2019 can earn 150,000 Qantas Points if they spend $5,000 within 90 days (about three months), which is the equivalent of a business class flight from Sydney to London.
The card's perks include a 10% discount on Qantas-operated international and domestic flights twice a year for two people.
An individual could save around $2,500 a year with this discount if travelling business class with their partner from London to Hong Kong return, according to Qantas.
Cardholders would also be eligible for two entries to Qantas First Class Lounges and two entries to domestic Qantas Club lounges or Qantas-operated International Business Lounges each year.
For every $1 spent overseas, customers can earn two Qantas Points, up to 1.25 points per dollar in Australia and extra points if you spend money with Qantas, such as by buying wine or attending wine tasting events through the Qantas Wine online store.
Qantas Loyalty CEO Olivia Wirth said the new card would appeal to frequent buyers, otherwise known as high spenders who maximise their points earned on everyday purchases.
"We're seeing more and more of our members with points balances in the millions through strategic credit card use and leveraging program partners," Ms Wirth said.
"The expansion of the program means you can earn points buying wine or buying a car, so the potential for larger balances without flying is huge."