What the latest consumer confidence figures are telling us about our personal finance situations and expectations for the year.
In what some might see as a bad omen for what's to come this year, the ANZ-Roy Morgan Australian Consumer Confidence index fell a total of 4.4 per cent last month – the first January fall since 2008. You may recall how that year turned out…
Backing this up, the Westpac – Melbourne Institute Index of Consumer Sentiment fell by 2.2 per cent in March to 99.1.
How we're feeling
Confidence was 2.1% lower on average in January compared to December. According to ANZ, a January decline in confidence is rare, yet there were four consecutive falls in the weekly index over the month. This dragged it down from a respectable 116.3 points at the start of the year (3rd of January) to a pretty miserable 111.2 points by the end of the month (31st of January).
The last time consumer confidence declined in January – in 2008, just before the global financial crisis (GFC) kicked in – it was a 6.5 per cent fall from 126.8 to 118.6 points.
So the index didn't fall as much in January 2016 as it did back then, but apparently we were more confident heading into the Global Financial Crisis (GFC) than we are now. Little did we know what we were in for that year…
January 2016's final consumer confidence figure of 111.2 puts it below the index's long-term monthly average of 112.7. That isn't as dramatic as it sounds. As you can see in the graph below, consumer confidence was consistently beneath this value over the last year. Much of this was to do with global economic conditions, with the Greek bailout and China's stock market plunge causing the biggest dips.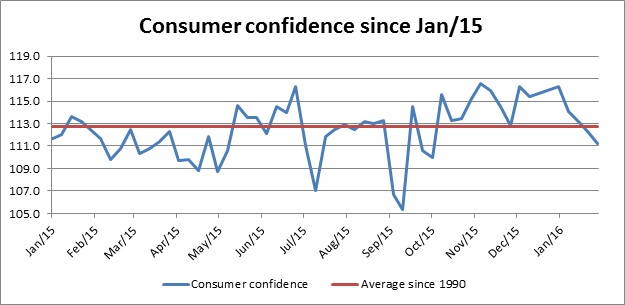 The fall in the latest Westpac – Melbourne Institute Survey of Consumer Sentiment is quite worrying though.
The Consumer Sentiment Index is an average of five component indexes which reflect consumers' evaluations of their household financial situation over the past year and the coming year, anticipated economic conditions over the coming year and the next five years, and buying conditions for major household items.
Reporting on the March findings, Westpac's Chief Economist Bill Evans commented, "The market volatility and unfavourable media coverage on property markets appears to have triggered a reassessment of risk preferences. When we asked consumers about the 'wisest place for savings' there was a much higher proportion nominating 'pay down debt' – 24.4% in March compared to 17.8% in December – with this month's reading the highest since December 2011( 26.6%) when the European Financial Crisis was in full swing. This move to more risk averse preferences also saw a 4.5 percentage point
increase in the proportion of respondents who favoured fixed interest investments, including bank deposits with significant reductions in the proportion nominating real estate (down to 14.7% from 23.4% in December ) and shares (down from 9.9% in December to 7.6% in March)."
"Three of the five components of the Index fell in March. One of the two components assessing family finances – 'family finances compared to a year ago' – declined 8.2%. The Reserve Bank has indicated that it favours this component as a reliable indicator of spending intentions. As such, it would be of some concern that this component, which unlike the overall Index did not lift significantly following last year's leadership change, is now down 5.9% from a year ago, a considerably weaker read than the 0.4% decline in the overall Index. The prudent approach to this sharp move will be to assess the degree to which it is sustained over future months."
Why we're feeling this way
According to ANZ Chief Economist Warren Hogan, the weakness in confidence l highlights the powerful links between international instability and the domestic economy.
"Confidence is now below the long-run average level and has reversed much of the 'Turnbull rally' from last year," he said.
"The weakness in global financial markets and concerns over the global economic outlook appear to be the main reason for the weakness in confidence, although recent market stability does have us wondering if there is a greater fragility in the domestic economy than we previously thought."
So, amongst other factors, much of these confidence falls can be blamed on the heightened volatility in global financial markets that have been triggered by things such as worries of a dramatic slow-down in the growth of China's economy.
In the mood to save? Compare rates.
If you're feeling like putting some money aside for a rainy day, look for great-value rates on offer. Compare savings accounts and term deposits now!
In the mood to spend? Compare interest rates!