Consumer Pulse Report 2021
December, 2021
Canstar's fifth annual Consumer Pulse report identifies Australians' biggest financial pain points, current state of savings and property market prospects for the year ahead.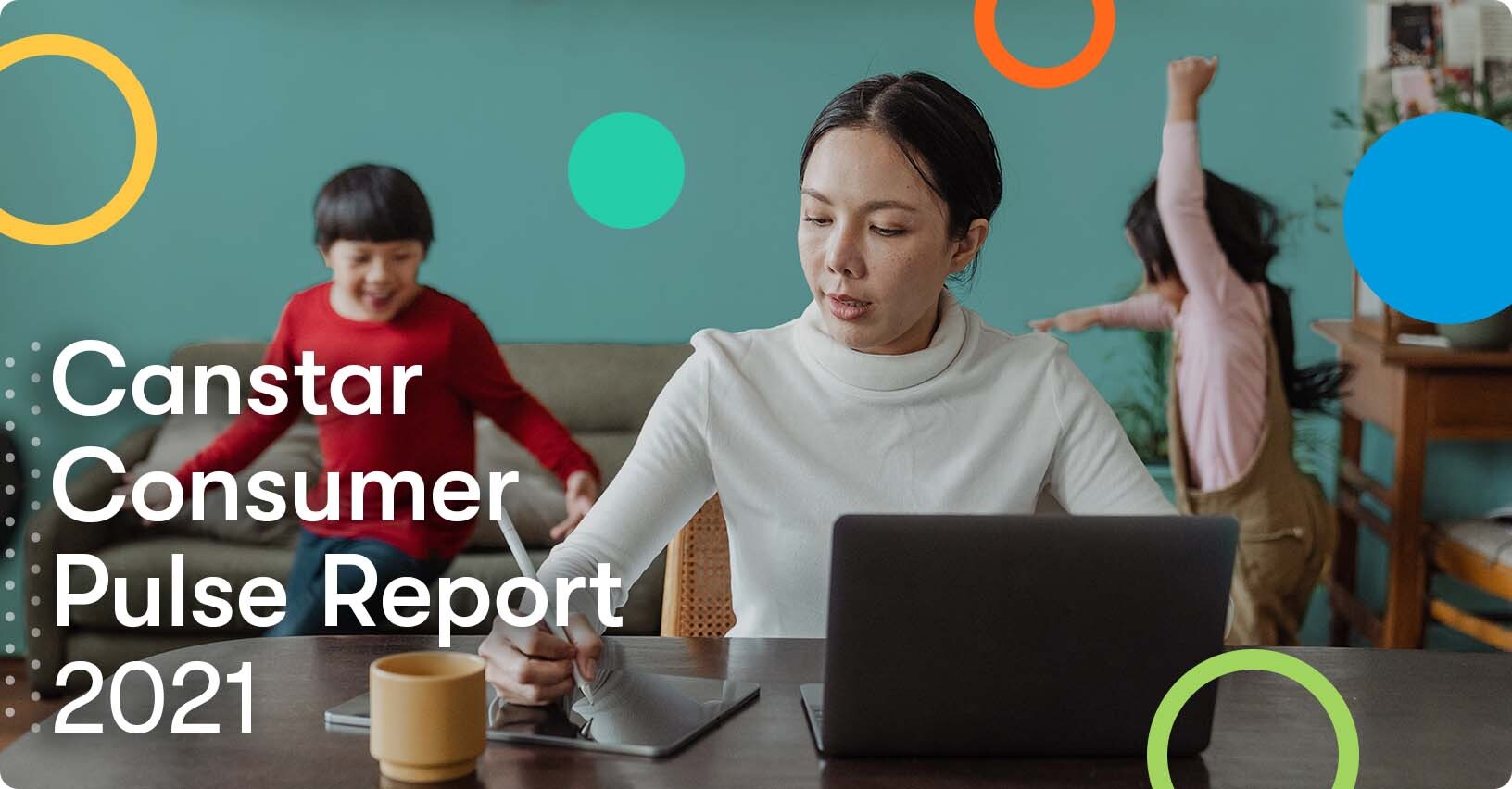 Concerns about the rising cost of everyday living, petrol and rent will squeeze Australian household budgets in 2022, according to the fifth annual Consumer Pulse report from Canstar.
The report conducted by Australia's biggest financial comparison site*, reveals the nation's biggest financial pain points, state of savings and property market outlook for the year ahead, with opinions from more than 2,000 Australian adults.
The national survey findings released today reveal the top financial concerns for Australians coming into 2022 are the price of groceries (14%), petrol prices (11%) and the cost of rent (10%). This comes as the latest Consumer Price Index figures show household expenditure costs rose 3% over the year to the September quarter.
The proportion of Australians who feel they're living within their means fell to 66% in 2021 down from 73% in 2020, suggesting Australians are either feeling strapped for cash after the winding back of COVID-19 support measures or loosening the purse strings as the nation opens back up.
Canstar's Group Executive, Financial Services, Steve Mickenbecker, said "Canstar's report findings show that everyday living costs are hurting the hip pocket of Australians. Prices are rising faster than wages, making it tougher to put food on the table and fuel in the tank."
"The good news is that Australians are less concerned about job security and energy costs, with both issues knocked further down the list of concerns in 2021. This is likely due to the falling national unemployment rate falling this year from 6.4 percent in January to 5.2% in October and with energy prices also trending downwards."
Australians are carrying more debt than a year ago
The report found 29% of Australians are carrying debt outside of a mortgage. Indebted Australians have $46,020 on average in debt, which is an increase of 52% of $15,832 from last year. Two fifths (40%) of this debt was accumulated in 2021.
Credit cards remain the leading source of debt, though the proportion of indebted Australians who owe money on a credit card fell to 50% in 2021 down from 56% in 2020. Buy now pay later (BNPL) debt however, is on the rise, with a quarter (25%) of indebted Australians carrying BNPL debt, up from just 18% a year ago.

Mickenbecker added, "The proportion of Australians with debt only slightly increased by one percent, but those who are carrying debt owe a lot more than a year ago, spiking by nearly $16,000."
"While credit cards remain the biggest debt culprit, a growing number of Australians are accruing buy now pay later debt, and it's not just the younger generations either. Canstar's results show 27 percent of Gen X and one in ten Baby Boomers with debt outside of a mortgage owe money on buy now pay later, reflecting an ongoing shift away from plastic towards interest-free payment options.
"The debt story is not all doom and gloom, as the majority – 76 percent – of Australians with money owing feel that they can manage it."
A nation of two-speed savers
The median amount Australians have in savings and investments outside of assets or superannuation is $5,000, plunging from $15,000 in 2020. On a more positive note, three quarters (75%) of Australians save a portion of their income after tax each month, putting away $671 on average.
This still means a worrying one in four (25%) aren't setting any money aside. The majority (73%) of non-savers attribute this to living paycheque to paycheque, up from 68% in 2020.
"Australia become a nation of two-speed savers during the pandemic. Some were able to improve their financial situation due to limited spending opportunities, while others were left worse-off. This is reflected in Canstar's report findings that show 41 percent saved the same or more than last year, while 29 percent dipped into their savings," said Mickenbecker.
"Savings balances took a tumble in 2021 which could come down to a number of pandemic-related factors, including stricter eligibility criteria for COVID-19 relief payments and the end of the early access to superannuation scheme, forcing some people to access their nest egg to get by."
2021 was the year of investing
While some Australians took a financial hit during the pandemic, others were able to focus on building wealth, with one in five Australians (20%) dipping their toe in investing for the first time in 2021. Younger Australians are leading the charge, with 34% of Gen Z investing for the first time in 2021 followed by 27% of Millennials.
The top three investment options among first time investors in 2021 were shares (80%), followed by property (25%) and cryptocurrency (24%).
"A fifth of Australians invested for the first time in 2021, likely spurred on by dwindling savings interest rates. Canstar analysis shows the top savings interest rate dropped by 0.40 percent this year, falling from 1.75 percent in January to 1.35 percent at present, which hardly makes for lucrative returns compared to the potential to be had with other investment types," said Mickenbecker.
"The majority of first time investors purchased shares this year, however one quarter also invested in cryptocurrency, indicating that digital currencies will continue to be a reckoning force in the year ahead despite their volatility."
Pace of property price growth expected to continue to 2023
National property prices turbo-charged by more than 20% in 2021, yet 18% of Australians expect prices to skyrocket even further over the next two years while 44% expect a steady increase. The results also found 12% expect prices to remain stable and 11% expect them to ease or crash.

The combination of higher property prices and low interest rates has been a boon for homeowners, who estimate they now have on average $312,973 in home equity. Just over one quarter (27%) of property owners are considering accessing their home equity, with the top options being to renovate (28%), to buy an investment property (24%) and to invest in shares (16%).
Mickenbecker added, "Rising property values are bad news for first home buyers, but existing property owners are revelling in a home equity surge. Homeowners in New South Wales have seen the biggest increase, lifting home equity to $407,299, followed by Victorian homeowners with $312,578."
Gen Z has it the hardest for property
Gen Z (37%) is officially the generation determined by Australians to have it the hardest when it comes to buying a home, while Baby Boomers were deemed to have it the easiest (7%). Canstar analysis shows the median home in 1980 was just $43,104 with a debt to income ratio of 2.6, however fast-forward to 2021 and the median house price has ballooned to $744,688, with a debt to income ratio of 6.6.
Despite the financial hurdle faced by younger Australians trying to crack the property market, just 21% of Australians feel parents have an obligation to help their kids buy their first home, falling from 25% in 2020.
"Canstar's results show that younger Australians are perceived as being the most hard done by when it comes to buying their first home, though I suspect the debate will continue to rage for generations to come," said Mickenbecker.
"Runaway house prices in 2021 are making the task of putting together a deposit still less attainable for first home buyers. In introducing higher capital requirements for banks, APRA will be hoping to slow housing price growth, but with banks already charging higher interest rates for investment, it may not be enough.
"If the Australian dream of home ownership is to survive this decade, we need to slow investment lending by easing the brakes on now. If next year is another year like 2021, there will be a need to slam on the brakes."

For further information:
Belinda Williamson
Group Manager, Corporate Affairs
Ph: 0418 641 637
Anastasia Lloyd
Senior Corporate Affairs Specialist
Ph: 0477 961 653
Notes to Editors
* Please refer to: www.canstar.com.au/biggest-original

About Canstar
Canstar (Canstar.com.au) is a leading research agency and Australia's biggest financial comparison site*, comparing more brands than any other. Founded in 1992, Canstar aims to simplify the world of finance by comparing over 770 brands across more than 30 finance categories including banking, insurance and superannuation. Our team of expert researchers analyse thousands of finance products to develop our Star Ratings and Awards, aimed at helping consumers find products offering outstanding value, not just the lowest price. We've also recently launched Customer Satisfaction Awards to add a consumer perspective to the comparison equation. In 2010, we expanded our services and launched Canstar Blue (Canstarblue.com.au) to provide customer satisfaction research and ratings for over 900 brands across more than 250 consumer products and services. Today this also includes price comparisons for energy, phone and internet providers. Canstar is not owned by a financial institution, holds Australian Financial Services and Credit licenses, and takes its compliance obligations very seriously.
CANSTAR COMPLIANCE DISCLOSURE and LIABILITY DISCLAIMER
To the extent that the information in this report constitutes general advice, this advice has been prepared by Canstar Research Pty Ltd A.C.N. 114 422 909 AFSL and ACL 437917 ("Canstar"). The information has been prepared without taking into account your individual investment objectives, financial circumstances or needs. Before you decide whether or not to acquire a particular financial product you should assess whether it is appropriate for you in the light of your own personal circumstances, having regard to your own objectives, financial situation and needs. You may wish to obtain financial advice from a suitably qualified adviser before making any decision to acquire a financial product. Canstar provides information about credit products. It is not a credit provider and in giving you information it is not making any suggestion or recommendation to you about a particular credit product. Please refer to Canstar's FSCG for more information. All information obtained by Canstar from external sources is believed to be accurate and reliable. Under no circumstances shall Canstar have any liability to any person or entity due to error (negligence or otherwise) or other circumstances or contingency within or outside the control of Canstar or any of its directors, officers, employees or agents in connection with the procurement, collection, compilation, analysis, interpretation, communication, publication, or delivery of any such information. Copyright 2020 Canstar Research Pty Ltd A.C.N. 114 422 909. The word "Canstar", the gold star in a circle logo (with or without surmounting stars), are trademarks or registered trademarks of Canstar Pty Ltd. Canstar's permits reproduction of its gold logo in the form provided by Canstar, subject to a limited, revocable licence for the purpose only of use by bona fide journalists in press articles or as otherwise authorised in writing by Canstar. Reference to third party products, services or other information by trade name, trademark or otherwise does not constitute or imply endorsement, sponsorship or recommendation of Canstar by the respective trademark owner.