Google Home – a smart voice-controlled home speaker – has officially launched in Australia. While competition is fierce in the smart home voice assistant market, Google Home has proven to be a worthy competitor against rival Amazon Echo and Alexa.
Canstar staff have spent months living with Google Home and have tested a variety of commands across different living scenarios. While there are endless different things you can ask Google Home smart speaker, here's a list of nifty and practical commands staff found that Google Home can do for you right now.
Check out the form at the bottom of the page for your chance to win a Google Home!
Basic Commands
Stop Google from listening: "Hey Google, mute your microphone."
Alarms: "Hey Google, set an alarm for 6.30 tomorrow morning."
Schedule: "Hey Google, how's my Wednesday looking?"
Calculation: "Hey Google, what's the square root of pi?"
Entertainment and Party Tricks
Discover restaurants: "Hey Google, where's the best burger place nearby?"
Freestyle Beatboxing: "Hey Google, play some phat beats."
Random trivia: "Hey Google, give me some trivia."
Turn on your smart TV and play a show: "Hey Google, play Rick and Morty on the TV."
Translate: "Hey Google, what is 'interest rate' in French?"
News, Finance and Budgeting
Start a shopping list: "Hey Google, start a list."
Add item to a shopping list: "Hey Google, add milk to my shopping list."
Pull up your list: "Hey Google, show me my shopping"
News updates: "Hey Google, what's the top news story today?"
ASX updates: "Hey Google, how is the ASX 200 doing today?"
Check stock updates: "Hey Google, how are the stocks for [Stock] going?"
Budget: "Hey Google, how much does a RED Cinema camera cost?"
Kitchen Assistance
Read recipe: "Hey Google, what's the recipe for Smashed Avo on Toast?"
Conversion: "Hey Google, what's 2 tablespoons in millilitres?"
Set timer: "Hey Google, set a timer for 7 minutes."
Nutrition: "Hey Google, how many grams of fat are there in an avocado?"
IFTTT (If This, Then That) Integrated Commands*
IFTTT is a platform which allows smart devices such as the Google Home to communicate with the Internet of Things (IoT) – e.g. smart appliances, social media accounts, news websites, cloud storage (pretty much anything connected to the internet).
Think of it like a switchboard operator that allows all of your smart things to talk to one another.
You can create simple commands (called recipes) to do things like turn smart lighting on and off and change colour.
More complex commands can include setting the device to track and store daily changes in BitCoin prices as a spreadsheet on your cloud storage of choice and read them out whenever a custom phrase is heard by your Google Home.
You can also create recipes to troll your workmates, like we've done here in the office:
"Ok Google, how did Bronson go in the office footy tipping comp this year?"
"Utterly, shockingly bad. He got the wooden spoon. I don't know why he bothered."
There are over 360 "services" that you can link to one another with custom recipes, so if you ever dreamed of letting the world know via Twitter every time your clothes dryer finished a cycle, the future is now!
*WARNING: IFTTT commands are for advanced geeks only and may require an IFTTT account and/or additional hardware. For more information about custom recipes and how they can change your life, visit: https://ifttt.com/wtf
Interested in a Google Home? Here's your chance to win one*.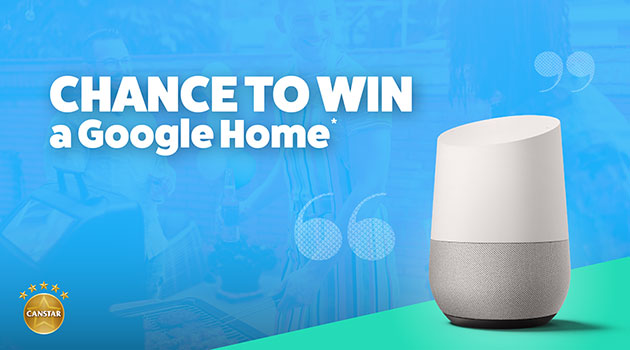 Canstar is giving you the chance to win a Google Home valued at $199 RRP! All you need to do is simply fill in your details in the form below, and sign up to one or more of our great monthly newsletters.
Entries close at 11.59pm AEST on Thursday the 14th of September, so get in quick! *T&C's apply.