CANSTAR Flight Centre Voucher Promotion General Terms and Conditions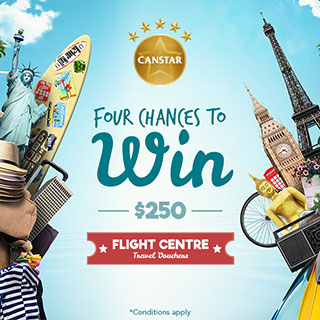 Schedule To CANSTAR Flight Centre Voucher Promotion General Terms and Conditions
Item Number
Description
Details
1
Promotion Period
This Promotion commences at 10am AEST on 1 August 2016 and closes at midnight AEST on 31 August 2016.

Winners announced:

Winner 1: Uday Sen (VIC) 1 x $250 Flight Centre Voucher
Winner 2: Allyson (TAS) 1 x $250 Flight Centre Voucher
Winner 3: Duncan Mcleod (QLD) 1 x $250 Flight Centre Voucher
Winner 4: Sally Rodgers (VIC) 1 x $250 Flight Centre Voucher

2
How to enter
To enter the Promotion, Entrants must subscribe for one or more new electronic newsletter subscriptions via the Canstar website at www.canstar.com.au/email-sign-up.

Notwithstanding clause 9 of the Promotion General Terms and Conditions, each new and different newsletter subscribed to by an Entrant will be counted as an entry in the Promotion, to a maximum of 11 entries per Entrant.

3
Inclusions or exclusions (if applicable)
Residents of South Australia are ineligible to participate.

4
Details of Prize and value
The draw will be in relation to four prizes, each being a voucher issued by Flight Centre for travel services (each called a "Prize") to the maximum of $250 each in value. The total value of all Prizes is $1,000.

5
Draw date, time and location
Four Prize Winners will be randomly selected from a list of eligible Entrants. The draw will take place between 9am and 10am AEDT on 1 September 2016 at Level 21, 143 Turbot Street, Brisbane, QLD, 4000. Four Prize Winners will be drawn, each Prize Winner being entitled to a single travel services voucher to a maximum value of $250.

6
Permit details (if applicable)
This Promotion is authorized in New South Wales by Permit number LTPS/16/05622. The conditions of the permit will override these conditions to the extent of any inconsistency.

7
Additional Conditions (if any)
The Prize gift card issuer's terms and conditions of issue of a Prize will apply to the Prize and the Prize Winner's use of it.
Promotion name: Canstar Flight Centre Travel Voucher