End of financial year sees many clearance sales and resulting buys, including the purchase of some larger items like a new car. If purchasing a new car without doing your research on financing options first, you may not be getting the greatest value out of your discounted purchase.
We've looked at the total cost for three of the most popular cars when loan interest has been factored in.
The following table shows the highest, lowest and average interest rate on new car loans on Canstar's database, available for the loan term and amount required for the purchase of three of the most popular cars (for 2014, according to the Federal Chamber of Automotive Industries):
Vehicle purchased
Toyota Corolla Ascent Hatch – Manual
Mazda3 Neo – Auto
Toyota Hilux 4WD SR5 Dual Cab – Auto
Approx.
purchase price
$20,000
$27,000
$55,000
Loan Term
5 years
5 years
5 years
Min. Interest Rate for available loans
5.29%
5.29%
5.29%
Average Interest Rate
for available loans
8.22%
8.21%
8.19%
Max.* Interest Rate for available loans
14.55%
14.55%
14.55%
Total interest at min. interest rate
$2,805
$3,787
$7,714
Total interest at average interest rate
$4,460
$6,008
$12,205
Total interest at max. interest rate
$8,265
$11,158
$22,729
Extra interest paid at max. interest rate
(vs min. interest rate)
$5,460
$7,371
$15,015
Total repayments at min. interest rate
$22,805
$30,787
$62,714
Total repayments at average interest rate
$24,461
$33,008
$67,205
Total repayments at max. interest rate
$28,265
$38,158
$77,729
Source: Canstar 2015, assuming no deposit paid. *based on minimum rate offered by providers. Total repayments above include principal and total interest payments. One-off and any other ongoing costs have not been considered and could see the total cost increase further.
Evidently it pays to do your homework! Not doing so could cost you up to $15k in interest payments that you could've avoided paying by simply looking at different loan products before deciding on one. So make sure you compare car loans – look for a cheap car loan rate – but more importantly, once that represents outstanding value.
How To Minimise Your Car Loan
On top of doing your research, here are some other ways you can save money on a car loan before you even take it out…
Zero interest isn't always best
To many people a zero-interest loan is an extremely attractive option, but it's not always the cheapest option. Zero-interest loans can be larger by default in order to make up for the lack of interest payments, or it might just be that there's a better loan option out there. Like we said earlier, compare extensively before choosing.
Avoid add-ons
Paint sealant, fabric protection, tinted windows. We've just named three things that will provide you with next to no tangible benefit, but will put hundreds of dollars in the hands of the car dealership. Do away with them and reduce the size of your loan by a notable amount.
Be prepared to haggle hard
It may not be evident, but the reality of car finance is that absolutely everything is negotiable. This includes the cost of the car, and admin fees that may seem fixed. The dealership makes no money if you walk away, and you'll be surprised how far they?re willing to bend to stop that happening.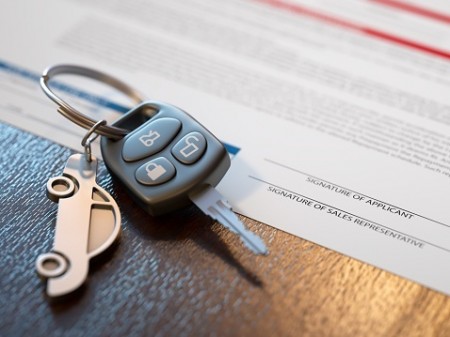 Be smart with your timing
There are times of the year when cars are cheaper, and not taking advantage of this fact is a fool's error. The end of the financial year is an obvious one, but you can also save major dollars around Christmas, and the start of the New Year (February and March).
You don't even need to wait for these times however, as you can get lower prices at the end of every month, when car dealerships can be desperate to fill their monthly quota. Some dealerships will have filled their quote already though, so don?t rely on this trick alone.
Think about the car you're buying
Do you really need the high-powered version of the car you?re looking at? Could you settle for two seats rather than four? Is the sedan cheaper than the hatchback? These are some questions you could ask yourself, and the answers could potentially save you a lot of money.
Remember that buying the car is just the first step – you still need to pay for it.