Australia has a low official cash rate, a reasonably robust economy and encouraging business and consumer confidence levels. If a business loan is on your current to-do list, there are a few possible traps to avoid.
These eight possible mistakes could leave you…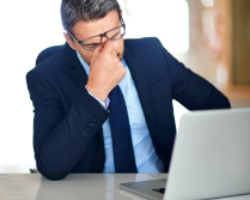 … Paying more than you have to for business finance
… Locked into a loan you no longer need
… Unable to access funds when you need them
Some possible mistakes when applying for a business loan include:
1. Not getting advice
The way you structure your business finance can have a massive impact on the overall cost, especially when it comes to potential tax savings.
Getting professional advice from the outset will help you make the most suitable choices for your unique business.
2. Lack of preparation
When you apply for a loan you'll need to provide background information about your business. Bank lenders will generally want to see financial records, cash flow projections, a detailed business plan and a business case for the loan.
Not having these documents prepared can lead to costly processing delays, or even rejection of your application.
3. Not matching the term to the need
An important rule of business finance is: match the term of your loan to the purpose. A mismatch could cost you dearly and leave you without the flexibility you need. As an example, you may want to:
Seek longer-term finance for large purchases like property
Meet short-term needs, like bolstering working capital during seasonal fluctuations, with at-call finance like an overdraft.
4. Opting for the wrong type of finance
There are many different types of business finance, from straightforward secured loans to specialised finance for specific industries or business models. Each type has different pros and cons, so shop around to find the most suitable option for your specific purpose.
5. Applying to an unsupportive lender
Approaching the wrong lender could lead to a rejected application, lost time and even a black mark on your credit rating.
Every lender has an appetite for different types of business, so it's important to seek out one that works with businesses like yours.
6. Not using your collateral
The cost of finance will be directly linked to the amount of risk your business poses. If you have assets you can offer as security you can expect to pay substantially less for your finance, whether you're dealing with a big bank or an alternative lender. Compare business loans by residential security or commercial security. It's important to consider, though, the pros and cons of using your home, for example, as security for a business loan.
7. Paying more than you need to
The bank loan application process can sometimes seem slow and burdensome, so it might be tempting to go straight to an alternative lender. But if you meet the banks' criteria and there's no pressing need for funds, impatience could be an expensive mistake.
Shaun McGowan from small business loans provider Lend, says "Whilst online fintech lenders offer quick access to funding, it often comes with higher interest rates, so it's important for business owners to properly evaluate their options".
8. Underestimating the costs
Every loan incurs costs, from set-up and discharge fees to regular admin charges. Make sure you understand everything you're paying for your finance, especially if those fees will be added to your loan balance (you'll be paying interest on them too).
Small businesses are the lifeblood of Australia's economy and all businesses need specialist business banking support from their financial institution. Take your time, do your homework and achieve an outcome that's right for you. Check out our comparison table below which provides a snapshot into the current market offerings for Business Loans, or try out this tool here. Please note that this table has been formulated based on the loan being secured by commercial property, for a loan of $250,000 in NSW, and is sorted by our star rating (highest to lowest, A-Z).