Every year charity stores receive billions of donated items and use the proceeds from reselling them to provide help those in need in their local communities. Among their most popular items are designer clothing, antiques, books and fine jewellery. But a lot of wilder things also get donated to op shops – whether intentionally or by mistake…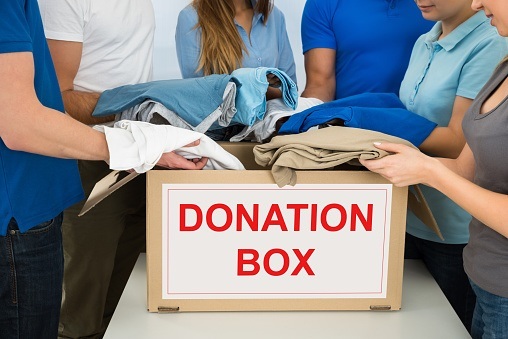 In anticipation of the 2015 National Op Shop Week, held over 23 – 30 August, leading charity stores Red Cross, Salvos and Vinnies have revealed the weirdest things they have received as donations.
The wild and the wacky
Wacky donations to the Red Cross, Salvos and Vinnies have previously included things on the more human side, such as a titanium prosthetic limb, a full box of (used) dentures, and a bag of human ashes.
One Vinnies in Victoria received a wad of old notes that would once have been worth only $400 but when uncovered in 2014, were estimated at $32,000 in value. Vinnies Victorian chief Cam Battaglia told 3AW radio and the Herald Sun that they handed the money over to the police, as per their usual process. They expect that the distinctive wrapping would help them find the money's owner.
Then there's some donations that are just plain rubbish. From bald car tyres and empty paint tins to a bag of prawn heads and shells, nothing tops the weirdest we heard of … a dead shark.
Charities lumbered with surprisingly expensive gifts
Unfortunately for the charities involved, some of these items are quite expensive for them to dispose of. Kerryn Caulfield, CEO of the National Association of Charitable Recycling Organisations (NACRO), said soiled mattresses and baby nappies are among the worst things people regularly "donate" to op shops. These are classified as hazardous goods, with specific legal requirements for their disposal.
"What it does is contaminate everything in the bin so everything is unusable," said Ms Caulfield. "We hope that by educating people on how to make their donation count, we can eliminate that drain on the volunteers and staff who have the unpleasant job of dealing with the rubbish."
Caulfield said people assume that tipping is free for charities, but that's a mistake: "Charities are exempt from some fees but it is not 100% free and then there are the add on costs of removal and transport."
Founder of National Op Shop Week Jon Dee said, "The Salvos alone spend up to $6 million dollars a year on disposal costs and landfill fees. That money could be going towards welfare programs that help people back into the workforce, or assist people after natural disasters."
National Op Shop Week tips for what is and isn't donatable
This National Op Shop Week, op shops across the nation are urging customers to donate responsibly and check your items before you drop them in a donation bin. The NACRO rule of thumb is, don't donate anything you would be embarrassed to give to a friend as a gift.
For more specific tips from National Op Shop Week, read on for their list of donating dos and don'ts. The NSW EPA also has a great video series called Donator or Dumper to raise awareness about the issue.
For clothing
NACRO research in 2013 showed 62% of women have clothes in their wardrobe that have never been worn or still have tags on, and 83% of women have clothes they've only worn once or twice. That's what op shops love to see – clothes that are like new! Donated clothes should be:
Clean and not torn or broken. Pockets should be empty.
Folded in a clean box or bag.
In pairs, if they belong in pairs. Shoes should be tied at the laces. Socks and gloves should be stuffed inside each other.
Cotton items that are not sellable because they're stained or ripped can still be recycling into stuffing or cleaning rags. Put them all together in one bag and write "cotton" on it with a permanent marker.
Check whether the furniture is donatable with your local op shop first. A missing drawer is okay with "upcycling" charities but not with most general sale op shops.
Check whether the charity will pick up furniture. Don't just leave it beside a donation bin.
Electrical items are tested for working condition before sale. Don't waste people's time by donating broken or dead appliances.
No broken crockery either, please. You wouldn't want a volunteer to be cut or injured while handling the rubbish you "donated".
For furniture, bric-a-brac and other items
Get out there and get thrifty
This August, clear out your closet to make room for all the gorgeous "new/old" treasures you'll find in National Op Shop Week. Now in its fourth year, the 2015 campaign slogan is "Op till you drop!"
NACRO research in 2013 showed 88% of Australian women have purchased something from a charity op shop, and 97% have donated an item to a charity op shop at some point in their lives.
Think vintage, think timeless, think refashion. If you need some inspiration, you can check out the National Op Shop Week 2014 collection of top tips for op shopping like a pro or look up the best Aussie op shop bloggers of 2015:
To find your local charity op shop, take a look at the more than 2,000 shops listed on OpShopWeek.com.au
National Op Shop Week is a joint initiative between not-for-profit organisation Do Something! and NACRO, which aims to raise funds for charities by increasing clothing donations and boosting sales.
Other articles you might like