September marks the start of spring – and that's a great time to freshen up your money habits.
September is a lovely time of year. The temperature is warming up (need to lose those few winter kilos) and the countdown to Christmas is about to start. Yes, really! It's easy to have a positive attitude in spring and that is a great time to put aside an hour or two to concentrate on your finances.
How to spring clean your finances
Just like cleaning out your cupboards, spring-cleaning your finances can bring to light some forgotten expenses, hidden debt or simply some (financial) stuff that you don't need anymore. Ideally, you should look at: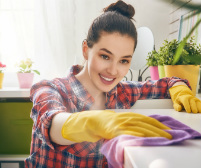 The money you earn
The money you spend
How to protect it all
Let's have a look at those different areas in turn.
The money you earn
It's important to keep track of the money that you earn. That might sound a bit silly, but what you earn can be wider than just your weekly or fortnightly pay packet. What you earn can include family benefits, income from investments and one-off amounts such as a tax refund.
Make sure you are not losing money by forgetting to keep receipts that could be a tax deduction, forgetting to claim any refunds or rebates that you're entitled to and of course checking to ensure that you are being paid all your entitlements (don't forget about your superannuation entitlements, for example).
If you have any cash savings, also ensure that you're getting a competitive term deposit interest rate, or a competitive at-call cash account interest rate. It's also worth comparing your superannuation options to ensure that you're in a super fund that suits your needs.
The money you spend
If you don't have a written budget, now is a great time to do one.  Having a written budget can really help you to stay on top of your expenses, because seeing them all written down, in black and white, is a great reminder of what you?re meant to be spending your money on. A written budget is also a terrific way to help you identify any "wasted" spending.
We have some great tips on how to write a budget, as well as an online budget calculator you can try.
Some finance areas where you could potentially save money include:
| | |
| --- | --- |
| Your credit cards | Credit card interest rates range from 7.99% up to 23.50%. If you have an ongoing debt, check out your options |
| Your home loan | Even with our low cash rate, variable home loan interest rates on CANSTAR's database range from 3.69% up to 6.03% |
| Your car insurance | When was the last time you reviewed it? It's a  very competitive market out there |
| Your home and contents insurance | This is also a highly competitive market and insurers compete hard on both price and features |
Protecting your money
You can work hard and play hard, but if you fall hard you don't want to lose everything you have worked for. It's really important to protect both your income and also the assets you have built up over time.
Make sure you have the right amount of life insurance to suit your needs, plus income protection insurance in case you're unable to earn an income due to illness or injury. Just in case!