We spend hundreds of millions on Melbourne Cup bets each year, but in reality that's just the tip of the fatberg
It's the race that stops a nation and we spend millions of dollars on the Melbourne Cup each year. There are limitless tips on how to pick a winner, barriers to avoid,  and Melbourne Cup fashion tips and traps; sometimes everything can change in a flash depending on the weather forecast. But – and without wanting to rain on the parade, you need a plan to manage your money on the Day.
Ultimately, the twenty dollar punt on the actual race isn't what's going to hurt your credit card balance. It's the overall celebration – both planned and impromptu – of the day itself that can cause financial pain.
Our Emirates #MelbourneCup emoji is LIVE! Tweet using a #MelbourneCup hashtag for the sought after Cup to appear + follow @FlemingtonVRC. pic.twitter.com/0Genzr1cad

— Twitter AU (@TwitterAU) October 30, 2016
How do you keep your Melbourne Cup spending under control?
If you're heading to The Cup, or just heading out to lunch to celebrate it, these are the main areas of spending to control.
Fashion on the field
Stunning @edwina_b makes riding a horse in a gown look effortless. Check out the cover of Switched On @byrnesh @sunriseon7 #MelbourneCup pic.twitter.com/GFcu7ZGzK6

— Channel 7 (@Channel7) October 26, 2016
If you're getting all dressed up with somewhere to go, you've hopefully factored in the associated clothes, shoes, hair, hair and makeup costs. If you haven't, and you don't have the cash handy, then avoid the impulse to go crisis-shopping. Check out what you already have in your wardrobe, or put in a crisis call to a (similarly-sized) friend).
Alcohol & food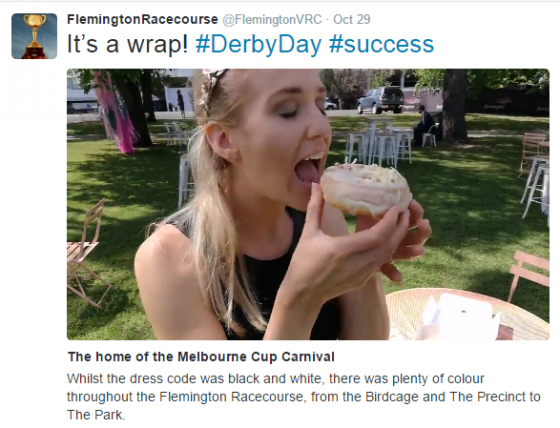 When it comes to the day itself one of the biggest risks to your wallet is alcohol consumption combined with irrational enthusiasm. First to the alcohol: it's expensive! So slow it down and drink some water. Remember that you do need to turn up to work the next day and it's good if you can do that sober and without a hangover.
Try our budget calculator here
As well as the cost of celebrating, those drinks can affect your logic. So after a couple of drinks, and when all around you are putting just a few extra bets on the race, you'll be tempted to go bigger and better as well. The more you've had to drink, the more unrealistic your expectations might be about your chances of winning (which are slim, even if you're backing the favourite).
Putting on a Melbourne Cup bet
If you have assessed the track conditions, studied the performance of the competitors over long-distance races and read up on their current condition, by all means place a bet. Just make it an amount that you can afford to lose because chances are that you will!
The Melbourne Cup can be a lot of fun – hey, we've even star-rated the horses this year for some light entertainment! Just make sure the fun is affordable.