Two reports released this week found households nearly doubled their wealth over the last four years and have slackened their food budgets with the average Aussie spending almost $300 eating out monthly.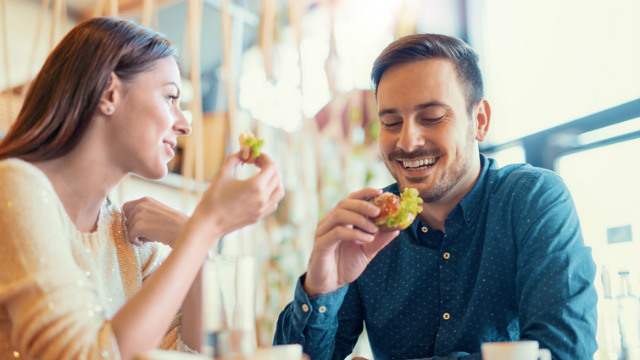 Roy Morgan's newly released 'Superannuation and Wealth Management in Australia' report for October 2017 showed the net wealth of Australian households has skyrocketed since 2013.
The report found the four years to September 2017 saw a 42% uptick in Australia's total household net wealth, from $5.703 trillion to $8.135 trillion.
Equity driving household net worth
Of the $2.432 trillion/42% increase to Australian household wealth, $1.387 trillion/57% was caused by increased equity in owner-occupied homes.
Roy Morgan Research Industry Communications Director Norman Morris said there were two groups in Australia when it came to household wealth and its rate of increase.
"There are those who own or are paying off their home and those who are not," Mr Morris said.
"The rapid rise in home values in Australia over the last few years has left those who are not owner occupiers well behind in their share and level of household net wealth."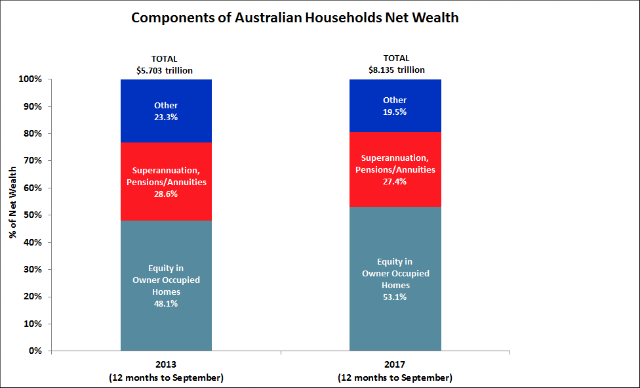 Source: Roy Morgan Single Source (Australia). 12 months to September 2013, n= 49,846; 12 months to September 2017, n=50,020. Base: Australians 14+
Equity in owner-occupied homes also made up an increased percentage of household wealth, rising by 5% in the four years from September 2013.
By contrast, superannuation and pensions/annuities now represent a decreased percentage of household wealth, having fallen from 28.6% to 27.4%.
Mr. Morris explained this decrease, saying that although superannuation funds had increased over recent times, they grew at a slower rate than the increase in home prices.
He added this led to them "holding a lower share than four years ago and currently just over a quarter of household net wealth," and that it is "very likely that for some years to come, retirement funding will need to come from household resources outside of superannuation."
Increased household wealth possibly driving increased lifestyle spending
Meanwhile, new research from Commonwealth Bank of Australia examined the spending habits of their customers and found the average Aussie spends a significant amount on eating out every week.
CBA found their customers were spending upwards of $640 million on fast food and restaurants monthly with the average individual dropping $90 a month on fast food plus $143 a month at restaurants.
Commonwealth Bank Executive General Manager Digital Pete Steel pointed out that while millennials seemed to be the fondest of dining out, accounting for nearly half of all fast food purchases and a third of total restaurant trade, they're not the ones spending the most money.
"Customers aged 40 to 45 spend the most per month on fast food, potentially because they are purchasing meals for a family, while those aged between 50 and 55 spend the most in restaurants – $184 a month on average," Mr Steel said.
He also noted that despite the increase in fast food and restaurant spending, spending on groceries remained fairly flat – only increasing by 2% in the last two years.
Mr Steel did stress the importance of keeping track of one's expenses, regardless of how much they earn or spend.
"Everyday spending can amount to a lot of money at the end of the month, and sometimes it's hard to see where your money is going, or why we spend more at different times of the year," he said.
National Shelter Executive Officer Adrian Pisarski voiced similar sentiments, saying people should still watch their spending regardless of their equity or home value.
"There is no doubt rising house prices have added to the equity wealth of home owners in Australia and also released some of that in spending on consumption, but there is a risk now, with prices holding or even dropping in Sydney and Melbourne, that some of that rise will be returned, spending power diminished and equity lost and potentially turning negative," Mr Pisarski told Canstar.
He also noted the situation wasn't as sunny for renters, who can't benefit from increased home values or equity.
"I would also point out that while owners and investors have enjoyed rising prices and low interest rates for a considerable time, renters have had no such luck with prices having risen with no relief and no share of improved equity or spending.
"There may be some relief in the strong supply of apartments but unfortunately for many renters a significant proportion of that supply remains unoccupied and therefore doesn't affect the market or relieve the demand pressure.
"Renters suffer by far the highest proportion of housing stress and seem to never get relief."