'tis the season to be jolly and what  better way to get into the Christmas spirit than baking some homemade edible gifts. CANSTAR shows you 10 Christmas food gifts that won't break your budget.
They say a way to a person's heart is through their stomach, and I personally don't disagree. In honour of the silly season, we have piled together some of the most delectable, delightful, and more importantly, delicious Christmas baking recipes for you to test out. Whether you decide to gift them (an awesome idea if you're on a budget), or simply want to get into the Christmas spirit, there's something here for everyone to enjoy.
1. Traditional Christmas Pudding
This typical Christmas treat is always a winner at Christmas lunch. Filled with sweet fruit flavours and a hint of brandy, when wrapped in cellophane and tied with a ribbon, it is guaranteed to make the perfect gift.
Ingredients:
280g butter
1 and a half cups of dark brown sugar (lightly packed)
5 eggs
2 cups plain flour
A quarter of a teaspoon each of nutmeg, salt and mixed spice
Half a teaspoon of baking soda
1kg of mixed fruit (add nuts, figs, prunes, dates, apricots to taste)
1 cup rum
Method:
Soak the fruit and nuts in rum overnight. For extra flavour, soak for several weeks.
Beat butter and sugar to a cream.
Beat in eggs one at a time.
Mix in flour and spices.
Stir in fruit and nut rum mixture.
Put mixture in a pudding basin and seal lid tightly (you may like to tie the lid on firmly with a piece of string)
Place the tin in a pot of boiling water on the stove. The water level should come to halfway up the side of the tin.
Leave to boil for between 3 – 6 hours depending on the size of your pudding.
Serve with custard, ice-cream, or brandy butter, and enjoy!
Source: Bronwyn McNamara via ABC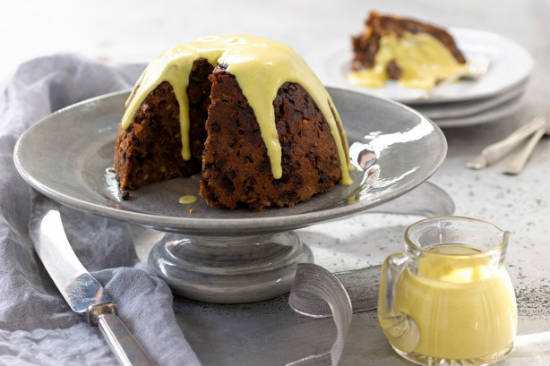 2. Chocolate & Fruitcake Rum balls
It's hard to not get into the festive spirit with these delicious chocolate and fruitcake rum balls. An easy Christmas baking recipe anyone can make, wrap these up, or put them in a jar and give them to family and friends. The alcoholic element of rum can substituted out for other flavours such as burnt sugar or nutmeg, or even artificial rum flavouring instead.
Ingredients:
Dark fruitcake
1 quarter of a cup of dark rum
1 quarter of a cup of dried cranberries, chopped
2 x 180g blocks dark chocolate, melted
1 and a half cups of desiccated coconut
Half a cup of sprinkles
Method:
Crumble fruit cake into a bowl.
Add rum and mix well to combine.
Add cranberries, chocolate and 1/2 cup coconut and mix well.
Roll 1 level tablespoon fruit cake mixture into a ball, toss in remaining coconut, and place onto a baking paper-lined tray.
Repeat with remaining fruit cake mixture, tossing half the rum balls in coconut and the remaining rum balls in sprinkles.
Refrigerate the balls for 2 hours or until firm, and enjoy!
Source: Kim Coverdale via. Taste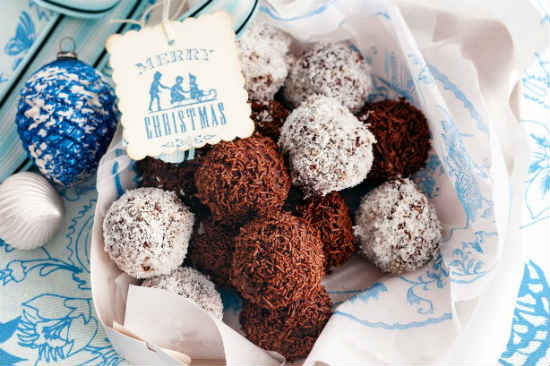 3. Pumpkin Pie with Caramelised Walnuts
There's nothing that screams festivity more than a pumpkin pie. Curtis Stone's recipe will be guaranteed to make your mouth water – just look at that photo! It is possible to make your own pie crust if you want with this recipe however, if it's a last minute gift idea, store bought works just as well.
Ingredients:
Filling:
Vegetable oil cooking spray
1.25kg peeled, seeded butternut pumpkin, cut into 5cm chunks
1 and a half tablespoons olive oil or canola oil
1 teaspoon of ground cinnamon
1 teaspoon of ground ginger
Three quarters of a teaspoon of ground nutmeg
1 and a quarter cups of thickened cream
4 large eggs
Two-thirds of a cup of caster sugar
1 quarter of a cup of packed brown sugar
1/2 teaspoon salt
Caramelised Walnuts:
Half a cup of caster sugar
Three quarters of a cup of walnuts
Sweetened whipped cream
Crust:
1 packet of easy roll pastry
Method:
To make the pumpkin puree:
Position the rack in the bottom third of the oven and preheat the oven to 180°C. Line a heavy baking tray with foil. Spray the foil with cooking spray.
Toss the pumpkin with the oil on the baking tray to coat and sprinkle the cinnamon, ginger, nutmeg, and cloves over the pumpkin. Arrange the mixture in an even layer over the baking sheet.
Bake until the pulp is very tender and golden brown, stirring occasionally, about 1 hour and 15 minutes.
Transfer the pumpkin to a food processor. Cover and let stand for 5 minutes to allow any residual steam to soften the pumpkin further. Increase the oven temperature to 220°C.
In a food processor, blend the hot pumpkin, adding some of the thickened cream to help move the pumpkin around, if necessary, until a smooth puree forms.
Transfer the puree to a large bowl and cool. You should have about 2 3/4 cups of puree.
To bake the pie:
Grease and line a baking dish with the ready to roll pastry, ensuring that you trim the overhang to 1cm, letting the dough hang over the sides of the dish.
In a large bowl, whisk the eggs and remaining thickened cream to blend. Whisk in the caster sugar, brown sugar, and salt to blend and dissolve the sugar. Add the pumpkin puree and blend well.
Pour enough of the pumpkin mixture into the prepared crust to fill completely.
Carefully place the dish on the bottom shelf of the oven and bake for 10 minutes. Reduce the oven temperature to 180°C and continue baking until the filling is just set and slightly puffed and the crust is golden brown, about 50 minutes longer.
To make the caramelised walnuts:
Sprinkle 1/2 cup of the caster sugar over a large heavy sauté pan and cook over medium heat until the sugar melts and becomes golden brown, swirling and rotating the pan to cook the syrup evenly but do not stir, about 6 minutes.
Add the walnuts and toss until the sugar syrup coats the walnuts.
Pour the walnut mixture onto a baking sheet lined with parchment paper, forming a thin layer of caramel and a single layer of walnuts. Set aside until the sugar coating cools and hardens. Break up the walnut mixture into large pieces.
After the pie has been left to cool, serve, or gift with sweetened whipped cream, and garnished with the caramelised walnuts, enjoy!
Source: Curtis Stone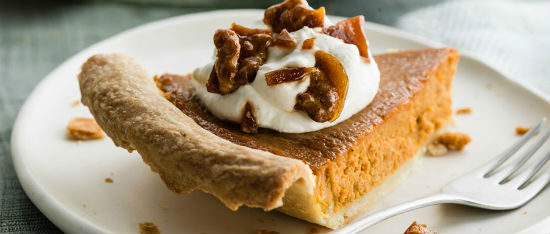 4. Gingerbread Syrup
The simple syrup is not the usual present idea, but makes a lovely homemade gift. It can be stirred into hot chocolate, warm apple juice or Prosecco, or drizzled over ice-cream. It's such a fun, festive flavour to add to drinks and desserts and will keep for up to 1 year.
Ingredients:
300g of golden caster sugar
1 tablespoon of ground ginger
1 cinnamon stick
edible gold glitter (optional)
To decorate:
A 500ml sterilised glass bottle
1 cinnamon stick
ribbon
Method:
Put the golden caster sugar, 200ml water and ground ginger into a saucepan.
Add the cinnamon stick and bring to a gentle boil. Simmer for 5 mins until the sugar has dissolved, then stir in a little edible gold glitter, if you like.
Pour into a 500ml sterilised bottle
To decorate, tie a cinnamon stick around the neck with a pretty ribbon, enjoy!
Source: Cassie Best via BBC goodfood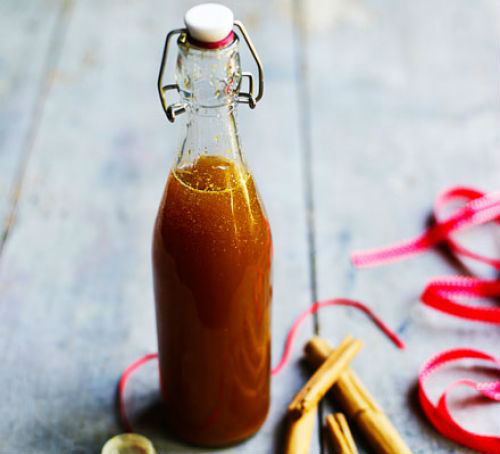 5. Gingerbread Cookies
Leading on from the previous recipe, gingerbread cookies are some of the easiest and most effective food gift ideas ever! Easy to make, you can encourage your little ones to help you with them in the kitchen, and even decorate them at the end. By wrapping them in cellophane and tying with a ribbon, you can even hang these gingerbread people on the tree!
Ingredients:
300g of plain flour
1 teaspoon bicarbonate of soda
2 teaspoons  of ground ginger
Half a teaspoon of ground cinnamon
Half a teaspoon of ground nutmeg
125g of unsalted butter
100g of soft light brown sugar
3 tablespoons of golden syrup
An assortment of cookie cutters
Sprinkles, sweets, and edible glitter for decoration (optional)
Method:
Preheat the oven to 180°C and line 2 trays with baking paper. In a large bowl combine the flour, bicarbonate of soda and the spices.
Melt the butter, sugar and golden syrup in a pan over a low heat and stir until the sugar dissolves, and then add it to the dry ingredients.
Stir the mixture until it forms a stiff dough, then cut it in half.
Transfer the paper from the baking sheets to a work surface and place a portion of the dough on each. Roll out to 5mm thick, and then cut out directly on the paper, leaving a 2cm gap between each. Save the cuttings to make more people, or round ginger biscuits.
Carefully lift the papers back onto the baking sheets and bake the gingerbread in the oven for about 12 minutes, or until lightly golden.
Leave to cool on the sheet for a few minutes – if you want to hang them as decorations, now is the time to pierce a hole through the top of each with a skewer – then move to a wire rack.
Once cool, ice the gingerbread men and decorate with sprinkles, sweets and edible glitter, and enjoy.
Source: Jamie Oliver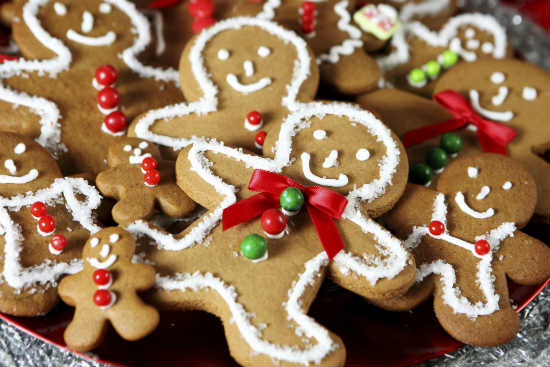 6. Homemade Candy Cane Recipe
Talk about a cool present! You'd actually be surprised how easy these candy canes are to make, although you'll need a candy thermometer. They'll look extra special hanging from your tree, or sitting in a Christmas mug in the centre of the table – if they last that long!
Ingredients:
1 teaspoon of butter
1 cup of sugar
1 cup of water
1 cup  of light corn syrup
1 quarter of a teaspoon of cream of tartar
1 teaspoon of peppermint or spearmint extract
6 drops red or green food colouring
Candy thermometer
Method:
Line two trays with baking paper, and set aside. In a large saucepan, bring the sugar, water, corn syrup and cream of tartar to a boil. Cook, without stirring, until a candy thermometer reads 280° (soft-crack stage).
Remove from the heat; stir in extract and food colouring.
Immediately pour onto prepared pans in eight 8-inch strips. Let stand just until cool enough to handle, about 1-2 minutes.
Workings quickly, roll each strip into a 10-inch log. Cut each into two 5-inch lengths.
Curve the top of each to form the handle of a cane. Cool completely.
Store in an airtight container, and enjoy!
Source: Taste Of Home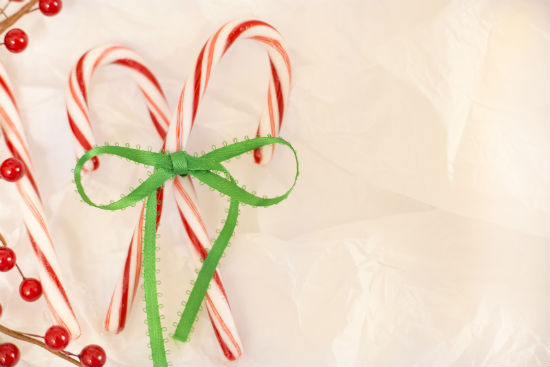 7. Salted Caramel Fudge
With just four ingredients, this delicious fudge is one of the easiest things to make, and Jamie Oliver makes our mouth water just thinking about it. Bagging this fudge up and giving it to people is an easy, yet thoughtful gift. I mean who doesn't like fudge? Again, you'll need to possess a candy thermometer to make it.
Ingredients:
600g of sugar
250ml of double cream
50g of unsalted butter
Sea salt
Candy thermometer
Method:
Melt 200g of the sugar in a pan over a medium heat until golden, then beat in 400g more, along with the double cream, butter and 1 teaspoon of sea salt.
Cook, stirring, over a medium-high heat, until it reaches 118°C on a sugar thermometer (always be careful when boiling sugar).
Off the heat, beat with an electric mixer until thick. Pour into a lined 20cm x 20cm tin and spread out evenly with a spatula.
Leave to cool, then chill in the fridge for 2 to 3 hours to set. Sprinkle with a pinch of sea salt, cut into 2 to 3cm squares and enjoy!
Source: Jamie Oliver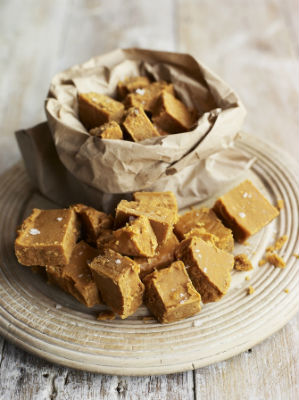 8. Stained Glass Biscuits
These biscuits are too beautiful to eat in my opinion! With hints of clementine and cinnamon throughout, perfect for this festive season, they are equally as pretty as they are delicious. You'll need a variety of 7cm shaped cookie cutters, and a 4cm cutter to cut out the windows in the centre.
Ingredients:
1 clementine
100g of unsalted butter (cold)
180g of plain flour
50g of caster sugar
Half a teaspoon of ground cinnamon
1 tablespoon of milk
12 coloured fruity boiled sweets
Method:
Preheat the oven to 180°C, and line 2 trays with baking paper.
Finely grate the clementine zest. Cube up the butter then place in a mixing bowl with the flour, sugar, clementine zest and cinnamon, then using your fingers, rub the butter into the mix till it resembles fine breadcrumbs.
Add the milk and bring together to make a soft dough. Wrap the dough in clingwrap and place it in the fridge to firm up for about 30 minutes.
Separate the sweets into colours and place in separate sandwich bags. Press the air out and seal the bags, then carefully crush into small pieces with a rolling pin.
Place the dough on a lightly floured work surface, and roll out to 1cm thick. Use a selection of large cutters to cut out shapes and place on the lined baking sheets, then use the smaller cutters to cut a 'window' in the centre of each biscuit.
Sprinkle enough crushed sweets to fill the centre hole (don't overfill or the sweets will melt over the biscuit), then use a cocktail stick to make a hole in the top of each biscuit, so you can thread a ribbon through them later. (You can re-roll any dough trimmings to make more biscuits, but you'll need more sweets. You could also bake the cut-out centres and eat as a treat when decorating the tree.)
Bake for 12 minutes, or till the biscuits are golden and the sweets melted. Leave to firm up, then transfer to a wire rack. Thread with ribbon, hang them on the tree, and enjoy!
Source: Jamie Oliver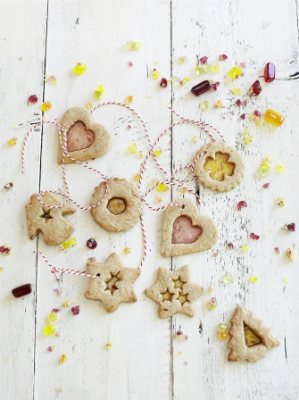 9. Original Irish Cream
We couldn't give you a list of traditional Christmas food ideas without giving you an Irish Cream recipe. For those of you who don't know, Irish Cream is Irish whiskey mixed with cream and sugar with hints of coffee, chocolate, vanilla and almond. It is the perfect gift for someone who enjoys their whiskey, and will keep for up to 2 months if kept refrigerated.
Ingredients:
1 cup of heavy cream
1 can of sweetened, condensed milk
1 and two-thirds of a cup of Irish whiskey
1 teaspoon instant coffee granules
2 tablespoons of chocolate syrup
1 teaspoon of vanilla extract
1 teaspoon of almond extract
Method:
In a blender, combine heavy cream, sweetened condensed milk, Irish whiskey, instant coffee, chocolate syrup, vanilla extract, and almond extract.
Blend on high for 20 to 30 seconds. Store in a tightly sealed container in the refrigerator. Shake well before serving, and enjoy!
Source: Allrecipes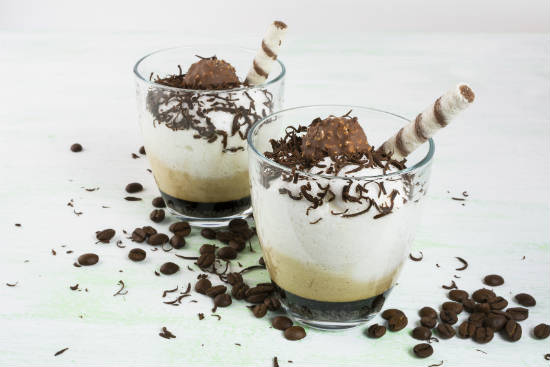 10. Chocolate Chip Cookie Mix In a Jar
Last but certainly not least, we have one of the laziest, yet most effective Christmas food gift ideas of them all; the Cookie-In-A-Jar. When done right, these jars make the perfect gift for the baking fanatic or the DIY friend. This particular recipe will make around 30 gooey chocolate chip cookies.
Ingredients:
1 and three-quarters of a cup of all-purpose flour
Three-quarters of a teaspoon of baking soda
Three-quarters of a teaspoon of salt
1 and a half cups of semi-sweet chocolate chips
Three-quarters of a cup of packed brown sugar
Half a cup of granulated sugar
1 large jar with ribbon to decorate (optional)
Method:
Combine flour, baking soda and salt in small bowl. Place flour mixture in a large jar. Layer remaining ingredients in order listed above, pressing firmly after each layer. Seal with lid and decorate with fabric and ribbon, attach recipe below.
RECIPE TO ATTACH:
Preheat oven to 190°C. Beat 3/4 cup softened butter or margarine, 1 large egg and 3/4 teaspoon vanilla extract in large mixer bowl until blended. Add cookie mix and mix well, breaking up any clumps. Drop by rounded tablespoon onto ungreased baking sheets. Bake for 9 to 11 minutes or until golden brown. Cool on baking sheets for 2 minutes; remove to wire racks to cool completely, and enjoy!
Source: VeryBestBaking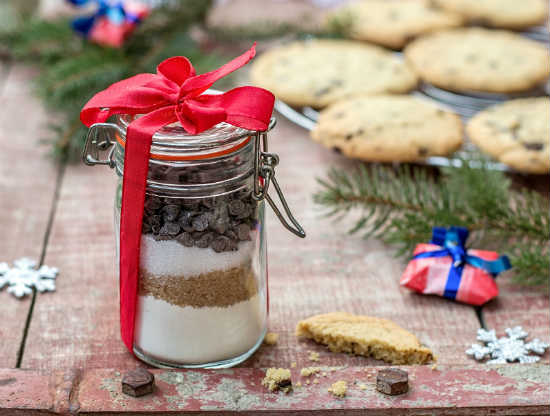 To conclude…
There are plenty of ways to celebrate Christmas this year without breaking your budget. By using any one of these delicious Christmas food gift ideas, you're sure to be a clear winner in the present department. By budgeting effectively, you can stop stressing about your finances and enjoy all the magic this festive season has to offer.
More Budgeting And Saving Tips