Seven West Media has sold off half of the video-on-demand streaming platform Presto to partner Foxtel, who will ditch the service in January 2017. CANSTAR investigates these changes, and what they mean for the industry.
Recently it seems that Australian entertainment giant Foxtel has jumped on the subscription video service bandwagon, introducing their new streaming platform called Foxtel Play. Similar to the likes of Netflix, Stan, and Presto, Foxtel Play streams live sports, drama, and hundreds of movies and TV shows at one low fee per month. With Foxtel buying out Seven's Presto stake, the announcement of Presto's cancellation on the 31st of January is therefore no surprise; Foxtel will be hoping that a number of Presto subscribers will transition to Foxtel Play. Presto addressed these rumours on their twitter account, saying, "We're still open & streaming all of your favourite TV shows and movies until Jan 31. Presto subs can transition to the new Foxtel Play, stay tuned!"
What's next for streaming subscribers?
According to Roy Morgan Research, 110,000 of the 143,000 homes with Presto already have one (or more) other pay-tv or subscription services including, Netflix, Stan, and Foxtel. 55% of those homes have Netflix as well as Presto, whilst only 27% have Stan. Almost half (48%) of Presto subscribers already had Foxtel when they purchased the video streaming platform.
Netflix, being a worldwide streaming service, has a much larger audience in Australia, with 4,950,000 viewers throughout 1,878,00 subscriptions (it also scored well in Canstar Blue's Paid TV Services Customer Satisfaction results). That, in comparison to Stan's 332,000 subs, and Presto's 142,000 subs may seem like a lot however Michele Levine, CEO of Roy Morgan Research says, "Stan in particular has been growing fast in 2016, with many Netflix subscribers now adding on a second subscription video on demand service to meet their appetites for content. Around three quarters of homes with Stan also have Netflix."
Total reach (and subscriptions) of Netflix, Stan and Presto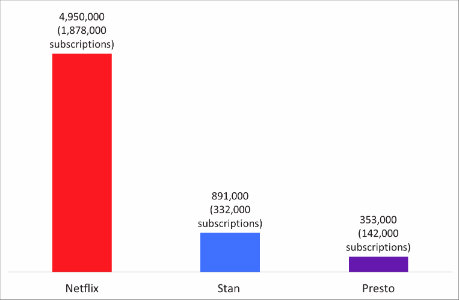 Source: Roy Morgan Single Source Australia, March – May 2016, sample n = 13,318 Australians 14+
Compare streaming services
Netflix
Presto
Stan
Foxtel Play
Cost
Three tiers:

1. Basic ($8.99/month)

2. Standard ($11.99/month)

3. Premium ($14.99/month)

TV shows only:

$9.99/month

Movies only:

$9.99/month

Both TV shows and movies: $14.99/month

One fixed price of $10/month (no contract)
Tiered by genre ($25-$50/month) by contract
Trial Period
30 days free
30 days free
30 days free
14 days free
Total Library Titles
1120 titles approx. of which 220 are TV shows
1200 titles approx. of which 100 are TV shows
1250 titles approx.
TBC
Total Library Hours
5000 hours approx.
4500 hours approx.
7000 hours approx.
3250 hours approx.
Key Content
Exclusive rights to House of Cards, Orange is the New Black, and Bloodline, plus streaming rights to Disney and Pixar studio films such as Frozen and Maleficent.
Exclusive streaming rights to Modern Family, Sons of Anarchy, Homeland, The Americans, plus Foxtel "Originals" including Wentworth and Cloudstreet
Exclusive rights to Fargo, Breaking Bad, The Bridge, The Killing, Wolf of Wall Street, and Better Call Saul, plus the James Bond library – every James Bond film ever released.
Exclusive rights to Game of Thrones Walking Dead, Jane The Virgin, and The Flash plus Foxtel "Originals" including Wentworth and 69 streaming channels including live sport.
Source: Streaming service websites, October 2016
What streaming service is best for you?
As you can see in the table above, many of these streaming services are much the same in tmers of cost and breadth, so ultimately, the decision comes down to personal viewing preference. As these platforms offer exclusive rights and access to TV shows, viewers are likely to subscribe to the service that offers to TV shows and movies they want to watch. Most are solid, home-grown streaming products, and all offer exceptional value for money – you really can't go wrong with any of them!