Australians throughout the country will be firing up the barbie shortly in preparation for possibly the best-selling event for lamb – Australia Day. Luckily for us, MasterChef Australia 2015 runner-up Georgia Barnes provided us with a mouth-watering recipe that's quick, simple and importantly – easy on the wallet.
Whether you're having your mates over to celebrate, or you simply fancy a lamb treat, these lamb koftas are sure to be a hit. Best of all, Georgia tells us it all comes in under $20 for four people. Opa!
Here's what you will need to create a lamb dinner worthy of blowing off a date with Tom Cruise for:
Ingredients
500g lamb mince
1 brown onion, finely diced
2 tbsp Moroccan spice mix
1 tbsp ground cumin
200g frozen peas
1 lemon, juiced
2 tbsp extra virgin olive oil
1 clove garlic, crushed
1 Continental cucumber, peeled into ribbons
200g feta cheese, cubed
1/2 cup mint leaves
Salt and pepper

Budgeting & Savings Newsletter
Click Here for monthly tips and insights on budgeting, saving and shopping straight to your inbox.
Method
To make the koftas: Place mince, onion, moroccan spice mix and cumin into a bowl. Mix together well until mixture is smooth. Divide and roll kofta mixture into oblong-shaped meatballs. Heat a grill pan or barbecue to medium heat. Cook koftas on all sides until golden brown and cooked through. Season with salt and pepper and set aside.
To make the puree: Blanch frozen peas in boiling water until tender. Transfer peas to a food processor. Add 1/3 cup water, lemon juice, olive oil and garlic and blend until smooth. Season to taste with salt and pepper.
To serve: Spoon puree onto a serving plate. Top with koftas and garnish with cucumber ribbons, feta and mint leaves.
Voila! A lamb dinner your mum would be proud of!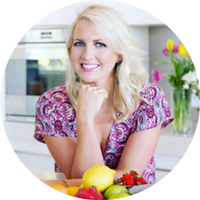 Georgia Barnes is a well-known food personality and creative home-cook with an unwavering passion for inspiring others. Having placed runner-up on MasterChef Australia in 2015, the 30-year-old is also a qualified nutritionist, presenter and content creator. You can find her recipes, blog and store at georgiabarnes.com.au.