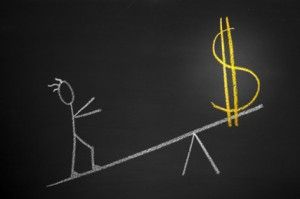 Dealing with money tends to stress a significant proportion of Australians. According to research released for MoneySmartweek, 31% of women and 18% of men describe themselves as feeling stressed in relation to finances. Unfortunately, money stress can easily pervade other areas of our life, as dealing with money is something that we all have to do every day.
If you are one of the significant proportion mentioned above, then here's an easy step-by-step guide to help you reduce your $$ stress.
1. Take a big-picture view
Day-to-day money stress can be reduced by having a good overview of your current financial situation. Divide a piece of paper in two and on one side write down everything that you own. On the other side write down everything that you owe. For example:
OWN
OWE
House
$400,000
Mortgage
$300,000
Car
$20,000
Car loan
$8,000
Superannuation
$30,000
Credit Cards
$6,000
Contents
$10,000
Store Cards
$3,000
Shares
$12,000
HECS/HELP
$5,500
Cash
$4,500
TOTAL
$476,500
$322,500
Once you have finished, you will have a great snapshot of your current financial situation.
2. Put yourself in control
Now that you have your overview, you can look at the specifics. That means having a written budget. A realistic budget is one of the most powerful money management tools there is. To complete a budget properly, print out three months of your bank statements – for every account. Then go through them, line by line, and put all the figures into an online budget. Once you have three months of data, multiply it by four, adjust for any annual expenses or income and voila – there's your blueprint. Try our budget calculator to get you started.
3. Look for savings
Once you have your written budget, look through it for any areas where you could make potential savings. Groceries, mortgage, transport, credit cards, bank fees, and insurance costs are some hotspots to check. Cut back accordingly and then each month, print out your bank statements and do a quick cross-check with your budget to stay on track.
Whatever savings you have made can be allocated to reducing your debt or increasing your savings.
4. Get help from a financial cousellor
Never be shy to ask for help! If you are stressed, overwhelmed or even just a little unsure about how to improve your situation, seeking assistance can work wonders. There are some excellent resources on the MoneySmart Week website, including their Money Health Check. If you need one-on-one help then contact Financial Counselling Australia. You can try their online assessment tool or alternatively give them a call on 1800 007 007. Don't hesitate to give it a try!
Feeling in control of your finances is the first important step towards feeling far less stressed.
MoneySmart Week is an independent, not-for-profit initiative to raise awareness of the importance of financial literacy and to encourage all Australians to take action on their finances. The Week was founded in 2012 by members of the Australian Government Financial Literacy Board, led by Paul Clitheroe AM.