Australians spend a lot of money at Christmastime: ABS statistics indicate that our spending on food, household goods, department store purchases, clothing and other forms of retailing all jump significantly in December.
That increase correlates quite neatly with a usual rise in the amount owing on our collective credit cards – although it is heartening to note that recent years have seen several exceptions to the rule.
One strategy to ease the monetary burden in December is to get started on your Christmas planning now – it could potentially save you some serious cash down the track. Cath Armstrong is the proclaimed "queen of thrift." She is the author of several budgeting books and is the founder of cheapskates.com.au. Cath shares some tips on getting ready for the festive season – now!
What are some of the top things to buy this far out from Christmas?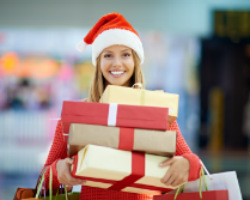 "The number one tip to remember when it comes to Christmas buying is not to wait until you have to get it done. Begin right now. Shopping early not only takes the stress off by giving you more time, but it helps financially because you?re not forking over large sums of money (or putting it on your credit card) all at once and paying for last-minute expensive shipping.
Make a list of everyone you feel you should buy a gift for and another list of food, drinks, wrapping/packaging, clothing and so on that you will need. Starting today, begin to pick up some of those non-perishable each week, crossing things off as you get them.
Things like soft drinks and snack foods will be on sale during school holidays – they have a long best before date and keep well in a cool, dark cupboard. If you bake or are giving homemade edible gifts you can start to collect dried fruits and nuts (keep them in your freezer until you are ready to bake), flour, choc chips etc. as their sale cycles come around. Look for ordinary, everyday chocolates and buy them when on special. You'll pay a premium for the same chocolates in Christmas packaging, so buy now and package them in festive wrapping yourself.
Wines and spirits keep well and are regulars on the sale cycle – when your favourite tipple is discounted stock-up for your Christmas entertaining.
Adding one or two items to your trolley each time you shop won't blow your budget and will avoid a huge shopping expedition in the heat, hustle and bustle of December."
Buying online or in store: what are the pros and cons of each?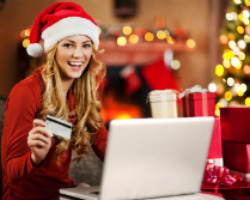 "Shopping online offers so much in the way of convenience. You can shop at leisure, you're not fighting crowds and you can get some really good deals (look for vouchers and free delivery/postage offers, free gift wrapping and delivery straight to the recipient if they are interstate or overseas). The problem is you can't see the item up close, or feel and inspect it closely. And if it's not quite right, returns can be a hassle.
Shopping in traditional stores takes a lot longer than online shopping. You need to get there and find a parking spot. Then you battle the crowds and you always run the risk of over-spending, not necessarily on gifts, but on refreshments and incidentals. On the plus side you can inspect the items you are interested in so that you know exactly what you are buying. It's much easier to return items to a store and get a replacement or refund immediately."
Are there any traps for young players?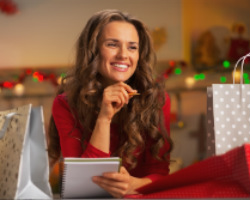 It's wonderful to hit December and be able to relax and enjoy the festivities, knowing your Christmas is organized and paid for, but you do need to be vigilant if you are shopping six months ahead.
As you buy each gift, wrap and label it and mark it off your gift list as done. This is important: you may think you'll remember but you won't and come Christmas you'll end up with double gifts and double the expense! Also store all your gifts in the one place – I have a box on the top shelf of my wardrobe I hide my stash in.
If you are buying for pre-schoolers through to teenagers, be aware that they are fickle. What they really, really, really want today could well be forgotten about by Christmas. Unless you are certain that what you are buying is what they want, you may be better off putting the money aside and waiting until closer to Christmas. From mid-November until Christmas Eve there will be a constant barrage of toy sales so you will still have opportunities to bag a bargain.
Gift vouchers are an easy gift but check the terms and conditions before you buy them, some expire quite quickly. If you are giving gift vouchers, put the money aside now and buy them in December."