It appears that over the 2015/2016 financial year, Aussies were more likely to spend money on leisure 'experiences' rather than physical 'things.' Recent research from Roy Morgan reveals some interesting figures. CANSTAR investigates…
The recently launched State of the Nation Retail Spotlight from Roy Morgan Research reveals that Australians spent almost $105 billion on 'things,' or as they refer to it, 'discretionary commodities.' These can range anywhere from clothes and shoes, or sporting goods, to hardware, appliances, and furniture.
Comparing these figures with those from the 2014/2015 financial year, expenditure on discretionary commodities is down 2.0%. In fact, the latest Roy Morgan data indicates that this decline in spending on things is being counteracted by our increasing expenditure on 'experiences' such as travel, wining and dining, entertainment and the like.
During the last financial year, Australians spent more than $137 billion on leisure and entertainment, up $10 billion year-on-year. It appears that this trend has been building for some time, as Roy Morgan Research illustrates below.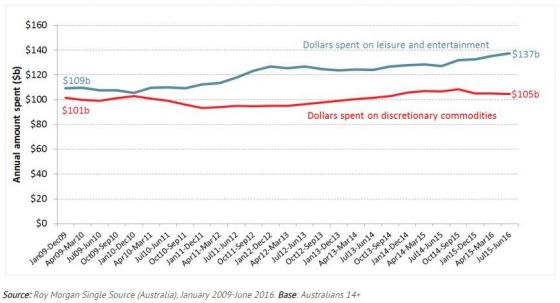 Michele Levine, Chief Executive Officer of Roy Morgan Research, says, "The fact that Australians are spending more on 'experiences' (leisure activities outside the home) and less on 'things' (discretionary commodities) is one of the most striking findings of Roy Morgan Research's latest retail-focused State of the Nation report. Of course, this doesn't mean retail is dead: just that it needs to adapt to this growing desire for experiences and entertainment"
What experiences do you want?
In light of these recent findings, we here at CANSTAR have gone through some of our top 15 experiences you can give as a gift this Christmas:
Adrenaline:

| | | |
| --- | --- | --- |
| Skydiving | Packages from roughly $200 depending on company and location | When someone mentions the word 'adrenaline,' the first thing that comes to mind is skydiving. Why someone would jump out of a perfectly good plane beats me, but this is always a popular option, especially coming into Summer. |
| V8 Super-car Experience | Packages from roughly $99 depending on company and location | This is the perfect adrenaline rush experience for the person in your life who's just a little bit too obsessed with cars. Some packages include meeting famous V8 drivers, and also VIP passes into the pit stop area. |
| Hot Air Ballooning | Packages from roughly $300 depending on company and location | These packages help you to get a completely different perspective on the world – a birds eye view! Hot Air Ballooning is an exhilarating adventure, where you float several hundred metres in the air. |
| Bridge Climbs | Packages from roughly $99 depending on location and time of day | Depending on what part of Australia you live in, there is likely to be some kind of adrenaline-inducing activity involving a famous landmark. Have an explore and see what you can find. |
| Swimming With Sharks | Packages from roughly $150 depending on location and company | Get face-to-fin with some of the ocean's most amazing and powerful creatures. Swimming with shark experiences are usually offered at either zoos or aquariums near you, so have a go! If you dare… |
Luxury/Pampering: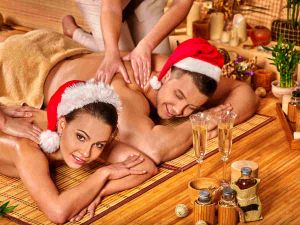 | | | |
| --- | --- | --- |
| Day Spa Packages | Packages from roughly $120 depending on provider and time spent | Offering a range of treatments suitable for the stressed-out, tired-out, or out-and-about body, day spas are the perfect gift option for that person in your life who needs a little extra 'me-time.' |
| Massage | Packages from roughly $50 depending on provider and time spent | Have someone in desperate 'knead' of some relief from those achy muscles? Look no further than the various types of massage packages available online and make yourself look extra thoughtful in the process… |
| Personal Styling | Packages from $99 depending on the retailer | There's no better gift to give then a little bit of luxury this Christmas, and what's better than a lesson in personal styling? Whether it's in make-up, hair or fashion, you're sure to find something extra special. |
| One Night Getaway | Packages from $99 depending on the hotel | Having dealt with a fair bit of pre- and post-Christmas stress, what's a better way to relax than to escape in a one-night package getaway. Make sure to search around before booking, as you can snag some awesome deals! |
| High Tea | Packages from $99 depending on location and also retailer | Another popular option when it comes to experiences are High Tea packages. A good excuse to dress up nice, eat tiny cakes, and sit around in the middle of the day drinking champagne if you ask me! |
Family Fun: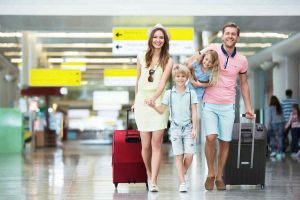 | | | |
| --- | --- | --- |
| Theme Parks | Packages from $89 for adults, and $49 for kids depending on location | Theme parks are such an exciting, and adrenaline-inducing activity for the entire family. Take on roller-coasters together and then take the exhausted kids (and yourself) out for a big feed afterwards. |
| Zoos/Aquariums | Packages from $50 for adults, and $25 for kids depending on location | Zoos and aquariums are always an excellent, and cheaper alternative for a place to take the kids. By seeing so many different species of animals, and learning about them as well makes this an educational experience. |
| Whale Watching | Packages from roughly $120 depending on location | Another popular family experience is whale watching. Money almost can't buy the experience of seeing so many whales out of the water. It will enchant you and your children for years to come. |
| Bush-Walking/ Hiking | Free! | We tend to be constantly glued to our phones. What better way to get everyone out and about then by bush-walking. The views are incredible, not the mention the health benefits of exercise and fresh air! |
| River Cruise | Packages from roughly $99 depending on location | As Australia is known for it's incredible coastal beaches and coral reefs, a good present option for the entire family is a river cruise. Many offer snorkelling and fishing as part of the package. |
To conclude…
No matter what you're getting your loved ones this Christmas, always remember that it's the thought that counts. While it is wonderful to receive a gift on Christmas Day, it is much more important to give than to receive. For more gift-giving inspiration, check out our other Christmas Gift Guide articles!