Outstanding Value: OFX
Canstar has researched and rated 19 overseas money transfer providers, with OFX receiving a 5 star rating for outstanding value. Find out more about OFX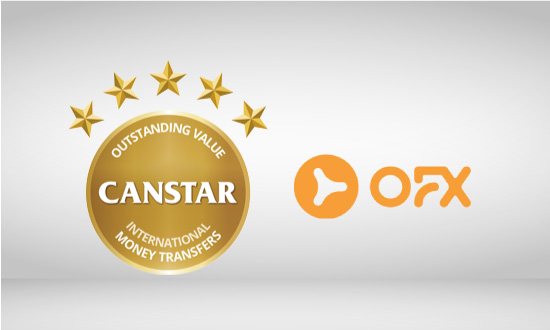 Transferring money overseas is a multi-billion dollar industry and for those who are transferring their hard-earned funds, finding an international money transfer provider that represents outstanding value is a must. In 2016 Canstar has researched and rated 19 overseas money transfer providers, with OFX achieving a 5 star rating.
Compare International Money Transfer Platforms
Who is OFX
OFX was formerly known as OzForex and has been in operation for 17 years. A non-ADI (approved deposit institution), OFX advises that it facilitates approximately 3,250 transfers each day across 55 currencies, and offers 24/7 support for customers.
What international money transfer features are offered?
Canstar's 2016 audit of the money transfer features offered by OFX, conducted in August and September 2016, uncovered the following online money transfer features offered by OFX:
Zero fees for transfers above $10,000 (otherwise AUD$15)
Transfers available by the following means:
55 Currencies available, including:

US Dollar
Hong Kong Dollar
Great Britain Pound
New Zealand Dollar
Japanese Yen
Singapore Dollar
Euro
Indian Rupee
Swiss Franc

Transfer limits:

Min – $250
Max – Unlimited

Real-time exchange rates
24hr Telephone helpline
CURRENCY INFORMATION
TOTAL CURRENCIES AVAILABLE
55
United Arab Emirates Dirham (AED)
Yes
Canadian Dollar (CAD) available
Yes
Swiss Franc (CHF) available
Yes
Czech Republic Koruna (CZK) avail
Yes
Danish Krone (DKK) available
Yes
Euro (EUR) available
Yes
Fijian Dollar (FJD) available
Yes
British Pound Sterling (GBP) avail
Yes
Hong Kong Dollar (HKD) available
Yes
Hungary Forint (HUF) available
Yes
Indonesian Rupiah (IDR) available
Yes
Israel Shekel (ILS) available
Yes
India Rupee (INR) available
Yes
Japanese Yen (JPY) available
Yes
Kuwait Dinar (KWD) available
Yes
Sri Lanka Rupee (LKR) available
Yes
Mexico Peso (MXN) available
Yes
Malaysian Ringgit (MYR) available
Yes
Norwegian Krone (NOK) available
Yes
New Zealand Dollar (NZD) available
Yes
Oman Omani Rial (OMR) available
Yes
Papua New Guinea Kina (PGK) avail
Yes
Philippine Peso (PHP) available
Yes
Pakistan Rupee (PKR) available
Yes
Poland Zloty (PLN) available
Yes
Swedish Krona (SEK) available
Yes
Singapore Dollar (SGD) available
Yes
Thailand Baht (THB) available
Yes
Tonga Paanga (TOP) available
Yes
Turkey Lira (TRY) available
Yes
US Dollar (USD) available
Yes
South Korea (WON) available
Yes
Samoa Tala (WST) available
Yes
South African Rand (ZAR) available
Yes
Source: Canstar. Audit was conducted in August & September 2016 with information advised by OFX as being correct at that time. Please check current costs, features and offering on the OFX website.
OFX Canstar 5 star rating
We're stoked to receive a 5-star @Canstar rating for outstanding value money transfers! ????? #fx #fintech https://t.co/l8QfR1m5nC pic.twitter.com/WSOLznjSrG

— OFX (@OFX_OZ) November 28, 2016
OFX, formerly called OzForex, offers a very strong combination of both exchange rate competitiveness and comprehensive features. Operating for 17 years, OFX boasts the transfer of more than $100 billion worldwide, across 190 countries and 55 currencies.
2016 is the first time that non-ADI's have been considered in Canstar's International Money Transfer Star Rating. Non-ADIs (including OFX) that met the following requirements have been included in the rating:
Open to personal (not exclusive to business) customers.
Allow transfers above $15,000AUD.
Use traditional means to execute transaction (i.e. no peer-to-peer providers).
Be the primary service provider (not a commission agent).
Have been operating for a minimum of five consecutive years.
Compare International Money Transfer Platforms
Written by: Justine Davies