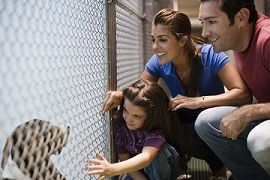 If you're thinking of welcoming a new member into the family – of the furry variety – one of the best (and kindest) ways to find one is through the myriad animal rescue organisations throughout Australia. Not only will you be doing a really good turn by saving an animal from being needlessly put to sleep, but you could also save yourself money in the process.
How does pet adoption work?
One such operation in Queensland, Best Friends Rescue, runs purely on a volunteer basis and has a steady stream of furry friends desperately looking for a forever home. With no headquarters or shelter accommodation, the charity relies purely on foster carers to look after the animals waiting for a new family, and primarily on donations and adoption fees to pay its costs.
How much does it cost to adopt a pet?
Linda Richards, Best Friends Rescue's manager and treasurer, explains how it can be cost-effective to choose dog adoption instead of buying from a breeder or pet store.
"The adoption fee for our dogs is $345. All our dogs are $345, even the brand new shiny ones that cost the original owner $2,000 and come with pedigree papers; even the old ones with three legs; even the damaged, abused and neglected ones that needed $2,500-worth of vet work; even the puppies whose preliminary vet work costs $480; all of them."
It costs Best Friends Rescue about $300, on average, to rescue an animal, Linda says.
"It all works out in the end … with donations and the adoption fees we receive, as well as generous help from pet shops and suppliers, we manage to keep going."
How much could you save by adopting a pet?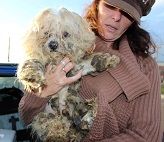 Costs that Best Friends Rescue routinely cover before rehoming companion animals include vet checks, de-sexing (neutering and spaying), vaccinations (C5 for dogs, F4 for Cats), worming and microchipping – all of which can add up, and most of which would fall to the new owner of a pet bought from a pet shop or breeder, on top of the original purchase price (which would often be more than $345).
Animals are frequently rehomed with their own toys and bedding, too (it helps them to settle in to their new home), saving prospective owners spending a fortune stocking up in the local pet store.
Debra Tranter of Oscar's Law, a charity that campaigns to stop the unethical production of dogs in puppy factories, points out that some animals need thousands of dollars of vet work before they can be rehomed – and it's covered by the rescue organisation.
"One little dog – one of 42 we rescued from a puppy factory [pictured before and after] – had testicular cancer, rotten teeth (all teeth removed) a skin infection and an ear infection. His bill was around $3000. He was treated, and now is safe, happy and loved in his forever home.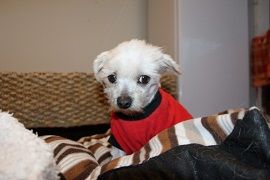 "When you choose to adopt, you can be assured you haven't contributed to the puppy factory trade, plus rescue animals are already de-sexed and vet-worked, so you've also saved money.
"And of course, there's nothing more rewarding than saving a life," she adds.
Consider cat adoption or dog adoption today.
And don't forget to insure the health of your new furry friend!