Each year CANSTAR research and rate business loans and overdrafts, assessing the interest rates, fees and features of each product to determine which ones offer outstanding value for money. ANZ is a five star winner, with its Business Mortgage Loan product providing outstanding value for money.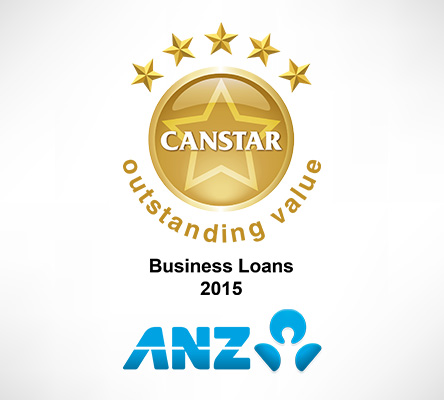 We caught up with ANZ for a quick Q&A on business confidence and business support.
Q: The RBA has recently reduced the official cash rate to just 2 percent – do you expect the lower rate to have an impact on business borrowing?
A: Lowering interest rates will, at the margin, create new demand for business borrowing, but we doubt it will generate significant additional investment spending, especially in an environment of still weak demand. It is welcome but the reason businesses are shy to invest at the moment isn?t the financial health of businesses or availability of credit, it is confidence.
Q: Your small business hub contains some terrific tools for time-poor small businesses. What are some of the more popular ones with your business clients?
A: The ANZ Small Business Hub offers guidance, free business tools, templates and information to help your business start-up or flourish. Our most popular resources include, the Business Planning Template, Cash Flow Forecast Template and Marketing on a Shoestring Action Plan. Visit thesbhub.com.au
Q: How can small businesses best use your Business Insights information to their advantage?
A: The ANZ Business Insights tool can reveal valuable information on sales trends, how you?re performing against competitors, where your customers come from and much more; to help you make the right decisions for your business.
The Business Insights tool gathers data from millions of ANZ card transactions each week. It shows you how you can make sense of each report, and explains their potential uses and benefits for your business.
✓ know where your customers are coming from;
✓ roster staff more efficiently;
✓ understand your customer?s buying habits;
✓ see how the competition is doing;
✓ identify areas that could be targeted better;
✓ keep an eye on your area and your industry?s performance;
✓ know when to take holidays or do renovations without affecting sales
Q: What is your most recent business outlook survey telling business owners about the economic direction in the near future?
A: Our outlook for the economy is mildly positive, but activity in the non-mining sectors of the Australian economy is improving quite slowly and growth overall looks set to remain below trend for some time, only returning to trend in the second half of 2016. The unwinding of the mining investment boom continues to weigh on growth, although exports of bulk commodities will continue to rise solidly. Falling commodity prices are stifling growth in national income and affecting company profits, taxes and royalties, wages and employment.
The recent cut in interest rates is contributing to a lift in house prices in most parts of the country, and stimulating new home building activity and this is clearly a bright spot. Consumer confidence is yet to show a convincing bounce despite more favourable petrol prices and interest rate cuts, although it is possible that the budget?s boost to small business will assist. The lower currency is providing some support to the economy, especially service exporters in the tourism and education sectors.