The ASX 200 has suffered its second day of sell-off as the local share market reacts to a pullback in the US market over the past 2 days.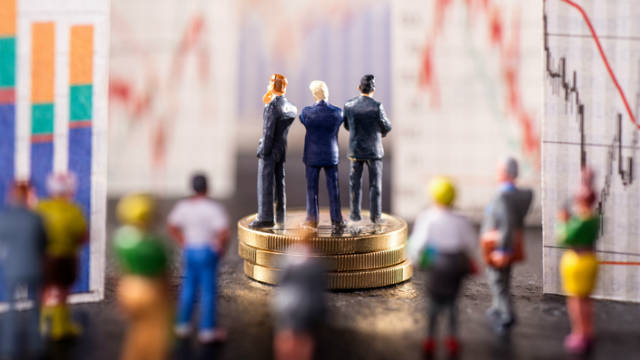 The index shed 95 points on Monday (around 1.5%) to 6,026 before significantly extending its slide on Tuesday to 5,833 – a whopping 288 points or 4.7% off the open on Monday.
Wiping as much as $55 billion off the market and turning the clock back 4 months, the last two trading sessions have put a shiver across the market as investors consider what actions to take.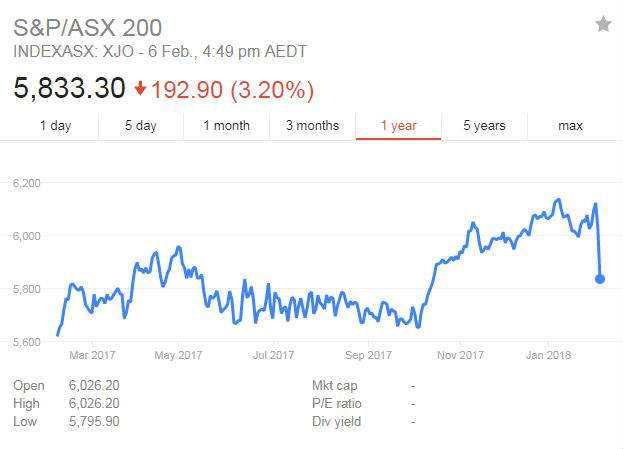 The downturn is largely a response to the US market where the Dow Jones Industrial Average has had its largest point decline on record albeit the decline as a percentage of overall market cap is less than that of the flash crash in 2010.
With the pullback starting late last week in the US, some were welcoming the drop on Monday as a much-needed readjustment after an over-bullish few months.
Losses were not localised to a particular industry with all sectors in the S&P 500 posting declines.
Many market commentators are putting it down to core US economic indicators, such as the strong wages growth numbers late last week, spelling the end of low inflation and interest rates.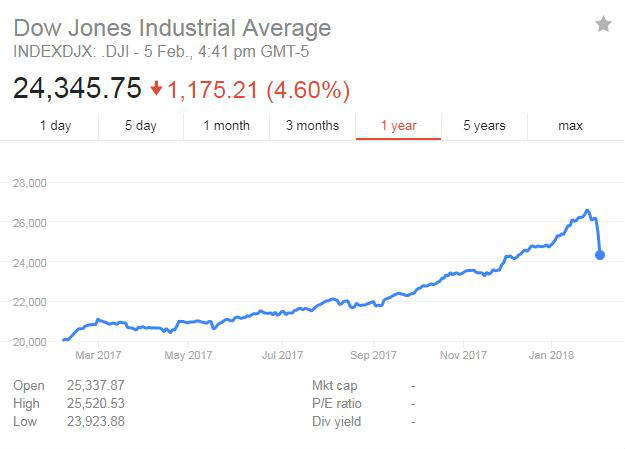 The US sell-off has spread across the world with both European and Asian markets falling in step. The Nikkei (Japan), Hang Seng (Hong Kong) and Kospi (Korea) indexes have all fallen 3% to 6% down from the opening bells on Monday.
Locally, only 5 of the top 200 companies have bucked the trend and managed to notch up gains. The highest turnover of shares today have been the big four banks plus Macquarie and the two big miners, BPH and RIO Tinto.
'A rising tide lifts all boats', however, so when the market sees a sell-off, it's often the lower quality or overvalued stocks that are hit the hardest as investors shed the high-risk assets from their portfolio.
A number of small resources stocks were hit hard, with some experiencing falls of over 10% Tuesday.
So what to do?
Investors need to keep their hats on during these periods and critically evaluate any decisions that they may be tempted to make.
Potentially, what we're seeing is a pullback on an overheated market, but despite the recent pullback, the market is still at strong levels.
In the US in particular, we're talking about the Dow Jones Industrial Average (DJIA) continuing to trade north of 24,000, which for anyone at the 20,000 party would agree is still a strong result.
Locally, the ASX 200 has pulled back below the 6,000 mark, which may create a buy opportunity for investors that believe our market should head back towards the pre-GFC highs of 10 years ago given the US market has already well and truly left that high water mark behind in its wake.