Research based on last year's census has revealed that the 2011-2016 period saw a national increase in housing stock, driven mainly by medium-density housing.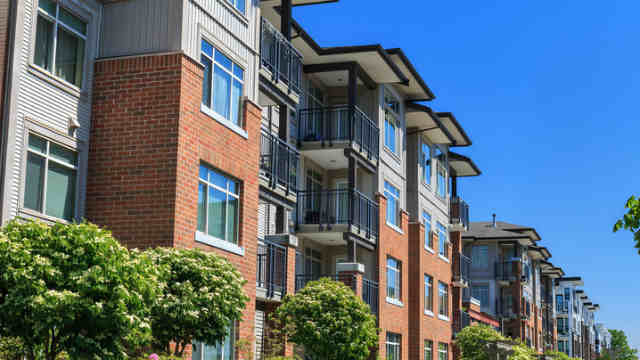 A newly released report from CoreLogic has highlighted both the relative increases in housing stock by capital city, and the proportions of different property types that make up the increases in each city.
Which cities saw the greatest overall increase?
Canberra's housing stock received the biggest boost over the 5-year period, with an 11.6% increase to overall supply.
Melbourne and Darwin were close behind with 11.4% and 11.3% increases respectively.
The cities that benefitted least from the construction boom were Hobart and Adelaide, whose housing supplies only went up by 5.7% and 4.7% respectively.
Worth noting is the fact that while the country has seen a construction boom in recent years, Brisbane, Adelaide, Perth, and Hobart actually saw a greater increase to their housing stocks between 2006 and 2011 than they did over the 2011-16 period.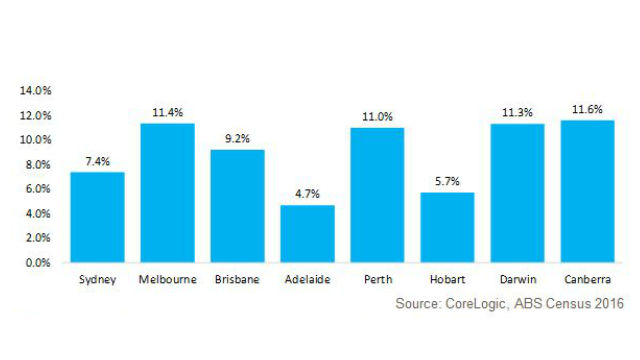 What property types are most prominent in each city?
The 2011-16 period saw a significant shift towards medium-density housing such as semi-detached houses, terraces, and townhouses.
They were the most constructed property type in 6 of the 8 states and territories over the period, with high-density housing like units or apartments generally coming next, and separate/free-standing housing coming last.
The exceptions were Adelaide, Perth, and Hobart, all of which saw a decrease in their high-density housing stock, and a decrease to medium-density housing stock in Hobart's case.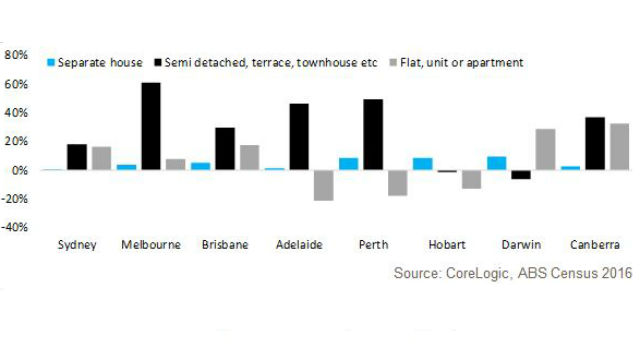 It's important to note that despite medium-density housing generally increasing the most over the 2011-16 period, separate or free-standing houses still make up a vast majority of overall stock around the country.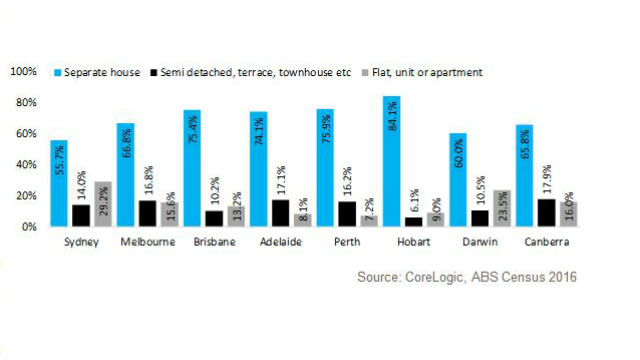 However, the overall proportion of free-standing houses has decreased in recent years.
A decade ago, 61.7% of Sydney's housing market was comprised of separate and free-standing houses, but as of last year's census that figure had dropped to 55.7%.
This means that, if the trend continues, less than 50% of Sydney's housing stock will be made up of separate and free-standing houses by the 2026 census.
Housing supply up, housing affordability down
Contradicting the common refrain that increasing supply will ease price inflation, data from CoreLogic has revealed that the March quarter saw housing affordability worsen (read our report on this data).
Using their 4 affordability measures – dwelling price to household income ratio, years to save a deposit, mortgage serviceability, and dwelling rent to household income – CoreLogic research found that:
The national price to income ratio was 7.3, up from 7.2 a year earlier and 6.1 a decade ago.
It would now take 1.5 years of household income for a home loan deposit, compared to 1.4 years a year earlier, and 1.2 years a decade ago.
Variable home loan interest rates had decreased, but required household income to service a mortgage had increased (however, mortgage rates fluctuate often, and the household income required to service a mortgage is very sensitive to rate fluctuations).
Rent to income ratio had improved in the short-term, being 29.6% as of March 2017 compared to 30.4% a year ago, but 25.8% a decade ago.
The report also found that, unsurprisingly, Sydney was the least affordable housing market across all measures, and that its price to income ratio was notably higher than any other region.
Additionally, the average Sydney homeowner is utilising 45% of their household income to service their mortgage, well above the capital city average of 37.2%.
The report concluded that housing affordability is "deteriorating as dwelling values have risen over recent years", particularly in Sydney and Melbourne.
While CoreLogic noted that lower mortgage rates improve the serviceability of home loans, they do not help prospective homeowners save for a deposit, especially when considered alongside "fairly sluggish" household income growth.
Additionally, while CoreLogic noted that servicing a mortgage continues to be more expensive than renting, the gap is narrowing due to falling interest rates, freeing up income for reinvestment, savings, or other spending.