Each year Canstar researches and rates car insurance policies across Australia to determine which ones offer outstanding value for money for drivers. This year our ratings pulls together 22,342 shadow-shopped quotes in order to research and rate 61 car insurance policies from 53 providers and we are pleased to announce QBE as a national winner of our Outstanding Value Car Insurance award.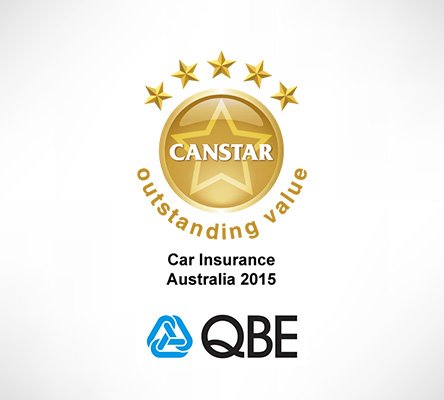 Q: Car insurance policies can be easy to purchase, but perhaps difficult for customers to thoroughly assess. What are some of the key features that customers should look for in a comprehensive insurance policy?
A: Comprehensive insurance offers the most complete protection for your car, generally covering against accident, fire, theft, and liability for damage your vehicle causes to other cars and property.
If you?re looking to reduce your premium, try searching for policies that offer a discount for listing drivers. If you know who is generally going to drive your car, providing details of each regular driver can be a simple way to lower your premium. Most policies will still provide cover for any drivers you haven?t named, although sometimes the extent of the cover can be limited depending on things like the age of the driver, so it?s best to check with your insurer.
Market Value versus Agreed Value policies is another option to consider. In the case your car is written off, a Market Value policy provides you with a payment that would allow you to buy the same model, in the same condition as your vehicle was before it was written off. So it really works to put you back in a position as if the write off had not occurred. On the other hand, an Agreed Value policy insures your vehicle for an amount you decide on with your insurer at the time you take out the policy, or when you renew it. If your car is written off, your insurer will pay you that agreed value to put towards replacing your car. While Market Value policies are generally cheaper dollar for dollar than Agreed Value, it?s important to consider what is right for you and will best suit your needs if you do need to make claim.
Q: Online shopping seems to be an unstoppable (and very convenient) trend. Are a greater proportion of your customers buying car insurance online?
A: We?ve certainly seen an increase over the last few years in the trend to buy insurance online. The number of new QBE customers purchasing their car insurance policies online has been steadily increasing year on year and we expect this growth to continue as customers look for an omi-channel experience.
Q: Do types of car insurance claims differ much between different generations? What are the most common types of claims you see?
In our experience there are definitely intergenerational differences in driving styles and the types of claims we see. For example, older drivers tend to claim for small bumps and scratches on their vehicle, while young drivers usually have larger, costlier accidents, and more often.
Parents and middle-age drivers generally have a lower incidence of claims and those they do make tend to be less severe, and at more moderate costs. It is different for every individual however and we?re certainly seeing customers of QBE?s Insurance Box, which assesses individual driver performance using telematics, bucking these generational trends. Insurance Box evaluates risk based on driver performance, rather than age or experience. It provides drivers with feedback that assists them to pinpoint areas for improvement and become safer on our road, and can reward this safe driving behaviour through lower premiums. Our customers have saved up to 40% at renewal due to showing good driving behaviours.