Contributed by Michael Boyd, physique competitor and director at All4Fitness.
It's true – eating healthily can be expensive, especially when eating out and I find the fancy salad (which almost always costs more) just doesn't quite fill me up.
It's easy to skip meal prep, order Uber Eats for dinner and say to yourself "I'll just get sushi tomorrow", then binge watch your favourite series on Netflix instead. Yes, I've done it before, but I've learnt to minimise this mindset over the last six years since competing as a physique athlete.
When it comes to food, I've figured out what works for me when trying to eat healthily without breaking the bank. I know not everyone is planning on competing or even training as an athlete, but my simple meal prep tips could be useful for anyone who wants to save time and money without compromising their nutrition!
Plan your grocery shop in advance
I always make a list in the notes app on my iPhone before I go grocery shopping, otherwise I'll likely end up with ice cream in my trolley instead of the 1.5kg of turkey mince I was supposed to get. A quick way to make sure I buy enough food for my lunches and dinners for the week is to do the math on how much I actually need to buy before I leave. I find it takes out the guesswork, saving me money, multiple trips to the shops each week and food waste too.
Find out what works for you long-term
When meal prepping, you could make a large batch of tasty, slow-cooked, chilli con carne (mmm…), but I find if I eat anything every day for a week, I quickly get over it. I've used methods such as spending my Sunday afternoon doing a big cook up for the whole week or even cooking each night for the next day. Both of these options are great, as long as they fit your schedule/lifestyle and you can see yourself sticking to it long term!
Personally, I've landed on a prep routine to make sure I always have a variety of home-cooked meals ready to eat. If there's one thing I'm certain about it's that I love my food and want to look forward to each meal, which is why I prepare my meals using what I call my 2, 4, 6 method.
What is the 2, 4, 6 method?
If you're cooking for one person like I do, in the first week you cook a dish with 10 serves every second night, eat four of those meals over the next two days and freeze six of them. That's the two, four, six method in a nutshell.
Your first week could entail preparing 10 meals each on Sunday, Tuesday and Thursday evening. Each cook up will ideally be a different recipe (I'll give you an example of three of my favourites below) and you'll have 18 meals in the freezer! From here I usually start eating some of those frozen meals right away so I don't have to cook for another few days, or even a week. Essentially you can cook up another 10 meals whenever you run low and that way you'll always have some meals ready in the freezer. The main reason I follow this plan is because I find it's really simple and manageable long-term.
3 recipes to get you started (all under $4 per meal)
This is where it starts getting exciting! These recipes tick all the boxes – not only are they filled with enough protein, fibre, carbs and healthy fats to get you through the day, but I've used all three of these recipes while preparing for physique competitions – so they are all definitely healthy and more importantly, very filling! Below you'll see the recipes and cost break down of 10 meals if you decide to follow the 2, 4, 6 method.
Recipe 1: Butter Chicken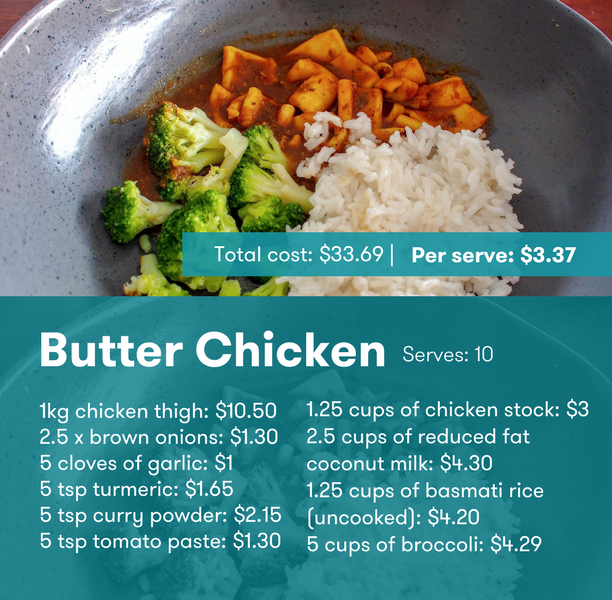 Coming in under $3.40 per serve, this mild curry is an ideal dish to keep in your freezer for a tasty meal at any time. Check out the full recipe here.
Recipe 2: Slow-Cooker Turkey Chili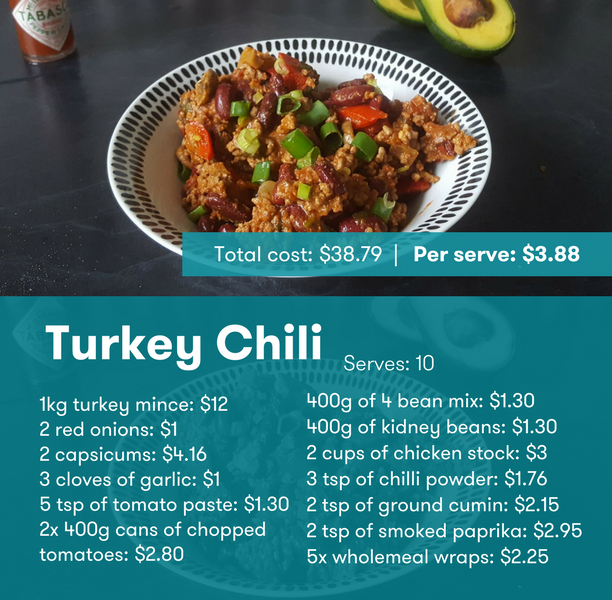 A leaner twist on the favourite Mexican comfort meal, this dish comes in under $3.90 per serve. View the full recipe here.
Recipe 3: Pumpkin Pizza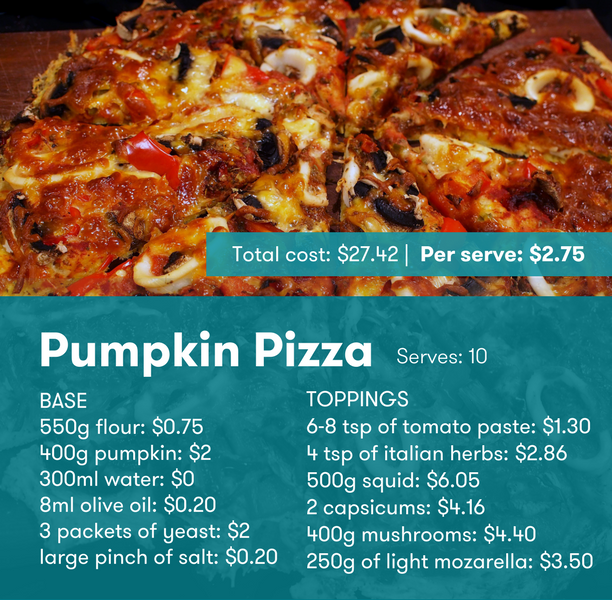 It's no secret – pizza is one of my all-time favourites. You can actually make a healthier pizza that freezes well and tastes great and all for only $2.75 a serve! See the full recipe here.
Ingredients for each recipe are priced from Coles online as of 13/02/18. Some items were for the total cost of the jar/packet, so you may have leftovers and the actual cost per meal could be cheaper if you repeat this recipe again.
For more recipe ideas and inspiration, check out greatist.com.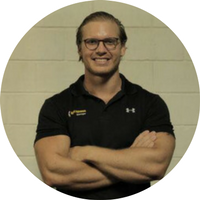 Michael is a five-time physique competitor, personal trainer, weight lifting coach and co-owner of Brisbane-based gym All4Fitness. He most recently placed second in INBA Australia Classic Physique and Bodybuilding Opens divisions in 2017 and is preparing for his next competition in 2019. Check out his progress on his instagram: @__michaelboyd__.