Future of Finance – Canstar Student Scholarship
Receive AU$5,000 to put towards your university studies, plus career coaching that money can't buy.^
Applications for 2019 are now closed.
As Australia's biggest financial comparison website and one of the country's fastest growing tech companies*, Canstar actively supports the future of the finance and technology industries. That's why we're offering a scholarship to the university student who's as passionate about these areas as we are.
We understand how much going to uni can demand of students – not just in dollars and cents – so the successful applicant will get a helping hand towards covering their uni costs, plus invaluable career guidance to help set them apart when the time comes to make their next career move.
This year's Future of Finance Scholarship winner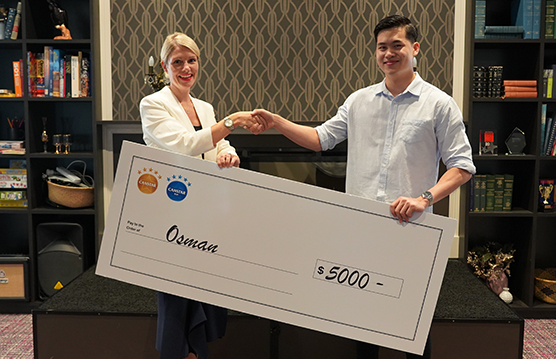 (Scholarship winner, Osman Branjerporn, accepting his prize from Canstar
Group Executive, Digital and Marketing, Sara Tweedly)
Congratulations to Osman Branjerporn who is the inaugural winner of the Canstar Future of Finance Student Scholarship. Osman is two years into an IT and Business degree, majoring in Computer Science and Finance, at the Queensland University of Technology (QUT) in Brisbane.
He said that he found out about the scholarship via a university newsletter and thought it was an ideal fit for his area of study and interests. "What really caught my eye was that it was called 'Future of Finance'," he said. "It said we're looking for tech savvy and future-thinking people and I thought, that's what I'm interested in." Osman said his combined areas of study and some of the extracurricular projects he participates in at QUT helped him in developing a strong application for the scholarship. "A lot of what I do there is geared towards how tech is affecting businesses and how businesses adapt, so I had a bit of background knowledge when it came to the topic of how the finance industry is going to change." As he embarks on the second half of his degree, Osman said the prize will help him in pursuing his passion for tech and finance and alleviate some of the pressure of balancing work and study. "It's going to be really awesome pursuing my own interests without having to worry as much about working those extra hours," he said. "I can focus more on what I want to study in my spare time, like reading up on what is happening in the tech world." "It's a huge confidence boost," he added.
Canstar Group Executive, Digital and Marketing, Sara Tweedly, said the standard of the applications was high across the board, but Osman's stood out to the judges. "His essay was a creative and compelling exploration of the potential impacts of open banking on Aussie consumers, and thoughtfully considered how it will benefit consumers in various ways," Ms Tweedly said.
This year's scholarship is now closed to applicants. We plan to announce the winner in January 2020.
The winning applicant will receive:
– A cash prize totalling AU$5,000 to go towards the cost of their studies
– A two-hour career, CV and interview coaching session
Who can apply?
To be eligible, applicants must:
Be enrolled as a student at an accredited Australian university (it doesn't matter what course you are studying)
Be a permanent resident or citizen of Australia
Be over 18 years of age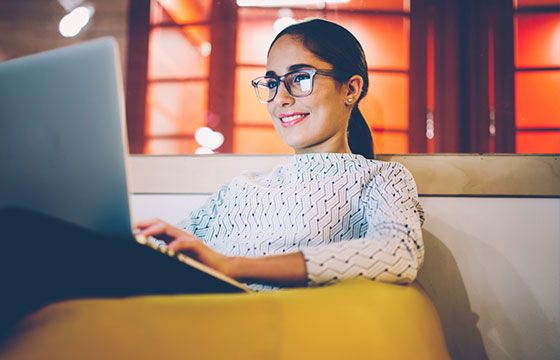 Scholarship timeline
August 2019: Applications open
1 December 2019: Applications close
December 2019 – January 2020: Assessment and judging take place
January 2020: Winner announced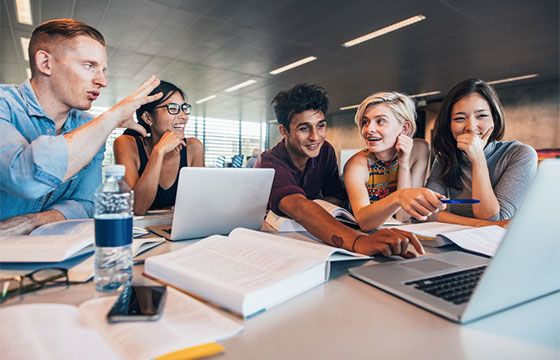 What the judges will be looking for
Our judges will be looking for applicants who have:
Demonstrated their understanding of finance in Australia

Considered the needs of Australian consumers and their money (like we do)

Demonstrated an understanding of at least one emerging technology and its potential impacts on consumers and their finances

Used relevant domestic and/or international examples to support their argument

Shown creativity and an ability to write in a clear, compelling, original and engaging way
Canstar is a leading research house and Australia's biggest financial comparison site*, comparing more brands than any other. Our purpose is to simplify the world of finance and help consumers confidently find the right product for them, whether it's a home loan, savings account, car insurance policy, super fund or one of the many other products we research, rate and compare.
We started up in 1992 as a privately-owned financial research agency and today we are one of Australia's fastest growing digital businesses, with 1 in 6 Aussies visiting our site each year, and 2 in 3 people recognising the Canstar logo.