Let's be honest. Most of us are pretty comfortable discussing property prices and the cost of kids these days over a barbecue. But we never really talk about the financial issues that matter most to our lives. Could we afford to quit that job we hate? Do we really have enough put away for retirement? How do we actually measure up on the money front?
We know money doesn't buy happiness. But it does buy freedom – the ability to make choices about the way we live, now and in the future. And we also know that personal finance issues are the leading cause of stress in Australia.
At Map My Plan, we believe everyone has the right to sound, independent financial advice so they can achieve that feeling of freedom – without any jargon or the fear they're being sold to. But as we started talking to people about our new online financial planning tool, we found a worrying knowledge gap.
Most people don't really know is they're in the right place, financially, for where they're meant to be. In fact, we probably know far more about our health – what we weigh, our BMI and exercise regime – than we do about the ins and outs of our bank balance.
So we decided to do some more robust research into this – to find out just how 'financial fit' working Australians are, and put some benchmarks in place. That's why we launched the Financial Fitness Index in November 2015.
So what is a Financial Fitness Index anyway?
The financial fitness index is based on four factors – your control over your personal finances (30%), your capacity to deal with financial shock (30%), whether you've planned for a secure financial future (30%), and your degree of financial freedom (20%).
We surveyed 1,617 working Australians – men and women from across the country, of all ages, working in full-time, part-time and casual roles. We asked them about their current financial situation and their financial goals, concerns and plans.
Here's what we found.
The average working Australian has a financial fitness index score of 114 out of a possible 200.
Those who scored over 160 are 'super fit' – our financial marathon runners. That's just 10 per cent of Australians.
Meanwhile, a troubling 28 per cent are unfit. More than one in four Australians are struggling to meet regular payments, are severely underinsured and have no plan for the future. One in 10 would go into immediate debt if they lost their job.
Unsurprisingly, our fairly average financial state is causing us stress, sleepless nights and lots of worry about the future. One third of respondents said their finances were a major cause of stress, and close to half agreed they don't have enough money to do the things they want to do in their lives.
And what's interesting is that your take home pay isn't really a big factor here. Until you earn more than $150,000 per year, you are susceptible to financial stress – because it all comes down to the decisions you make, every single day, in those four areas.
So how do you compare?
We also created a very simple survey tool that lets you work out, in minutes, how your financial fitness measures up compared with the average Australian. Because we think everyone, no matter how comfortable they feel, could do with a weigh in every now and then.
Even if you're pretty fit in some areas, you could be neglecting an important issue that needs attention. Once you know where you stand, you can start to make improvements. And then you can take the test again, and see how far you've come.
Our research also found that four out of five people with a comprehensive financial plan are financially fit or super fit. So those improvements could be as simple as working out some goals and making a plan to get there. That's where our online planning tool comes in – as well as our 30 day financial fitness challenge, designed to help you develop healthier money management habits and start feeling more in control of your financial future.
Find out your financial fitness index score at Map My Plan, and see how you measure up.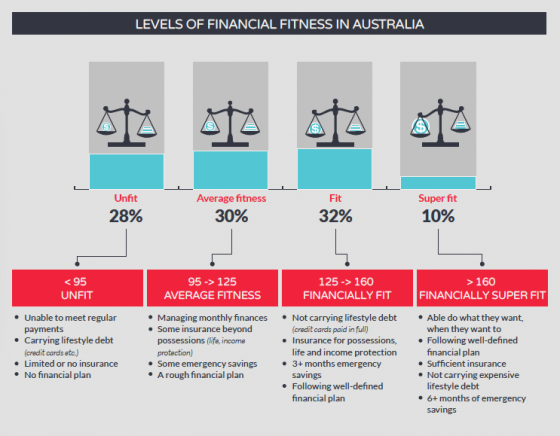 About the author:
Paul Feeney is an Australian who is passionate about changing the way people access independent financial advice. After 10+ years as a private banker and financial planner he is now approaching financial advice with fresh set of eyes with the aim of making it available to everyone, at the same time, cutting the link between advice and product sales. Find out more at https://www.mapmyplan.com.au/
Are you on track? Check out CANSTAR's Budgeting & Saving Tips