For an island-locked nation, biosecurity and quarantine systems are so important.
CANSTAR
has all the info on the new biosecurity act.
Peak holiday times highlight our love of getting away to explore other countries, as well as welcoming foreign holiday makers to our shores. But such global travelling freedom doesn't come without risks to our nation. It can also expose us to potentially serious health risks. That's why we have strict biosecurity and quarantine systems in place. They underpin much of the healthy lifestyle we take for granted, and our reputation as pest and disease free is highly valued and fiercely protected.
What is the Biosecurity act?
Biosecurity refers to all the measures taken to minimise the risk of infectious diseases caused by viruses, bacteria or other micro-organisms entering and establishing in Australia, potentially harming the Australian population, our food security and economy.
The threat to human health has never been more evident than in the past few years where we have seen emerging diseases of serious concern, highlighted by outbreaks of scourges such as Ebola virus, severe acute respiratory syndrome (SARS) and Middle East respiratory syndrome coronavirus. Of late, we are seeing cases of Zika virus spreading across borders. With over 3 million people arriving in Australia by air and sea throughout the festive holiday season, the possibility of communicable disease can't be under-estimated.
Our new Biosecurity system, the Biosecurity Act 2015, now in effect, replaces the century-old Quarantine Act 1908 and is designed to be flexible and responsive to changes in technology and future challenges. The Act provides a modern regulatory framework for the Australian government to manage the risks of pests and diseases entering our shores and causing harm to human, animal and plant health, as well as the environment and the economy.
Key regulatory measures include a requirement that: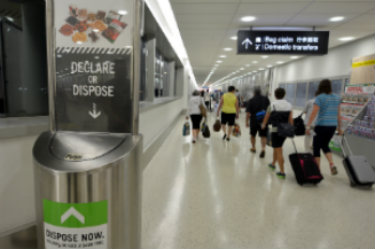 Operators of aircraft and vessels provide contact information to be used for public health follow up, such as contact tracing, should a passenger be found to be infectious with a communicable disease whilst travelling.
Incoming aircraft must undertake disinfection measures to prevent the introduction of exotic pests that may carry serious communicable diseases such as yellow fever and those not natively found in Australia.
Is needed for imposing human biosecurity control orders.
Establishes biosecurity release zones to reduce regulation at international mail centres and passenger terminals.
According to the Minister for Agriculture and Water Resources, Barnaby Joyce, the First Points of Entry regulation sets out the requirements to allow for better management of the biosecurity risks when people and goods arrive in the country. It also outlines the circumstances under which the first point of entry can be changed or cancelled.
Biosecurity Australia gives peace of mind
Australia has worked hard to prevent diseases from emerging, establishing or spreading, and the new legislation is designed to ensure our level of preparedness is enhanced. For most of us, nothing will change in our day-to-day lives. Those entering and leaving from Australia will experience minimal disruptions, as operations remain largely unchanged. However, it's reassuring to know that should pest or disease threaten our health, food or water, the government has our backs. The new Biosecurity Act is jointly administered by the Departments of Health and Agriculture and Water Resources.