Savers continue to grapple with a declining rate of return thanks to low interest rates, while the banks raise rates for those with high risk home loans.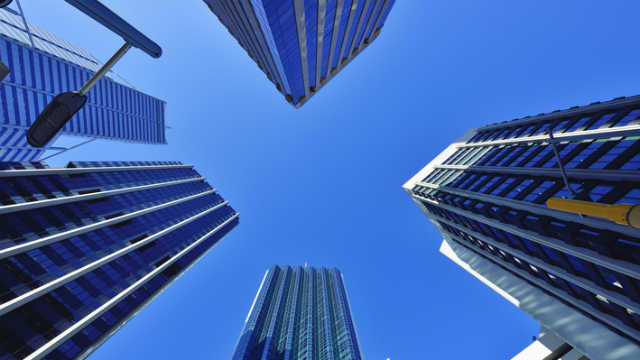 According to Canstar's research, only 15 out of the 75 banking institutions on Canstar's database have raised interest rates on one or more of their term deposits since the last cash rate move in August 2016.
This is despite the fact that most banks have raised home loan interest rates out of cycle at some point over that period.
Interest only and investment home loans in particular have experienced sharp rate hikes.
"Since interest rates started rising in the past three months for property investors on the back of APRA's lending cap requirements, many term deposit holders who are also investors haven't seen their interest rate increase to match," said Canstar's Group Executive of Financial Services, Steve Mickenbecker.
The downwards interest rate trend for term deposits
Taking a longer term view of term deposits, the following table shows the decline since January 2008 of the average interest rate across the different deposit terms.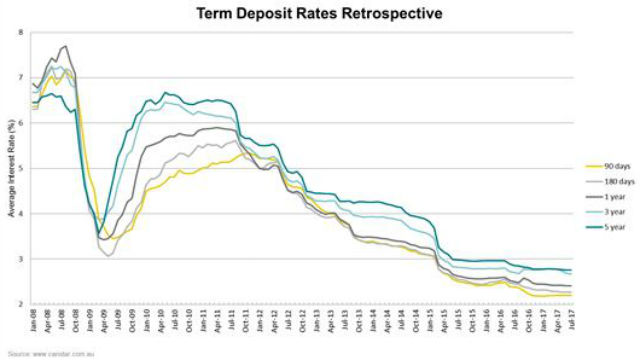 Mr Mickenbecker says putting your money into a 5-year term deposit account considering today's market would be a "brave call".
But he adds that term deposits are still a great option for savers and self-funded retirees looking to maximise the return on their money, although they'll need to stay on top of their game.
"The maximum rate for any term deposit currently on the Canstar database is 3.40%, which is for a 3-year term," he said.
"This compares quite favourably to online savings accounts, which are offering up to 3.05% per annum at the moment, assuming you abide by the bonus rate conditions."
Current Term Deposit Interest Rates (% p.a.)
Term
Min
Max
Average
30d
1.18
2.30
1.64
60d
1.40
2.40
1.76
90d
1.50
2.75
2.22
180d
1.50
2.85
2.33
270d
1.50
2.80
2.20
1 Year
1.85
3.00
2.51
2 Year
1.50
3.10
2.62
3 Year
1.50
3.20
2.73
4 Year
1.50
3.01
2.70
5 Year
1.50
3.30
2.79
Source: Canstar. Based on term deposit rates on the Canstar database and an investment amount of $25,000. Rates current as at 3 July 2017.