Mortgage or super: if you have some spare cash, where should you put it? It was a question posed recently on my News Corp Gen Y column, and the truth is that there's no right or wrong answer. Both strategies have tax benefits and both strategies have some disadvantages, so let's look at each.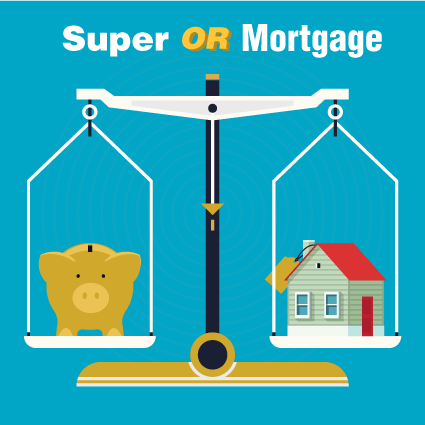 The case for putting more money into superannuation
Superannuation is a popular investment destination; something the SMSF statistics are testament to. The most recent ATO quarterly self-managed super fund statistical report (March 2015) shows that there are currently more than 550,000 SMSF funds in Australia, catering for more than one million members. With a population of just 17 million between the ages of 20 and 85, that's pretty impressive.
So there is no doubt that many of us are happy to put money into superannuation – and to manage it ourselves.
Salary sacrificing money into superannuation has the benefit of a juicy tax concession; before-tax money that you tip into super is taxed at just fifteen percent (as opposed to whatever your marginal tax rate is – for most people it's 34.5 percent, including Medicare levy). So already you're ahead. Some examples, based on the current marginal tax rates plus Medicare levy, are below:
$1,000, after tax equates to…

Nil
$1,000
Super contribution tax
$850
19% MTR + Medicare
$810
32.5% MTR + Medicare
$655
37% MTR + Medicare
$610
45% MTR + Medicare
$530
An extra $85 per week into your superannuation fund for thirty years, at an earning rate of six percent, could give you an extra $370,000 at retirement.
If you're comparing Superannuation funds, the comparison table below displays some of the products currently available on Canstar's database for Australians aged 30-39 with a balance of up to $55,000, sorted by Star Rating (highest to lowest), followed by company name (alphabetical). Use Canstar's superannuation comparison selector to view a wider range of super funds.
The case for putting more money into your home loan
Buying a home is challenging and if you are in the early years of home ownership you may well be mortgaged up to the hilt.
If you do have a large mortgage then any extra money that you can tip into your home loan, especially while interest rates are low, can save you a huge amount of interest over the life of your loan.
Assuming you have an extra $100 before tax per week to allocate to either superannuation or your home loan. If your marginal tax rate was 32.5% plus Medicare levy, it would result in around $65 per week after tax, to allocate to your home loan. Currently on the canstar.com.au database, the average variable mortgage is 4.60% (you can compare home loan rates here). On a $300,000 home loan over 30 years, an extra $65 per week can pay your loan off eight years sooner and save around $79,000 in interest. It will also free up eight years of repayments (around $174,000) to invest, which you could then salary sacrifice and use to supercharge your super.
All up, the result would likely be similar.
If you're currently considering a home loan, the comparison table below displays some of the variable rate home loans on our database with links to lenders' websites that are available for first home buyers. This table is sorted by Star Rating (highest to lowest), followed by comparison rate (lowest-highest). Products shown are principal and interest home loans available for a loan amount of $350K in NSW with an LVR of 80% of the property value.
Before committing to a particular home loan product, check upfront with your lender and read the applicable loan documentation to confirm whether the terms of the loan meet your needs and repayment capacity. Use Canstar's home loan selector to view a wider range of home loan products.
Learn more about Super