SMSF Loans Putstanding Value: Homeloans.com.au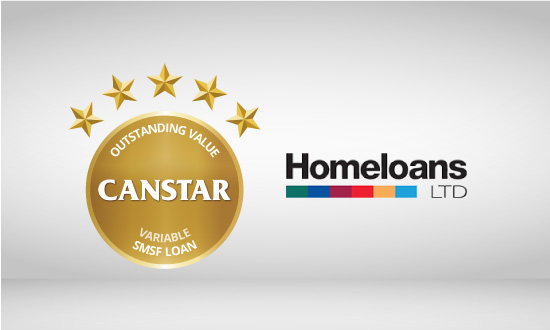 Each year CANSTAR researches and rates SMSF loans available to Trustees. Homeloans.com.au has achieved an Outstanding Value 5 star rating for its variable rate SMSF Loan.
According to the Australian Taxation Office (ATO), self-managed superannuation funds represent the largest stand-alone chunk of the superannuation market in terms of asset size, and more than 1 million Australians use a SMSF to save for their retirement. Lending via a SMSF is also popular, with ATO statistics showing more than $21 billion of lending as at June 2016.
In 2016 CANSTAR has assessed the SMSF loan products offered by 14financial institutions, with Homeloans.com.au achieving a 5 star rating for variable rate loans.
| | | Profile | | |
| --- | --- | --- | --- | --- |
| Outstanding Value | SMSF Loan | Variable | | Homeloans.com.au |
Not only did homeloans.com.au offer a below market average variable rate at time of assessment, it also offers a very strong array of features, including the following:
Both individual and company trustees are eligible to apply for a loan
Personal guarantee is not required
Refinancing is available
Max LVR is 80%
Rental income can be used to assess the serviceability of the loan
Employer SG and voluntary contributions are allowed
Lump sum and additional repayments are allowed
Split facility is available
90 day pre-approval is available
About Homeloans.com.au
A non-bank, Homeloans.com.au is listed on the ASX and was founded in 1985. Major shareholders include National Australia Bank and Macquarie Bank. In October 2016, Homeloans merged with another non-bank lender, RESIMAC.
As the name suggests, homeloans.com.au specializes in home loans!
" The Homeloans Classic Self-Managed Super Fund (SMSF) product allows established Self-Managed Super Fund trustees to borrow funds for the purchase or refinance of residential investment properties.
Low variable rates

LVR up to 80%

Loan amount up to $500,000

No on-going fees

Principal & Interest or interest only (up to 10 years)

Flexible repayments

All the added benefits of being a Homeloans customer"
Source: homeloans.com.au. Correct at 1/11/6