In October 2016, the Reserve Bank of Australia released their annual snapshot of the Australian economy. We took a look at the key highlights and what they mean for you.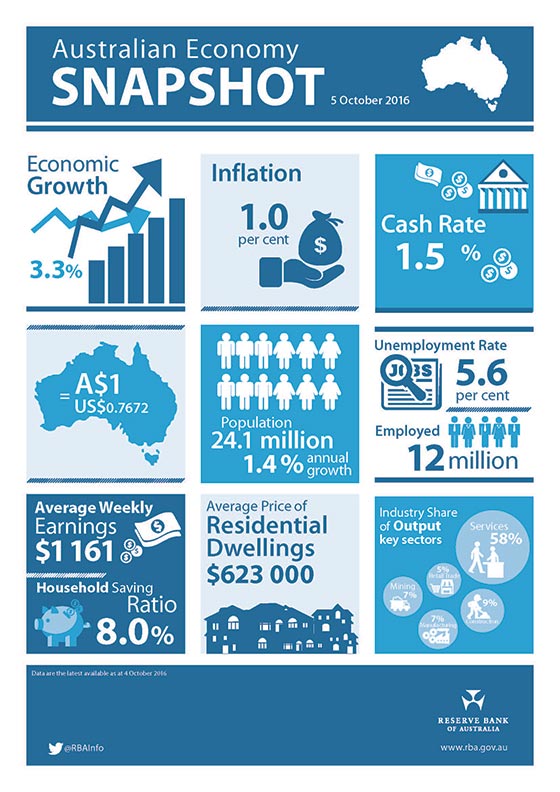 When it comes to the Australian economy we currently have a historically low official cash rate, low home loan interest rates – but high house prices. The mining boom is slowly busting and consumer and business confidence seems lacklustre. But is it all really doom and gloom?
Each year the Reserve Bank (RBA) releases its annual snapshot of the Australian economy. Here's the 2016 run down.
Australia's Economy
Economic growth 3.3%
Inflation 1.5%
Cash rate 1.5%
AUD $1 = USD $0.77
Economic growth is a full one percentage higher this year than it was last year – that's good news! At a recent address to Citi's 8th Annual Australian & New Zealand Investment Conference, RBA Governor Phillip Lowe said that Australia's economy and inflation has been low by historical standards as a combined result of an increase in global competition, the winding back of the mining boom and excess workforce capacity. However the RBA expects domestic demand to strengthen gradually as the drag on the economy from the decline in mining investment comes to an end. As this happens, the excess capacity, including in the labour market, is likely to be wound back, with a increase in wages expected.
Australia's Population
Australia's population saw annual growth of 1.4% and finally ticked over the 24 million mark, up from 23.6 million last year.
2015 Population 23.6 million
Population now 24.1 million
Population growth 1.4%
Average price of residential dwellings $623,000
Australia's Housing
It will come as no surprise, but Australia's average housing costs have increased over the past 12 months, from $576,000 in 2015 to $623,000 this year.
This is compared to $382,000 for houses and $304,700 for units in 2006, according to the ABS and the Real Estate Institute of Australia.
Australia's Employment
The official unemployment rate is not looking too bad, with the number of those employed standing at 12 million (slightly higher than last year's 11.8 million). The unemployment rate has also fallen this year, from 6.3% to 5.8%.
Employed people 12 million
Unemployment rate 5.8%
Nevertheless, the RBA Governor acknowledged in a recent speech that underemployment – the proportion of people who would like to be working more hours than they are – is reasonably high.
"While the Australian economy has performed better than many others over the past decade, we still have some spare capacity," he said.
"Over the past year, the Australian Bureau of Statistics' (ABS) measure of underemployment has risen, not fallen, so that overall labour market underutilisation has been little changed. This largely reflects the fact that many of the people finding work recently have been employed in part-time jobs and report that they would like to work more hours."