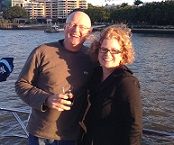 Shaun Leck, an accountant and his partner Mel Kettle, a marketing communication consultant, set up their self-managed superannuation fund in 2011. In a q&a with CANSTAR Shaun explains why, how and his tips for other would-be investors.
Q: Why did you set up your SMSF?
We set-up our SMSF because we both had about $200,000 in super with industry super funds, and the performance of the funds since the GFC had been terrible, and I had the confidence in my own ability to be able to do a better job. Mel also had a small amount of super in a family SMSF fund with her parents and brother, and her parents encouraged us to establish our own. We had talked about it for a while, and finally got it all set-up with the help of our accountant.
Q: What did you perceive as the main benefits of having a SMSF?
Control of our money and visibility of our investments in the fund.
Q: Who did you seek advice from prior to making the decision?
Mel?s parents initially and a lot of reading and investigation on my part to understand it and what was involved, and then sitting down with our accountant and getting his input and advice. We used our accountant to do most of the leg work and went with a Pty Ltd set-up as Trustee, which was very good.
Q: Was the process easier or more difficult than you expected?
The process was easy for us with regards to using the accountant to do most of the leg work, but daunting when it came to all of the paperwork and documents that we had to sign and understand, and then getting your head around how it operated etc. Plus getting bank accounts set-up with our bank and trading accounts set-up for the SMSF for the acquisition of shares through Commsec.
Q: What level of your time commitment is involved each month in managing your SMSF?
Our time commitment to managing the SMSF each month is small, about one hour per month, a bit more around tax time in getting documents together for the accountant, but we have found that if you file all of your paperwork together it is quite easy to keep it under control. I keep a close eye on our equity investments on a daily basis, but it only involves a five minute check at the end of each day.
Q: Any advice, from your experience, that you would offer to others who thinking of going down the SMSF path?
Do it, but you have to be organised and methodical with your approach to it, and understand the rules around it, and see it as your retirement nest egg in 20, 30 or 40 years time, and not as your short term bank account. Also, get good advice from your accountant and find one that you can talk to easily and who can explain things and concepts to you without getting caught up in all of the accounting jargon.