Each year Canstar researches and rates the business-related products and services that our financial institutions offer. Naturally, we look at the range of dedicated products – such as transaction and savings accounts, credit cards and loans – but we also scrutinize the features a bank offers to help small business every step of the way. This year Canstar is pleased to congratulate
Commonwealth Bank
on winning the Bank of the Year – Small Business Award.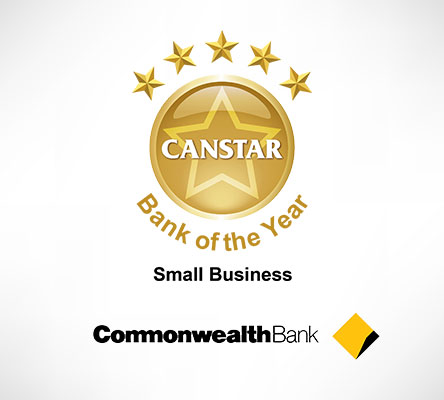 In light of the win Canstar caught up with Commonwealth Bank for some insights into small business opportunities and challenges, as well as the importance of a tailored banking solution.
Q: From analysis that your team does, what are some of the key opportunities and challenges for small business currently in Australia?
A: Small businesses are needing to deal with change more than ever. In particular change in technology, customer expectations and competitor & market conditions. And the change is happening faster than ever.
Digital change is a fantastic opportunity given the convenience and efficiency of using digital channels. For example innovative payments solutions ensure businesses get paid quickly and therefore are better able to manage cash flow. However given the ever-changing face of technology, keeping up with the latest innovation and shifting operationally to incorporate digital changes can take a toll on the business. Customers? expectations are also changing – everything needs to be faster and better. In the world of technology, consumers are expecting instant gratification. If a consumer is unhappy with a product, they jump straight onto social media to provide their thoughts and feedback and expect rectification and a response almost immediately. And the continued increase in globalisation coupled with lower barriers of entry allows start-ups to emerge quickly. This increases competition for existing businesses and forces them to remain relevant and maintain market share. However, it?s a great opportunity for start-ups to set themselves up quickly although the challenge will be to survive.
Small businesses need to continually evolve and adapt to change, the constant pivoting of their business to ensure they are meeting their customers? needs and ahead of the competitors and evolving with technology is both a challenge and an exciting opportunity.
Q: You have some terrific resources for time-poor business owners, including your 24 hour call centre and video conferencing. Why were these services introduced?
A: We understand that the needs of our customers do not magically disappear after 5pm on a Friday, or on Public Holidays. As such, our award winning 24/7 Business Service Centre has been a foundation of our small business service model for the past 4 years. Our decision to establish this service model was driven by a number of factors:
Customer demand and feedback: our customer feedback wanted us to be doing business in the hours that they were… in other words, all the time!
Introduction of real-time banking and technology: with 24/7 real-time banking technology comes the need for 24/7 real-time support.
When designing the CBA Branch of the Future, we identified a need to provide branch customers with access to speak face-to-face with a business banking specialist immediately, regardless of whether a local business banker was available in the branch at the time. Through the introduction of in-branch Video Conferencing, we have provided this service and the customer feedback has been outstanding.
Q: How important is it for small business owners to have a tailored banking solution?
A: Every small business is unique whether it be a different company structure or operating framework, at a certain business lifecycle stage or managing mismatch between supply and demand. As a result, each business?s financial needs are unique and having a tailored banking solution is necessary.
A tailored banking solution provides extreme convenience for business owners. We often hear business owners having difficulty managing unexpected and seasonal cash flow issues. Having the right products and services to manage these allows the business owner to be at ease and have more time to spend on reaching the business? goals as oppose to worrying about how much money they have in their bank account and whether they have enough funds to pay their suppliers.