ING has notified customers of a change to its Savings Maximiser interest rate. Here's the latest update and where savers can find the highest interest accounts.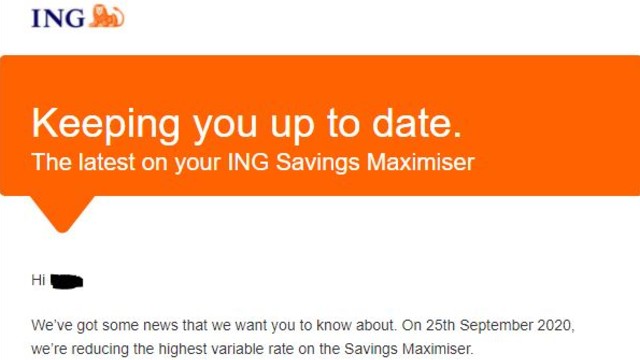 ING sent an email to customers this afternoon notifying them that the total interest rate on their Saving Maximiser account would be cut from 1.65% to 1.50% on Friday, 25 September.
While the base interest rate would remain at 0.10%, the bonus rate would be reduced by 0.15 percentage points to 1.40%, adding up to the total rate of 1.50% when customers meet the bonus conditions.
This cut marks the third reduction to the Savings Maximiser account this year, with cuts in March, July and this one in September having taken the total rate 0.45 percentage points lower.
To put the cuts into perspective, the official cash rate has fallen by 0.50 percentage points this year, to the current record low of 0.25%.
Regular savings rates have dropped by an average of 0.53 percentage points in 2020, while bonus savings accounts have fallen by an average of 0.50 percentage points, according to Canstar's database. The current average savings account rate is now 0.61%, and 1% on bonus savings accounts.
"We're doing this so we can adapt to changing market conditions while maintaining our customers' needs," ING told customers in its email today.
The bank said it still had "one of the most competitive" savings rates around.
How does ING's savings rate compare to other banks?
Below are the top savings rates on Canstar's database at the time of writing. Rabobank comes in position one, offering 2% interest on its High Interest Savings Account for an introductory period of four months. ING's new rate did not make the list.
Top savings accounts
2% – Rabobank Australia's High Interest Savings Account (0.55% base rate + 1.45% introductory rate for the first four months)
1.90% – Heritage Bank's Online Saver (0.80% base rate + 1.10% introductory rate for the first four months)
1.65% – MyState Bank's Bonus Saver (0.15% base rate + 1.50% bonus rate)
1.60% – UBank's USave + USpend (0.54% base rate + 1.06% bonus rate)
1.60% – MOVE Bank's Bonus Saver (0.40% base rate + 1.20% bonus rate)
1.60% – 86 400's Save Account (0.15% base rate + 1.45% bonus rate)
Source: www.canstar.com.au – 23/09/2020. Based on savings accounts available on Canstar's database with a deposit amount of $10,000. Products listed in descending order by total rate, followed by base rate. Total rate includes base rate plus any applicable promotional bonus and/or conditional bonus. Conditions may apply to promotional and conditional rates, contact the relevant company for full terms and conditions. This list assumes ING's Savings Maximiser changes take effect on 25 September 2020, as announced to customers.
The comparison table below shows some of the Savings Accounts on Canstar's database for a regular saver in NSW with links to the providers' websites. The results shown are based on an investment of $100,000 in a personal savings account and are sorted by Star Rating (highest to lowest), then provider name (alphabetically). For more information and to confirm whether a particular product will be suitable for you, check upfront with your provider and read the Product Disclosure Statement before making a decision.
---
Thanks for visiting Canstar, Australia's biggest financial comparison site*