Changes in deposit account interest rates over the past 12 months and how those changes have affected the amount you can earn.
In our latest ratings of savings and transaction accounts, we are revealing key industry insights into how our economy has changed over the past year, and why you should care.
What have interest rates done?
From January 2015 to April 2015, Australia had seen two movements in the official cash rate (in February and May) and these movements have been reflected in the interest rates on offer for both at-call cash accounts and term deposits. And we've just seen another movement, with the cash rate lowering in May 2016 to 1.75%, so check the tables below to see what the banks have done with that one.
As a specific example, this table shows how bonus at-call interest rates have changed over the past year and a half up to June 2016:
Year
Official Cash Rate
Average Bonus
At-Call Interest Rate
Jan 2015
2.50%
3.28%
April 2015
2.25%
2.96%
August 2015
2.00%
2.66%
January 2016
2.00%
2.65%
April 2016
2.00%
2.63%
June 2016
1.75%
2.14%
Source: www.canstar.com.au and Reserve Bank of Australia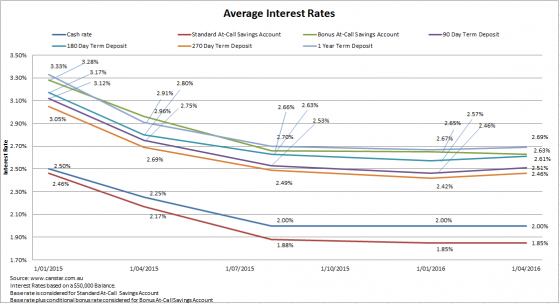 If you'd invested a year ago…
With average at-call savings rates of 2.96% in April 2015, you could have earned $112 in interest by now with a regular savings plan:
Example Regular Savings Plan 2015-2016
Initial Investment Amount
$1,000
Regular Monthly Deposit
$500/month
Total Amount Invested
April 2015 – April 2016
$7,000
Total Interest Earned
$112
Source: www.canstar.com.au
It's just that easy. Why not try it yourself with any of our five-star rated savings or transaction accounts?
Cash rate movements in April…
Because this article was originally published in April 2016, we thought it would be interesting to take a look back through Reserve Bank of Australia archives and see what type of cash rate decisions are typically made in April. The answer is: to hold.
There have been no movements in the official cash rate in April since way back in 2010. So what is it about April that makes people stick with the status quo? We looked at what's been happening in April over the past few years – here's a quick summary…
What was happening in the world?
If you'd invested a year or even two years ago, what was going on in the economy to affect your savings?
April 2014
In April 2014, the RBA decided to leave the cash rate at its new low of 2.50%. Interest rates were low and savers were preferring higher return products over safer products.
The Australian economy had been growing at a slower pace from 2013 into 2014, and resources sector investment was set to decline significantly. The exchange rate for our dollar had declined from its peak of 2013.
Inflation had risen quickly to 2.7%. Unemployment had reached 6.0% at the end of 2013 and now rose to 6.1% by September (ABS, 2014). To make matters more complicated, wages were not rising as fast as they used to, and housing prices were growing at crazy rates in some areas.
The European, Japanese, and US economies had recorded a significant pick-up in growth. The Chinese economy had slowed a little in early 2014 but the Governor said, "China's growth remains generally in line with policymakers' objectives."
What happened in 2014?
2014 was the year for women. Janet Yellen became the first woman sworn in as chair of the US Federal Reserve, and Maryam Mirzakhani was named the first woman to win the Fields Medal, the most prestigious award in mathematics. Malala Yousafzai won the Nobel Peace Prize for her work as a Pakistani advocate of education for girls, making her the youngest winner in history at just 17 years old.
The year brought many surprises, good and bad. Pope Francis continued to pleasantly surprise the world with the Vatican's most liberal pronouncements in decades, endorsing evolution, the Big Bang Theory, and inclusion of gay people in the Catholic Church. The Ebola Virus had its largest yet outbreak in West Africa, where the haemorrhaging fever killed thousands.
In September, the European Space Agency landed the Rosetta spacecraft onto a comet orbiting the sun, named "67P/Churyumox-Gerasimenko".
Frozen became the highest-grossing animated movie of all time. The show we never thought would end, How I Met Your Mother, aired its final episode.
April 2015
By April 2015, the cash rate had not fallen as much in previous years, and was now at 2.25% (from 2.50% in 2014).
This year presented some serious challenges for Australian savers and investors. Australia's terms of trade were declining steadily. Business capital expenditure was continuing to fall, gradually pushing unemployment as high as 6.40% in early 2015 (ABS, 2015).
The RBA saw housing price rises in Sydney as unsustainable, and was now working with regulators to assess and contain this risk to the Australian housing market overall. Inflation overall was back down to 2.30%.
On a global scale, commodities prices had declined sharply from the year before, especially in oil prices. As a result, the Australian dollar continues to have a low exchange rate, and the RBA expected it to lower further.
In light of this, the RBA foresaw (accurately) that they would likely need to reduce the cash rate further over the next year.
What happened in 2015?
Amazing things from 2015 included Saudi Arabia holding its first ever election open to female voters and candidates, where five women won seats on local municipal councils. Another victory for democracy was Myanmar, which celebrated their first free election in many years. Aung San Suu Kyi, the leader of the Burmese National League for Democracy who spent 15 years under house arrest during the reign of the military junta, won in a landslide.
Equally unprecedented, SpaceX launched the first "reusable rocket", a rocket that returned to Earth and successfully landed upright. The New Horizons space probe also flew by Pluto and its suite of moons, providing our first glimpse of this icy and debated planetary body.
After six years in the making, 195 countries at the 2015 Climate Change Summit signed the Paris agreement to act against climate change.
In more good news, the World Bank declared that absolute poverty in the world has reached its lowest point ever. Around 1 in 10 people now live below the absolute poverty line of less than US $1.90 per day – a far cry from the 60% living in poverty just 50 years ago.
Perhaps in recognition of our new low levels of global poverty, China removed its 36-year-long One Child Policy. Chinese couples are now limited by regulation to two children.
April 2016
The economy appears to be gradually rebalancing now that the mining boom is finished. The Australian dollar has risen somewhat and commodities prices were starting to recover slowly from their substantial decline.
Inflation is quite low at just 1.70% now (RBA, Feb 2016). Unemployment is thankfully lowering again, now sitting at 5.80% (ABS, March 2016).
Consumer sentiment this year is improving after a period of heightened volatility, but uncertainty in the global market continues. The RBA predicts the global economy will continue to grow, although at a slower pace than previously expected.
Since many other major international markets are keeping their cash rate low, the RBA has deemed it appropriate to follow that course here as well.
What's happened in 2016 so far?
NASA has released data showing February 2016 was the warmest month ever recorded globally, with temperatures 1.35 degrees Celcius above the long-term average. This summer was certainly a weird one for Queenslanders, with a waning El Nino causing both a hotter, drier summer in Brisbane and mass flooding for the other 80% of the state, which has been drought-ridden until now.
Olivia and Ezra are the most popular baby names in 2016 so far. Meanwhile, mothers-to-be in countries suffering from Zika Virus outbreaks have been advised to delay getting pregnant for at least 2 more years, as WHO declares a global public health emergency.
And in the most exciting news of the year so far, the new website for Canstar Blue was officially launched in April! Check it out, and find out which companies have won the coveted Canstar Blue Award for Most Satisfied Customers for utilities, telcos, household appliances, and more.