Aussie dads can expect to score a present worth, on average, $125 on Sunday from their adult children, a new survey has found – but don't be surprised if that gift is worth less than what they forked out for their mum.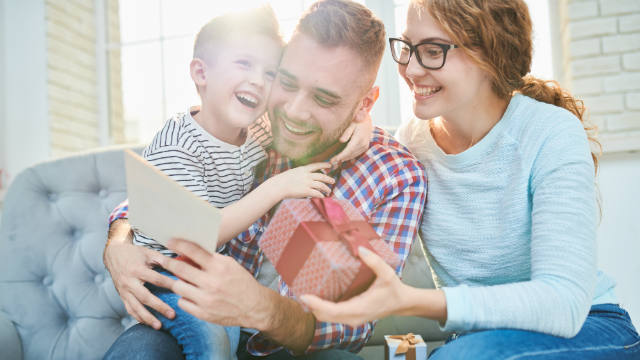 The survey of 1,000 Australians, conducted by financial institution ME Bank, found that the average adult spent more on Christmas, family birthday and Mother's Day presents than they did on Father's Day. However, they did spend more saying thanks to their dads on Father's Day than they did for their object of affection on Valentine's Day.
ME's Matt Reid said the survey also found that on average, sons tended to spend more on Father's Day gifts ($145) than daughters ($97).
"The spending gap might be explained by the tendency to spend more on gifts you'd like yourself. Buying for the same gender would increase the likelihood of this," Mr Reid said.
He added that the biggest spenders of the bunch were 25-39 year olds, who said they were planning to tip out an average of $163 on the occasion.
Most popular Father's Day gifts
A "practical, physical" gift, such as socks and jocks
The gift of an experience, such as tickets to a sporting match or race car laps
A "fancy" gift, such as an Apple watch
A homemade gift
Other present such as gift cards and alcohol.
"Practical gifts are a dad's best friend. You can't go wrong spending money on something your dad needs," Mr Read said.
He said some of the strangest gifts survey participants reported giving their dad included a homemade laundry basket, an oil painting of a cartoon frog, an abnormally large ruler and pencil and a handmade ashtray for a non-smoker dad.
"You don't need to spend big on Father's Day to make your dad feel appreciated and special – less expensive gifts can be just as thoughtful," he said.
"Pool together with the rest of your family and gift dad one item that he's been lusting over."
Mr Read said handmade items also made great gifts and by planning ahead you could better budget for gifts.
"When it comes down to it, for most dads, quality time with their kids or a simple call is all they want. The occasion doesn't need to cost a fortune.
"Sometimes breakfast in bed is the best gift a dad can get!"