How well do your pets travel? Some take it completely in their stride while others can fret and stress. Then there was the case of Pippa the cat, who accidentally took a 49 day tour in a shipping container from Darwin to Brisbane. The good news is that Pippa survived the trip, albeit with no food or drink, and after a recovery period was reunited back in Darwin thanks to some terrific help from pet travel experts Jetpets.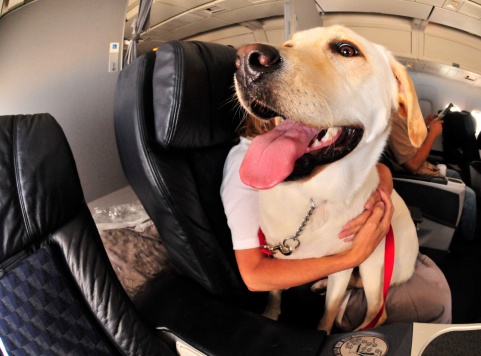 The story of Pippa prompted us to get in touch with Jetpets to find out (extreme examples aside) just how well pets do travel – and what owners can do to make the interstate or overseas experience a bit easier for their fur babies.
Q: When it comes to flying, do pets often get agitated? Does the anxiety level of the owner influence the pet?s anxiety at all?
A: We often find that our stress and anxiety levels, as pet owners, are projected on to our fur children. To help ease the owner?s mind we like to advise that their pets travel is very similar to our own. They are transported in a dimly lit, pressurized and temperature controlled area of the aircraft. Dogs and cats are great at detecting changes in our moods so they best thing you can do for your pet is to remain calm around the time of travel.
Q: What are some strategies to help ensure your pet will be calm on a journey?
A: It?s always a great idea to get your pet accustomed to their travel crate before the day of travel. By teaching your pet to associate their travel crate with positive things such as play and treats, they?re more likely to be calmer on the day of travel.
Here?s a great video on how to positively reinforce your pet to their travel crate https://www.youtube.com/watch?v=bvo-3um3SvM. If your pet is particularly nervous, there are a few natural remedies that calm animals without altering their state of consciousness (for example DAP for dogs and Feliway for cats).
There aren?t any particular animals that handle travel better, it?s all about the personality of the pet more than anything else.
Q: What are some of the more unusual pets that Jetpets has transported?
A: Jetpets transports many unusual animals for our ZOO partners over the years. We have transported tigers, seals and more recently, some baby crocodiles!
When it comes to international travel it goes without saying – although perhaps someone should have thought to mention it to Johnny Depp recently – that you ned to check any import or quarantine restrictions that might apply to your animal?s journey. And of course make sure that the crate you use is appropriate for your pet –  there?s a crate size calculator here.
Other articles you might like