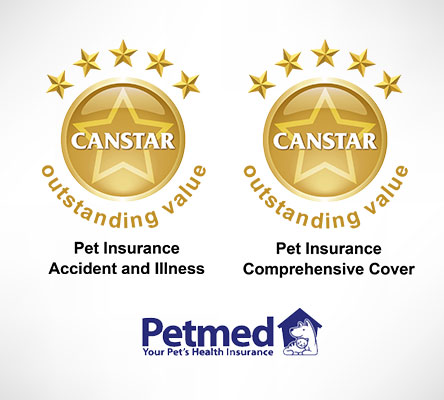 Committing to a pet is a lifetime thing. When you take a cat or a dog into your household, you are solely responsible for that animal?s physical and mental wellbeing for the rest of its life. Pet insurance plays an important part of that.
Each year Canstar researches and rates pet insurance products on offer across Australia. This year we have compared 81 policies from 19 providers to determine which ones offer outstanding value for pet owners. This year, Petmed has provided a winning formula, across both accident and illness and comprehensive pet insurance categories. We caught up with Geoff Long from Petmed for a quick Q&A.
Q: you have some terrific extra benefits for your members, including a free Pet Health Report. What type of information is included in the health report?
A: The pet health reports combine research on every breed of cat and dog into a series of easy to understand reports which are compiled by highly qualified researchers and veterinarians. The information educates pet owners on hereditary conditions, cancer statistics, common illnesses and general information about their exact breed of dog or cat.
Q: What is Petmed?s philosophy in relation to pet insurance?
A: Petmed is populated by pet-people who understand pet-parent customers. Petmed?s philosophy is to provide our customers with veterinary care funding that have might otherwise been difficult for pet owners to source. Petmed sees pet insurance as an essential resource for any responsible pet owner, especially for those ?events? you least expect.
Q: PetMed has been around for fifteen years and over that time pet insurance has gone from being a niche product to mainstream. When, in your experience, did pet insurance really start to increase in popularity?
A: Petmed started in the year 2000 and has seen continued growth throughout. However, pet insurance as a category has really taken off in the last five years as it becoming more commonplace in the minds of customers and awareness of the product has gained momentum. This has also been a result of rising veterinary costs as treatments continue to advance in technology and sophistication.
Q: What are some common types of accident and illness claims that you see for both dogs and cats?
A: Some common types of claims include:
Ear Infections
Skin conditions
Gastroenteritis
Patella luxation
Cruciate ligament rupture
Arthritis
Tick paralysis
Q: And how about less common cat and dog-related claims?
A: There are plenty! A few examples include:
Intervertebral disc disease
Tail injury
Pneumonia
Spinal disease
Glaucoma
Fish hook injury
Anorexia