During the cooler months, motivation for getting outside can hit an all-time low. This can lead to the common winter-weight issues, for humans and pets alike.
Avoiding weight gain is vital for the health of our furry friends. Nadia Crighton, from Pet Insurance Australia, offers some tips for how to avoid winter weight gain by shaking the winter-blues and making the most of the cooler weather with our pets.

Winter blues for our fur babies
It's all about being prepared
Wondering how to lose weight in winter, for you and your pets? Okay – if you want to keep up your regular exercise program in winter, it's about being prepared.
How to avoid dog weight gain in winter
Don't abandon your early morning walk with your beloved pooch just because it's a little (or a lot) cooler and wetter. Here are some tips to keep yourself on the straight and narrow (walking path):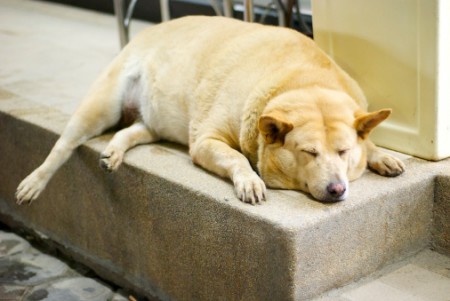 The night before layout extra warm clothes including beanie and gloves (gloves are very important when holding a cold leash).
Set your alarm to some enthusiastic music…the type that makes you want to jump out of bed and seize the day!
If it's a really chilly morning consider a dog coat for your pooch.
If it's raining invest in a good raincoat for yourself and your dog.
Have two dry towels waiting for your return at the door – one for muddy paws and one for damp bodies.
Remind yourself, or even write a note to yourself, how important keeping fit during winter is for your dog and for yourself.
Have a day off. Then on those really cold starts remind yourself that your day off is only three days away.
Can't get outside? Too cold, or just too wet? Do your research and do some indoor training to flex those brain muscles instead.
How to avoid cat weight gain in winter
Yes, we know – cats don't exactly like walking on a leash. But luckily cats can keep fit in winter by playing indoors, even when it's cool outside. Here's a few tips:
Indoor cats can develop stiff limbs or even arthritis from sleeping on a cat bed on the floor, because of draughts and the coolness of the floor itself. Consider lifting your cat's favourite bed (or blanket, or pillow, or T-shirt) to a higher location such as a dressing table. Not too high, though – or you can put a chair nearby to give your cat a handy ladder to get up and down.
The same goes for outdoor cats – lift their usual bed (if you know where it is) up off the cold ground onto a chair or bench, then lay down some extra bedding.
Be sure to maintain the same food portions during winter. An indoor cat may beg for more because it's cold or bored, but giving it more food during winter when it's probably exercising less will not help your kitty.
Play as many games with your cat as your cat is willing to! It's good for both of you to keep moving.

Pets playing online