Consumer leases can seem like an attractive (and cheap) option if you're looking to access goods that are out of your price range, however a newly-released ASIC report has revealed that consumer leases are generally far from cheap, and can end up being an extremely expensive way of paying for something.
A consumer lease is essentially an agreement that allows you to rent an item over a fixed period of time. This item could be an appliance, a computer, even a musical instrument. As with any other rental agreement, you have to make regular payments (these can be weekly, fortnightly, or even monthly) until the lease period ends. Because of the relatively small size of these payments, consumer leases are sometimes presented as an affordable way of paying for something, without really paying for it.
However the ASIC report has revealed that in the long run, a consumer lease can hurt your pockets far more than just buying the object in question. ASIC found that consumers had been paying as much as 884% in interest on their consumer leases; due to there being no cap on the amount that lessors can charge as opposed to say, payday loans (which are strictly capped), consumers can end up paying the RRP of the goods several times over.
More worryingly, the report found that lower-income earners and Centrelink recipients were most likely to be hit harder by these high lease prices, with half the Centrelink recipients in an ASIC study of consumer leases paying more than five times the RRP of the goods they had leased.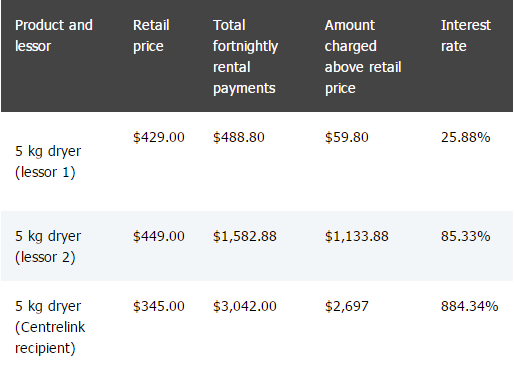 In the wake of the findings, ASIC has announced that it's reviewing the conduct of several lessors with regards to their compliance with the Credit Act. According to ASIC Deputy Chair Peter Kell, larger lessors will be investigated to make sure that they are lending responsibly as per their obligations, with Kell saying that "ASIC is reviewing a number of larger lessors, to see if they are making reasonable inquiries to ensure the consumer can afford the lease and that it meets their needs, particularly considering how high the total cost of a lease can be.
"Relying on consumers being able to make payments as long as they are in receipt of Government benefits is not a substitute to making these inquiries."
ASIC recommends shopping around before committing to a consumer lease, saying that there are quite often cheaper options when it comes to accessing goods. We definitely agree with ASIC on this one, so we've come up with some alternatives to leasing that may save you some money, and help you avoid paying huge amounts in interest.
A lay-by agreement
If you can avoid needing the item immediately, why not pay for ownership of the good(s) in installments? A layby agreement allows you to purchase (not rent) a product, and pay off the full price of said goods in a number of installments. While you won't receive the goods until the full price has been paid off, it's still an affordable and straight-forward way of paying for something.
Putting something on lay-by might seem a bit outdated, but stores such as Myer and Big W say that they still have plenty of customers who choose to lay-by large purchases, and research from Roy Morgan found that 10% of consumers had bought something on lay-by in a three month period. However keep in mind that lay-bys generally come with a five or ten dollar fee.
A no-interest loan
The No Interest Loan Scheme allows low-income earning individuals and families to borrow money safely and without fear of interest piling up. However to be eligible for the scheme, you must have a Centrelink healthcare or pension card. The loan is set up so that repayments are staggered across 12-18 months, and there are no interest charges or fees.
However it's worth noting that no-interest loans may only be used for certain things, such as:
Essential household items such as whitegoods, computers, and furniture
Health items such as wheelchairs or asthma pumps
Paying for car repairs (only available to people in areas not serviced adequately by public transport)
A Centrelink advance
If you receive payments from Centrelink and have been doing so for 3 months or more, you may be allowed to receive part of your next Centrelink payment in advance in order to purchase goods. However you'll need to figure out whether you?re eligible, which you can do here.
Overall, do think twice before entering an expensive lease arrangement. It can end up costing far more than you anticipate.