Outstanding Value: Citi
Canstar has researched and rated 19 overseas money transfer providers, with Citi receiving a 5 star rating for outstanding value. Find out more about Citi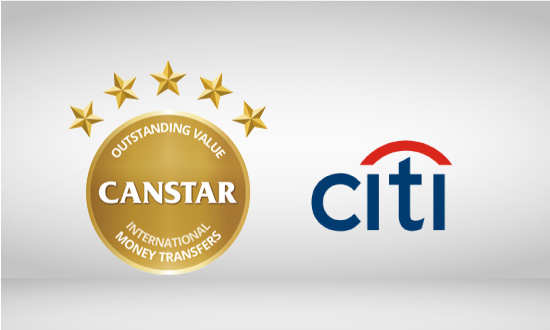 Transferring money overseas is a multi-billion dollar industry and for those who transfer money either regularly or as a one-off event, finding an outstanding-value deal is crucial. In 2016 Canstar has researched and rated 19 overseas money transfer providers, with Citi achieving a 5 star rating.
Compare International Money Transfer Platforms
Who is Citi
An Approved Deposit Institution (ADI) Citibank was one of the first foreign banks to open in Australia. Citi in Australia is part of Citigroup, one of the world's largest financial services organisations – with a presence in more than 100 countries – so it's natural that international money transfer would be something that they do quite well!
What international money transfer features are offered?
Canstar's 2016 audit of the money transfer features offered by Citi, conducted in August and September 2016, uncovered the following online money transfer features offered:
$25 transfer fee for branch transactions
Transfers available by the following means:
16 Currencies available including:

US Dollar
Hong Kong Dollar
Great Britain Pound
New Zealand Dollar
Japanese Yen
Singapore Dollar
Euro
Indian Rupee
Swiss Franc

Transfer limits:

$100,000 daily online transfer limit

Daily exchange rates
24/7 Telephone helpline (Citi Customer service)
Citi Canstar 5 star rating
Citi has achieved a 5 star rating since Canstar commenced its international money transfer research in 2013, and has again been successful in 2016 with a strong offering of both price and features.
Citi remains the highest-rated approved deposit institution (ADI) in Canstar's 2016 ratings.
Hot tip: A little bit of homework goes a long way when it comes to exchange rates and transfer fees, so you should compare your shortlist of institutions before picking one. Every institution costs something, but you can make sure that more of your money goes where it should – to your recipient, not your institution.
Compare International Money Transfer Platforms
Written by: Justine Davies