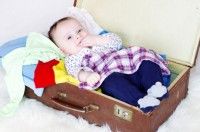 Whether you?re travelling overseas or heading down the coast, having the right supplies will make the world of difference and have you on the way to a relaxing (and more cost-effective) holiday.
We tend to remember to pack the things we carry around all the time – nappy change essentials, spare clothes, snacks, drinks and toys.
Having recently travelled to Melbourne for a long weekend with our one year-old (less prepared than I thought) I can vouch for how helpful this list will be.
1. Emergency kit
Colds or injuries can be far less stressful if you are prepared and have the right supplies. Always pack a digital thermometer, pain relief medicine, prescription medications, sterile band aids, tweezers, sunscreen, insect repellent, liquid soap and electrolyte replacement solution to help prevent diarrhoea-related dehydration. Babycenter has a great comprehensive first-aid shopping list and it?s printable.
Prevention is always better than cure, so don?t forget to think about child-proofing the rooms at your destination. It can be as simple as adding the socket protectors and door slam stoppers from home to your emergency kit. It?s worth re-reading the kidsafe guide before you go.
When you arrive, take the time to crawl around the accommodation from your child?s perspective and remove all the hazards.
2. Pram
If you are flying, try to check the pram on the plane at the gate. This will give you options should you have to walk long distances at the airport and to fill in time before your flight.
Even if your bub is starting to walk, having a pram can make travelling so much easier. It?s a great place for them to take daytime naps if you are out and about and it also helps with carrying bags.
Even for short distances it is far less tiring using a pram than carrying your little squirmy sweetheart in a sling or on your shoulders.
At mealtimes your pram could also serve as a highchair if your accommodation doesn?t have one.
3. Laundry
When pre-booking your accommodation make sure that it has laundry facilities. Not only are little ones great at staining their own clothes but yours, too! Try to pack denim and darker clothes to hide stains and pack one to two outfits per day for them. Dressing in layers is the best way to prepare for weather changes.
Soiled clothes may also need to be washed en route so make sure you have some laundry soap added to your nappy bag and plastic bags to put the wet clothes in until you can wash them properly.
4. Take your time
Start preparing to pack a week before you travel. Either keep a running list of things to bring or start putting items aside in a bag as you think of them so there isn?t a mad rush at the end.
Remember to factor in extra time to your travel schedule – toddlers love to explore and starting your holiday at a slower pace will set a relax tone for the trip.
Be realistic about what you can cover with your little ones. If it?s your first trip away, then plan to pack in less sightseeing than you might usually.
Also factor in the odd day indoors if the weather is bad or your toddler might need to rest.
The more stress free the holiday, the more fun it will be!