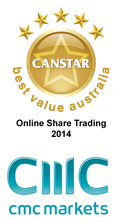 Each year CANSTAR analysts crunch the numbers to determine which online share trading platforms provide outstanding value for Australian investors.  This year our comparative research looked at 38 platforms provided by 15 different institutions and the results are out: the company taking the overall award for Best Value Australia in the online share trading world is, once again, CMC Markets – for the fourth year in a row!
CMC Markets perform particularly strongly when it comes to the price of making a trade, securing dominant positions in both the Casual and Trader profiles in the price category.
CMC also score highly on features, especially with regards to accessibility, ease of use, research markets and trading securities/markets.
Head of CMC Markets Stockbroking, Andrew Rogers, shares CMC?s client service philosophy as follows: "Our strategy is simple – to have the best offering in the market based on price while ensuring clients can access cutting edge features and outstanding service," he says. "Our pricing is the best available on the market but what we are most proud of is the value we are able to offer traders, in particular frequent traders.  We?ve invested heavily in technology and as a result can provide even the most demanding traders with all the tools they need to trade successfully."
Andrew describes CMC Markets as early adopters of industry initiatives, citing recent examples including:
ASX BookBuild, a facility that allows retail investors access to Initial Public Offerings (IPOs), Placements and the sale of Renounced Rights.
Becoming the first participant of the Asia Pacific Exchange (APX) an alternative exchange to the ASX providing opportunities for growth orientated companies.
Becoming a foundation member of the soon to launch ASX mFund Settlement service.  A facility that will allow investors to buy and sell managed funds via our platform settling to their sponsored HIN (a great alternative to a wrap platform).
Read CANSTAR?s full results in the Online Share Trading Star Ratings Report.