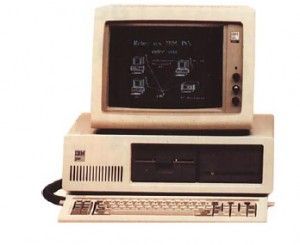 From its humble start in the late 80s, online banking has morphed into a sophisticated and convenient way of accessing finances that many of us now simply couldn't live without.
In the late 80s and early 90s ?home banking? was rolled out, allowing us to check our account balances from our home computer. It seems unbelievable now but banks would actually mail us a floppy disk with software that we could install onto our PC like the one pictured at right. Then, using a dial-up modem, we could talk to the bank's systems. We could check balances and make transfers but we usually paid for the privilege. Needless to say, the world of online banking had commenced its evolution.
Then in the mid 90s a big leap occurred with banks setting up websites for consumers to access both product and contact information. Then within a few years the banks launched internet banking functionality. This made the process of doing your banking online easy and accessible to everyone. We could pay bills, order statements and view up to 90 days of transaction history, all with a few clicks of the mouse.
After this great leap forward, however, we saw very little change in our online banking facilities. Many facilities still today only have 100 days of transaction history available. If we have a query on a transaction we have to ring up. We are still asked for our name and address when we apply online for a new product, despite banking with that same institution all our adult lives. So there continue to be small sources of annoyance that should have been smoothed out by now.
Meanwhile, in other parts of our lives, the internet has been racing ahead. The way we date, shop, contact friends, rent houses and look for jobs has all changed forever. In general, our banks? websites have not been a patch on Facebook, realestate.com.au, Youtube, or even Ebay. But all this seems to be changing. It is safe to say the way we interact with our bank on the web is going to be very different in only a few years time.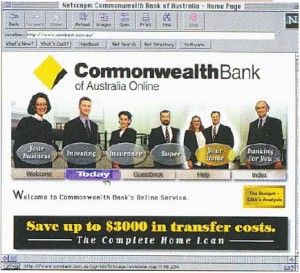 Online Banking Is Improving
We have noted online banking moving towards newer levels of functionality and ease of use over the past few years.
Many of these changes are based on an overall shift to the "secure side" of the website.
Originally, the main reason to login to your banking website was to transact. Now we are seeing websites that allow far more to be done when logged in, creating a personalised online experience.
The best banking websites allow people to manage a full range of their banking needs from their own secure online portal. They do this by providing a streamlined, intuitive platform with access to a wide range of information and functionality.
Some of the most integrated banking websites we have seen in Australia are making the majority of the information from their public site available from the secure login, in addition to the extra private information that comes with the secure side. This is done in a similar way to eBay, where logging in increases your access to the site, rather than keeping you separate from the bulk of the information.
Gaining access to your financial records is becoming easier – there is more information instantly available and accessing it is becoming more intuitive. Communication between bank and customer is the key and online banking is bringing new and simple ways of sharing information. Secure messaging to and from customers through the internet banking portal is doing away with the excessive lag times of snail mail. Turnaround times for all types of requests are now benefiting, a positive and impressive development for all involved.